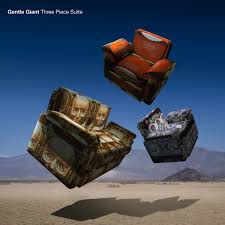 I recently received a parcel from BJFPR containing a rather intriguing two disc digipak entitled Three Piece Suite. I was all the more intrigued as  I glanced at the rear of the beautifully presented case and read through the myriad of tracks in their many guises. Three Piece Suite it turns out is selected tracks from Gentle Giant's first three albums, Gentle Giant, Acquiring The Taste and Three Friends. What makes the selection so exciting is the fact that Steven Wilson has deemed to sprinkle a little of his magic upon them and bring the dated recordings well up to present day standards with regards to sound quality. There are nine tracks from the three albums including one pre-debut song Freedom's Child which I instantly fell in love with. The album will be available from September 29th as a two disc digipak containing 96/24 animated Blu-ray and CD (reviewed here, a single disc digipak CD, a two disc gatefold LP in 180g high-end vinyl and a 95/24 digital download of the CD version.
I was a little concerned as to how I should approach my review of this album having given up on Gentle Giant back in the seventies due to the complexity of their music finding them as I did "a little full on". However, decades have passed since then and despite my lack of knowledge with regards to Gentle Giant's music I was keen to hear how their music had stood the test of time. The booklet included with the discs became my saviour as it contained all of the information I needed to complete my mission. Concisely written by American journalist Anil Prasad with a potted history of the band and how the selected tracks came about using quotes  by the band themselves the booklet really does finish of an already special package with art work and graphics by Carl Glover of Aleph Studio.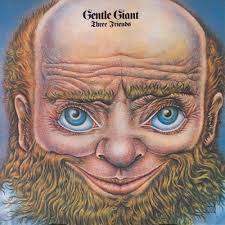 I first concerned myself with the CD version of the album having been remixed by Steven Wilson in good old fashioned stereo. First up was Giant from the band's first self-titled debut Gentle Giant. Kerry Minnear's rich Hammond chords at the opening of this song really put me in the zone and I was instantly transported back to 1970. The sharply etched vocals is in stark contrast to the original allowing the listener to hear every syllable of what is being sung. Bass is deep and very smooth indicating that Wilson has despite rendering the aged recordings listenable by today's standards has not robbed them of their original character. I have to doth thy cap.   The smooth sense of depth extend to the tubby bass drum too which I think sound wonderful. Others may disagree. Gary Green's memorable guitar motif here is nicely augmented by Minnear's wheezing Mellotron. The sweet lilting acoustic guitar and vocal harmonies Of Nothing At All sooth the listener into a false sense of security before it is transformed into a full blown blues pies courtesy of Gary Green's rasping Les Paul. The song is terminated with an interesting drum solo bedecked with a distortion effect making it sound at one point like a Pod Racer from star Wars eventually melding with piano to form a type of dream sequence before returning to the opening harmonies. The third and final song from Giant, Why Not really does bring a smile to the face with its medieval baroque style vocal harmony and packed to the gunnels soundstage. Organ and Mellotron here are a pleasure to listen to whilst they both stand proud in the mix Green's wicked blues licks are king.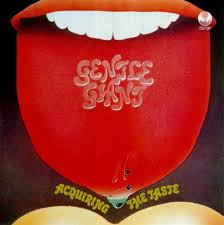 Only some of the multitrack songs from these albums could be found. Some have been lost or could not be located which had a bearing on the final selection. A hard choice to make yet I can't help thinking they were all the correct ones and moving onto 1971's Acquiring The Taste album proved this to be so having listened to the album in its entirety on the Blu-ray disc as a 96/24 stereo LPCM. Pantagruel's Nativity innovating (at the time) us of Moog to open the song still sounds dated though acceptable in context. The sleeve notes indicate that at the time they had to employ Chris Thomas to actually operate the Moog. A great song featuring Ray Schulman playing trumpet adding to the many styles and textures that made up Gentle Giant's complex and at times bizarre compositions. The House The Street The Room is the second of only two songs taken from Acquiring The Taste and best described as a little crazy. Erratic yet interesting laden with the obligatory wah wah pedal and the solid drum style of original drummer Martin Smith. The mix of instrumentation here is mind blowing and even with the most recent make over takes some keeping up with.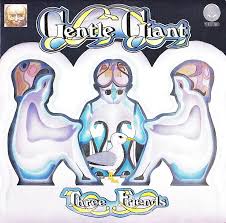 Speaking of mind blowing, the opening of Schooldays the first of three songs from the Three Friends album really does have you on your toes. The quick fire vocal delivery which to be sounds more like Pye Hastings of Caravan is a wonder to behold as is the rapid mandolin playing. However, Kerry Minnear makes up for this with his more soothing vocal input and sumptuous keyboard textures and vibes. This definitely a must have song in your musical collection. I became fond of the next song too Peel The Paint. Most of the song is sung in an almost whisper fashion again reminding me of Caravan. Yet, as the song progresses it is obvious that it strays more into King Crimson territory. Hats off to Gary Green who adds a blinding guitar solo to this track at about four minutes in. Wound up to such a degree that I could hear the amplifier.  A noticeable difference too is a change of drummer for this album. Martin Smith having been replaced by the heavier handed Malcolm Mortimore. The highlight of the album for me was the song Mr Class & Quality. Mortimore's pounding drums and the Schulman brother's cohesive musicianship and vocals blew me away. Bass playing is exemplary. The use of Wah Wah pedal on the Rhodes too I thought interesting. Topping off this selection from Three Friends is Three Friends. I would describe it as massive. Kerry Minnear's keyboards making for an epic finale.
Also included on the CD is a pre-debut song Freedom's Child which I found very easy to like. Not unlike David Gates of Bread fame the vocals are for the best part peaceful invoking a tranquil, hippy moment. Accompanied by violin and stripped bare of the pomp and circumstance Freedom's Child allows the listener to hear another side to the band which regrettably seemed left unexplored to the full. Also included is a Steven Wilson 7" edit of Nothing At All from the band's first album. Though to be honest I am unsure why?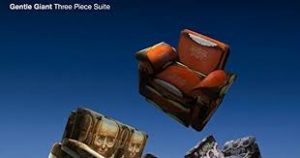 Changing discs to the Blu-ray proved to be a revelation. Adding a visual dimension to the experience was always going to improve the musical journey but it was the 5.1 surround sound mix that for me makes this whole package worthwhile. Wilson's remixes on the CD had been like he had taken a wire brush to the original recordings making them much easier to hear but the surround mix untangled all the strands of Gentle Giant's complexed and compact instrumentation allowing me to actually make sense of it and enjoy it to the full. There simply isn't a better way to listen to Gentle Giant's music than this. The guitar stabs on Mr Class & Quality rang out from behind me almost making me jump whilst instruments like recorders and cello being very linear in the original mix are now laid bare and easy to hear. Steven Wilson is a talented musician in his own right which no doubt gives him greater insight as to just where to place instruments in the soundstage of this format. Kerry Minnear's vibes and keyboards are the best I have ever heard them. Coupled with Carl Glover's colourful and highly appropriate graphics for each individual song the Blu-ray is somewhat of a masterpiece. Included on Schooldays are images of the band as children, which I think is a great touch.
You get a lot for your money here. As well as a CD of superb remixes you get a Blu-ray disc with the first three albums in their entirety on it and the amazing surround sound remixes which I think is worth the asking price on its own. All this and a great read in the booklet beautifully rendered digipak have switched me on to Gentle Giant making me want to explore what it was I ignored for so many years. The enlightened Gentle Giant fan will enjoy this wonderful package as much as the novice such as me. Mmmmm, I wonder what the LP sounds like………
Available from www.burningshed.com  or via the Gentle Giant website.
CD £10.49
CD/Blu-ray digipak £14.99
LP £15.99