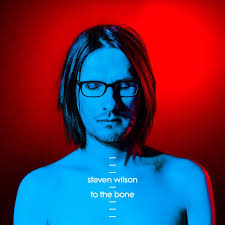 Like many prog fans I was at work when Steven Wilson appeared on BBC breakfast news. And like many I suspect felt robbed of the experience. Thank goodness for BBC i-player eh? I listened and watched intently as the current messiah of Prog spoke and conducted himself so eloquently. As Steven discussed his new album
To The Bone,
he referred to it as a breakthrough album and I guess in some ways it may well be perceived as such by many of Steven Wilson's disciples. Traces of
The Raven That Refused To Sing
and
Hand Cannot Erase
two of Mr Wilson's previous albums frequent the latest and long awaited offering from a man the seemingly can do little wrong in the world of a lesser appreciated musical genre where making something interesting and captivating is fast becoming much more difficult. From the outset Jasmine Walkes spoken intro and deep low frequency drone sets the title song up for much of what has gone before. However, Mark Feltham's bluesy harmonica steers the overall sound away from the autopilot button breathing life into what become close to Steven Wilson's by now tried and tested formula. The Pink Floyd format is soon dispelled here and soon gives way to good old fashioned pop, rock and even funk-like rhythms. Production was by Wilson himself with help from co-producer and engineer Paul Stacey who achieved the usual high standard, Just like the opening title song the next upbeat and solid as a rock
Nowhere Now
flows beautifully thanks to Jeremy Stacey's powerful drums and Dave Stewart's string arrangement. Interesting to hear Dave Kilminster resigned to backing vocals here and elsewhere throughout the album forsaking his guitar as if resigned to back room boy status. Nowhere
Now
i have no doubt will more than appease current Steven Wilson devotees yet seems rendered to appeal to the masses and I suspect will attract more mainstream music fans into what has up until now been an exclusive club. If one song on the album could further enhance Mr Wilson's popularity it is the lyrically compelling
Pariah.
This short almost missive of a song is for me a highlight of the whole event. Wilson's duet with singer Ninet Tayeb hit a nerve with me. Sleepy, poignant, yet powerful at the same time, Ninet Tayeb's voice reminding me of Chrissie Hynde possessing as it does a lazy husky quality.
The lull of
Pariah
is short lived and the foot is firmly put down hard on the gas pedal for
The Same asylum As Before.
As the song title suggests there is a fair amount of grunge going on here. Something Steven Wilson does well and has since his Porcupine Tree days. Great to hear some vintage keyboards again on this album and Adam Holzman's use of Solina String synthesiser adds urgency and scale to the erratic soundscape. The same can be said of
Refuge
again which again features the harmonica of Mark Feltham. This is a little more of what I for one would expect from Steven Wilson helped along quite nicely by Paul Stacey adding a blinder of a guitar solo. I would assume that the Abba moment to which Mr Wilson referred to during his interview pertains to his full on breezy pop anthem
Permanating.
Hooky, radio friendly summer vibe that I feel is going to win the Prog messiah some new friends and not before time. It would not surprise me to hear this on my car radio which to my mind could only be a good thing. Good to see bass ace Nick Beggs involved here and likely to be the most pop orientated he's been involved with since his Kajagoogoo days. In stark contrast the all too brief and stripped bare
Blank Tapes
once again finds a duet with Ninet Tayeb. A beautiful moment of serenity before the dark and heavy tones of  
People Who Eat Darkness.
The much heavier drum sound of Craig Blundell is at home with Steven's thrashing guitar sound here invoking an aggressive edge that borders on punk. Indeed there is a John Lydon overtone here giving the song drive and attitude that made me smile. As far away from this as you can get is the Peter Gabriel style rhythms and dark, deep textures of
Song Of I.
From the mesmerising hand clapping to the eerie orchestration courtesy of The London Session Orchestra this song finds Wilson doing what he does best painting huge musical pictures and once again singing a duet, this time with Sophie Hunger. Easily up there with the gentleman's best work. So too is
Detonation
This song culminates in a fine crescendo helped along by the Talking Heads inspired percussive rhythm supported once again by Adam Holzman playing Solina laying a great foundation for powerful foot tapping experience topped off admirably by David Kollar's guitar brake. To complete such a work is a difficult ask indeed. Yet it is done with delicacy and aplomb in equal measures. For the best part haunting especially the tranquil choir arrangement and child's voice,
Song Of Unborn
builds to a massive and appropriate finale for all that went before. With
To The Bone
Steven Wilson has ventured into different areas and used all of the tools at his disposal to create something rather special. In the colouring book of Steven Wilson he has dared to venture outside of the lines with his crayons blurring the edges and using much more vibrant colours. Packaging is to the usual standard with images by Lassie hoile and best appreciated with the vinyl verion of the album which also includes numbered prints, a nice touch methinks. A worthy addition to his canon
To The Bone
has unlocked a door that for many years prevented fans of mainstream music genres access to his unique style and hopefully my encourage them to explore him further. A fabulous inroad to the world according to Steven Wilson.