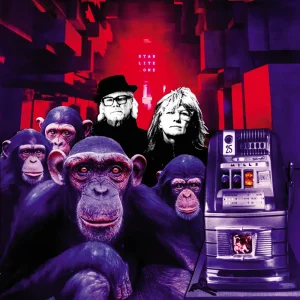 Every once in a while when least expected, something that really resonates on a musical level comes along. On the face of things at first impressions Starlite And Campbell look to be a couple you would expect to see playing the club circuit. To realize this is not so then you must really take the time to examine what's on offer here. Take a look at their website and all is revealed. Husband and wife team Simon Campbell (vocals/guitars/engineering) and Suzy Starlite (vocals/bass and keyboards) are the real deal. This becomes evident whilst listening to the crafted songs and production values of the couples latest musical adventure Starlite.One. This isn't one of the slow burn prog concept albums although although it is a concept album. This album grips you from the outset and holds your attention till the very last note. Starlite.One is available as a deluxe 180g clear vinyl record with gatefold sleeve, deluxe limited edition CD with gatefold sleeve and high definition download exclusively on Bandcamp. It is worth noting that making the album available through the usual streaming platforms has been avoided, something which I feel may be adopted by more artistes who have become disillusioned by such dubious formats.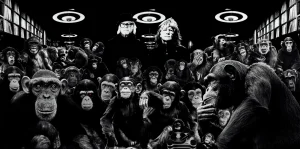 Artwork, packaging and presentation are intriguing and of very high quality. As mentioned above Starlite.One is ye olde concept album the story of which can be found on the Starlite And Campbell website. It does help to have a synopsis of what the songs are about and to make sense of the artwork. It is easy to entrench such a conceptual piece in the classic Prog rock idiom so it is a breath of fresh air to hear guitar riffs with bite and some fine melodies. There are some great analogue synthesiser sounds and sequencers within giving this talented duo definite a musical signature. From the get go Saving Me grabs the listener my the ears with it's solid gritty guitar and Suzy Starlite's rock solid bass. I do have to admit that the analogue synthesiser in this piece reminds me so much of Atomic by 80's icons Blondie. A whirlwind opener that steams along nicely from the driving guitar riff to the slowing staccato note terminating in a flatline sound. No time is wasted before morphing into the breezy The Voting Machine. This song is topical to a degree and a breath of fresh air. Simon Campbell's guitar weaves nicely between swathes of retro string and analogue synthesiser sounds. This song has hit single written all over it and in my view holds its own with the likes of Goldfrapp, Eurythmics et al.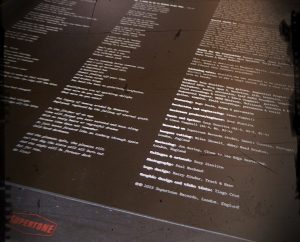 Slowing the pace a little Blow Them All To Pieces reveals a delicate side to this powerful duo. Soft, rich synthesiser and crisp acoustic guitar transports the listener back to the 70's, Think The Yes b and Fragile by Prog mega stars Yes. Likely to be the only reference to be made to the classic prog sound it managed to bring a smile to my face. Another song that resonates with me on a personal level is This Time (Is Gonna Be The Last Time). Easily my favourite song of 2023. Channelling The late Jim Morrison of The Doors Simon Campbell's delivery is matter of fact and once again lends a gritty feel to the song. At this stage I ceased to equate the songs with the concept although each song stands up well enough on its own so it wasn't a hardship to enjoy them in their own right. Once again the contrast it changed with the solemn musical monologue Everything. This haunting piece showcases the enchanting side of Suzy Starlite's voice. Bathed in atmospheric keyboards and the perfect bridge to the anthemic Shine The Light On Me. From the dark synthesiser intro to a grander scale The song also includes for the first time on the album Suzy Starlite delivering lyrics via the spoken word to great effect. Harmonies here are first class and the simple delivery continues in the rich tapestry that is The Coat. Listening to this song put Suzy up there with some of my favourite female artists. The song has a certain charm and almost humerous to a point. For the first time playing the album through this song had me referring to the concept story on the website mainly to understand the lyrical content.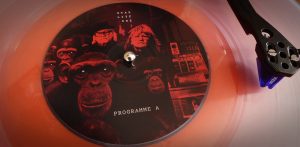 This brings me to the last song of the album A Part Of Me Is Broken (part 2). As I haven't experienced part one of this song I have no reference. A song I would recommend playing as loud as you dare. Not for the first throughout the album I was transported back to the 80's with Starlite And Campbell's duetting being very much like one of folks rock stalwarts Clive Gregson and Christine Collier. No bad thing as Gregson & Collister were synonymous with quality song writing and well recorded albums. The same can be said of Starlite.One. Starting with a heavy almost leaden guitar intro A Part Of Me Is Broken (part 2) completes the album beautifully. Simon Campbell's grungy guitar and lighter vocal style on this song gives way to Suzy Starlite speaking the remaining words of the tale. Whirling synthesiser and the eery storing telling terminates the adventure petering out as it does in an almost Peter Gabriel fashion (No pun intended). A tell tale sign of good song writing is not only the words but the melody too. This in turn develop ear worms that manifest themselves in the human psyche and one find one self humming a tune in the work place or around the home! I found this just so with the songs on board Starlite.One. With assitance from Hugo Danin playing drums and percussion there are no celebrity musicians to boost credibility which I find refreshing as there is more than enough credibility apparent in the quality of the songwriting, musicianship and production. My review is based on listening to the digital files and the vinyl record both of which are excellent. The vinyl album has been carefully manufactured and lacquer cutting by Miles Showell at Abbey Road. Production and engineering by Simon Campbell are both very good and puts many major artists albums in the shadows. With many of the recent albums released and in need of being played I find myself reaching for Starlite.One as it has tunes within that I feel compelled to listen to due to their accessibility. Check the album out by either visiting Starlite-Campbell.com or the Starlite and Cambell Bandcamp page. I have a feeling that you may just want to jump on board Starlite.One.