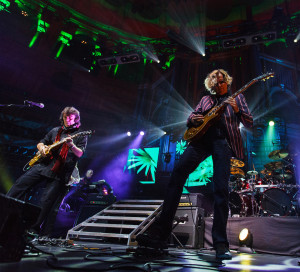 STEVE HACKETT REVEALS NEW BASS/12 STRING PLAYER
Prog visionary Steve Hackett has announced the addition of multi-talented guitarist Roine Stolt to his tour line-up. Stolt, known as leading light of the Flower Kings and for his association with Transatlantic, will play bass and twelve string, occasionally also joining Steve on guitar.
The legendary ex-Genesis guitarist commented: "I'm really pleased that Roine Stolt will be joining the band for the autumn shows on bass, twelve string and for some songs doubling on electric guitar with me. Roine is a truly impressive and versatile player and I particularly like his work with other bands and artists. I have enjoyed playing with him live on more than one occasion and I'm thrilled he's going to join the team. It's marvellous to have both Swedish talents Roine Stolt and Nad Sylvan as part of the band for these Hackett solo/Genesis Revisited shows."
Hackett, who releases new album Wolflight on 30th March, will bring his Acolyte To Wolflight with Genesis Revisited Tour to the UK in October 2015 with 19 shows. Each performance will feature two sets, one of solo material and one of Genesis Revisited. The first will cover a vast part of Steve's discography, with a selection of solo material from early albums including Voyage of the Acolyte & Please Don't Touch right up to Wolflight; the second set will see Nad Sylvan take care of the vocals on the Genesis material.
The complete line-up for the tour will include Roger King on keyboards, Gary O'Toole on drums, Rob Townsend on sax, Roine Stolt on bass & 12 string guitar, Nad Sylvan on vocals and Steve Hackett on guitar and vocals. Vocalist/guitarist Amanda Lehmann will join some of the shows as special guest.
Full Dates Are:
October 2015
Sat 24th               LEICESTER                   de Montfort Hall                   
0116 233 3111
Sun 25th              SALFORD             The Lowry                            
0843 208 6000
Tue 27th              IPSWICH             Regent Theatre                    
01473 433 100
Wed 28th             BRISTOL              Colston Hall                                  
0844 770 1797
Fri 30th                BIRMINGHAM       Symphony Hall                     
0121 345 0602
Sat 31st               SOUTHEND          Cliffs Pavilion                        
01702 351 135
Tickets for all shows (apart from London) £29.50, £27.50; London: £37.50 level one, £33.50; (All tickets subject to booking fee).  24-hour ticket hotline
0844 338 0000 and Online: BookingsDirect.com.   Showtime will be 7.30pm (plus support).
Wolflight is Steve's first original album since 'Beyond The Shrouded Horizon' in 2011 and takes the listener through an imaginary journey through time and space on the eternal quest for freedom. The legendary guitarist is looking forward to bringing this latest chapter of his career on stage while re-living his musical evolution with his loyal fan base.