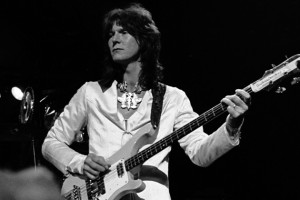 Progmeister are sad to report that legendary Yes co-founder and bass player has passed away following his battle with leukemia. Chris will be remembered for his legendary bass sound and his ability to sing the sweetest harmonies with ex-band mate Jon Anderson. These two things were the cornerstone of YES as a band and the bedrock of the whole Prog genre as we know it. YES released the following statement………………..
It's with the heaviest of hearts and unbearable sadness that we must inform you of the passing of our dear friend and Yes co-founder, Chris Squire. Chris peacefully passed away last night in Phoenix Arizona, in the arms of his loving wife Scotty.
For the entirety of Yes' existence, Chris was the band's linchpin and, in so many ways, the glue that held it together over all these years. Because of his phenomenal bass-playing prowess, Chris influenced countless bassists around the world, including many of today's well-known artists. Chris was also a fantastic songwriter, having written and co-written much of Yes' most endearing music, as well as his solo album, Fish Out of Water.
Outside of Yes, Chris was a loving h usband to Scotty and father to Carmen, Chandrika, Camille, Cameron, and Xilan. With his gentle, easy-going nature, Chris was a great friend of many … including each of us. But he wasn't merely our friend: he was also part of our family and we shall forever love and miss him.
Squire's final work on Heaven and Earth helped that project to a Top 20 finish on the UK charts. Yes' best-selling albums include 1983′s triple-platinum 90125 and 1971′s double-platinum Fragile.
Born at the right time, on March 4, 1948, Squire's quickly developing musical genius was matched stride for stride by technology. He'd use a distinctive Rickenbacker 4001 electric to help redefine the role of the bass, even as he became Yes' undisputed leader.
"Our second album Time and a Word was where we first started to work with [new Yes engineer] Eddy Offord," Squire once told Ultimate Classic Rock. "He liked the way my tone was coming out of my Marshall 100-watt that I'd used ever since the beginning really, and the thing that he added to that by [using] certain compression and certain settings that he liked in the studio, so we just developed it really, from Time And A Word onwards and I suppose you could say that by the time we got to Fragile and "Roundabout," he'd really finessed the production of my bass sound."
A sad day for Prog and the music scene/industry and we can only celebrate his legacy by listening to his vast body of work. Good night sir and gods speed.