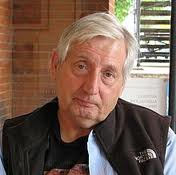 Team Progmeister regretfully inform all that art legend Storm Thorgeson has passed away this afternoon aged sixty nine. His art work was the signature of Pink Floyd and often refered to as the fifth member of the band. He made Pink Floyd's album covers amongst the most recognised in musical history. Storm also designed cover art for Led Zeppelin, Black Sabbath, the Nice and many more ,though it was his association with Pink Floyd that he will be most remembered for. Today is a very sad day for Prog as we have been robbed of an artistic genius. RIP Storm Thorgeson 1944-2013.
Thursday 18th April 2013
Storm Thorgerson – Family Statement
"Yes, Storm has died. He passed away, on Thursday 18th April in the afternoon. His ending was peaceful and he was surrounded by family and friends. He had been ill for some time with cancer though he had made a remarkable recovery from his stroke in 2003. He was in his 70th year."
He is survived by his mother Vanji, his son Bill, his wife Barbie Antonis and her two children Adam and Georgia.
Thursday 18th April 2013
Storm Thorgerson Died This Afternoon
We first met in our early teens. We would gather at Sheep's Green, a spot by the river in Cambridge and Storm would always be there holding forth, making the most noise, bursting with ideas and enthusiasm. Nothing has ever really changed.
He has been a constant force in my life, both at work and in private, a shoulder to cry on and a great friend.
The artworks that he created for Pink Floyd from 1968 to the present day have been an inseparable part of our work.
I will miss him.
David Gilmour