I remember it like yesterday, the full page advertisement in the Melody Maker with a picture of a camel clad in a space suit on it. It was early 1976 and I was a spotty faced apprentice. Mmmm, that looks interesting, Camel, Moonmadness, Live at Newcastle city hall. The album looked good too. I immediately sent of my postal order and SAE and received my tickets a week or so later. Something that I had never done until then was attend a gig without first hearing an album or at least radio airplay of a band. Needless to say from the first few bars of Aristillus playing as the silhouette of a Camel ambled its way over a sand dune heralded a passionate musical love affair that would last until this very day in 2012.
Whilst I was captivated by the band as a whole it was the playing and imaginative sound presentation of Pete Bardens that had me totally mesmerised. I bought a copy of Moonmadness as I was leaving and proudly skipped to the railway station clutching my prize and a head full of memories to be treasured for the rest of my life. What baffled me that evening was that I couldn't quite put my finger on just what it was about Pete Bardens playing that excited me so. He didn't appear to have the virtuosity of Keith Emerson or Rick Wakeman yet his sound was rich in originality and like his band mate Andy Latimer had an instantly recognisable sound all of his own.
Imagine then how I felt when during the making of camel's sixth studio album "Breathless" Pete decided to leave. The history of these events is well documented and sketchy to say the least. Pete Bardens had a rich musical heritage emanating from his blues beginnings to his latter new age recordings and everything between being of the highest quality. I followed Pete's work throughout the whole of his career enjoying every album he released or took part in. Unlike many other musical heroes I never became as interested in Pete's private life or what he did outside of his musical career. He remains and always will an enigma to me and I like that. His work chronicles some key times in my life and for that I will be eternally grateful.
My passion for Pete's work infected many of my friends who in turn purchased his albums and learned to appreciate his imaginative soundscapes and his love of space and space travel. Throughout all of the more technology laden pieces Pete's jazz style remained evident right up until his final album "The Art Of Levitation" which I was told he recorded at home. Imagine then how I felt when out of the blue I received a phone call from a friend informing me that Pete had passed away. A very sad day indeed.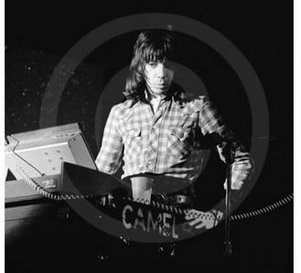 A few weeks after Pete Bardens passed away I contacted his son Ben who was at that time working for Disney in Florida. Ben was very kind and replied to many of my emails. And even wrote to me sending me my much coveted copy of "Art Of Levitation". Ben told me of Pete's other children Tallulah and his oldest son Sam and of their musical and acting talents. I never got to meet Peter Bardens and this remains one of my biggest regrets. My interest and intrigue was in his work and contribution to every project in which he became involved.
It is hard to believe that it is now just over ten years since Pete Bardens passed away. To this day I still have a painting of Pete hanging in my dining room and still revisit his amazing albums from time to time. I think there has never been a better time to be playing Pete's music and celebrating his contribution to some of the most memorable prog albums ever recorded. To many Peter Bardens may be all that Wikipedia and the many lines of album sleeve notes describe. To me he is an unforgettable legend. This coming Saturday I will be celebrating my fifty third birthday and Pete Bardens life. My intention is to play all of his albums and raise a glass to us both. If you are intending to listen to some music this weekend I suggest revisiting Pete's amazing album "Seen One Earth" and remembering just what a genius he was.