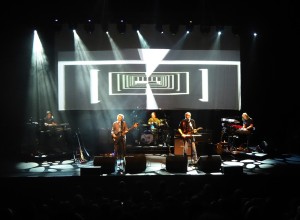 Camel returned to the live music seen only a couple of years ago after an absence of what seemed to be a life time. It was a heart warming return and one that so many Camel fans were more than pleased about. the bands 2015 tour sees them playing no less than six UK concert plus the Rambling man festival and numerous European venues. There is always a very special vibe and Camel concerts and when the band took to the stage at York's Barbican theatre on Wednesday 8th of July they were out to demonstrate that despite the many challenges the band have faced in recent years and even months that they are very much at the top of their game.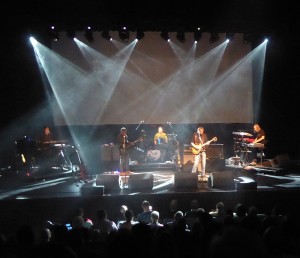 Having toured
The Snow Goose
recently it was dropped from the menu in favour of some classic diamonds. Opening with the original Pete Bardens version of
Never let Go
a new found sense of energy and vigour prevailed as if the whole band had been attending a musical gymnasium. The shear power and dynamism injected into the
Moonmadness
songs was nothing short of breath taking. One of my all time Camel songs
Air Born 
and 
Spirit Of The Water
retained their beauty and delicate structure whilst
Another Night
was given a little grit and musical voltage as was
Lunar Sea.
It was the latter piece that demonstrated the tough act faced by many keyboard players over the years the the late Pete Bardens was to follow. Ton Scherpenzeel's job wasn't the easiest one on the stage. Not only is Camel's musical repertoire very demanding so to is the demands placed on anyone to frequent a role previously adorned by some extremely talented individuals so too is emulating vintage keyboard sounds. Jason Hart also did a great job playing second keys and deserves credit for filling the soundstage and bolstering some of the larger scale pieces.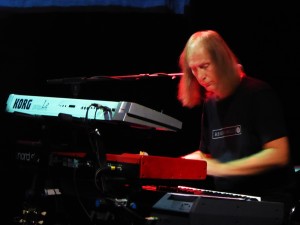 Elsewhere in the set pieces like
Drafted
from the
Nude
album where given a new coat of paint and benefited from Andy Latimer's new found energy and verve. For many of those present myself included one of the highlights of the evening was the powerful rendition of their classic
Ice
which had me searching my memory banks trying to remember if i had heard it played better and the truth is i haven't. To finish the set a fully leaded medley of the bands
Dust And Dreams
album was played, Colin Bass reaching some seismic activity with his high energy yet understated bass playing and drummer Denis Clements awesome tsunami of a performance and was throughout the whole evening. After a short intro this piece almost gave ZZ Top a run for their money and the potted version of
Dust And Dreams
was a treat and may well have fans revisiting one of their least talked about albums.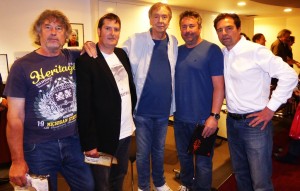 The crowd they did bay and was duly rewarded with the bands classic and standard 
Lady Fantasy 
Which as always went down a storm. However, the second encore was something rather special. It was dedicated to departed band mates Chris Rainbow and most recently keyboard ace Guy LeBlanc. Utilizing the screen which had been used throughout the gig to project effects upon, images of Chris and Guy were shown throughout the choruses of 
Long Goodbyes
. It was plain to see that many including myself were visibly moved by this tribute and a better song from Camel's vast back catalogue could not have been used to demonstrate the admiration, love and affection for the two hugely missed musicians.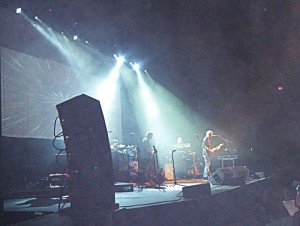 Speaking to the band afterwards i jokingly awarded Denis Clement man of the match and remaked that at times he reminded me of animal from The Muppets. he replied "oddly enough, i get called that all the time". Colin Bass as always was a delight to talk to and we discussed the finer points of taming donkey's (don't ask!). Talking to the man himself though pretty much made my year so far. We talked, laughed and joked until we had to head off home. Andy Latimer is without doubt more than a guitar legend. He is a warm and understanding human being who has time for his fans, a man that is easy to admire. he is humble, brave, talented and to me more than worthy of the titel hero. He has not only overcome a life threatening illness he serves as an inspiration in both musical and human terms. I forgot to congratulate him on receiving his recent life time achievement award something i will have to save for the next time methinks. Camel have another four dates in the UK and more in Europe. What ever you do, don't miss them. Camel's gig at York was not to be missed which leads me to think neither will the rest.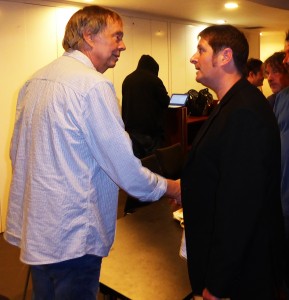 For more information about Camel go to
www.camelproductions.com