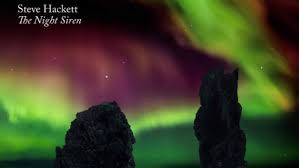 The Northern lights, standing stones and what appears to be a Martian-like landscape are what greet you on first site of Steve Hackett's latest aural adventure. An intriguing,colourful and relevant image portraying nicely the content of the music here. My findings here are based on both the vinyl and CD versions of album my preference being the vinyl copy not least for the size of the cover allowing the artwork to be appreciated more easily and fonts easier to read but the shear fluidity of the analogue representation. I must say from the outset that i think that
The Night Siren
Is a step in the right direction for Steve Hackett. Steve has built upon some of his leanings encountered on his
Wolflight
album and hewed them a little. In particular the inclusion of ethnic instruments and musicians. All are here that Hackett fans have come to expect, the guitar isms, changes in tempo mid song and the shall we say bizarre vocal presentation. Insideout Music have done a great job on the packaging of this album and the promotional campaign via Youtube video et al featuring Steve giving a full synopsis of all the songs of
The Night Siren
along with his current view of the world.
The Night Siren
really is a melange of styles and ideas. Everything from Steve's earlier albums through a traditional Prog expectation, rock both hard and soft to an almost World Music hew. Along with touring band members Nick Beggs and Roger King, Mr Hackett seems keen to send out some powerful messages with regards to the state of the world and it's inhabitants Messrs Beggs and King having already done so with the Mute Gods albums. First to display these passionate view is the opening song
Behind The Smoke
which to my mind demonstrates the displaced people of war torn and otherwise ravaged countries and environments. No doubt highlighting the plight of the displaced and controversial migrant crisis. Though just like the Youtube campaign all songs are headed with a full synopsis by Steve above the lyrics within the cover or CD booklet.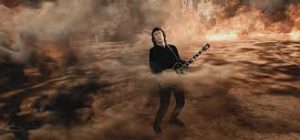 The dark and sinister references of
behind The Smoke
are given a dramatic and at times Arabesque quality moving into Led Zeppelin territory. Powerful and apocalyptic musical posturing give way to lighter ethnic instruments such as Tar courtesy of Malik Mansurov. This is a welcome interlude in such a storm like atmosphere. The accompanying video to
Behind The Smoke
is well worth sounding out on Youtube. The pace is maintained with the breezy Sitar opening of the bright and airy
Martian Sea.
I have to confess to not like this song on first listening. However, with the aid of drummer Nick De Vigilio's terrific beat i was eventually won over. Not at all what i was expecting from the song title. Martian sea and Sitar don't seem to go together in my mind. With some cool 1960's spy movie guitar inflections
Fifty Miles From The North Pole
is without doubt one of the most enchanting songs on the album though i was a little bewildered by Ferene Kovaics trumpet addition at the end. Dick Driver's double bass here though is sublime. Amanda Lehmann's backing vocals have a spooky child like quality. Steve Hackett fills the song with lots of power playing too. Not as much as the no braks applied approach to the splendid
El Nin'o.
This got by heart pumping a little more than usual as it harked back to the Steve Hackett of yore. In my opinion this is one of the pieces on the album that find Hackett at his best and struck ll the right chords with me.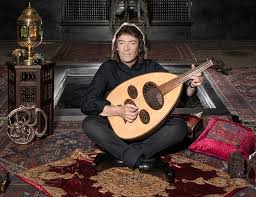 El Nin'o
is a hard piece to follow, it's hectic and hurricane nature needing a delicate and softer contrast needed in the running order. This comes in the form of 
The Other Side Of The Wall. 
A beautiful and almost Genesis type of tale conjured up by Steve and his wife Jo. A tale of love hidden beyond the wall of a mythical garden. Sweet acoustic guitar and sentiment though i cannot ever be convinced that this is something that Steve Hackett does well on his own. Unlike the terrific 
Anything But Love 
given the Fleetwood Mac treatment by Amanda Lehmann's wicked backing vocals. Hackett's immense guitar skill are layed bare here from the Famenco opening to the all out rock Les Paul licks and his great harmonica solo. Joined by tour vocalist Nad Sylvan
Inca Terra
at one point finds Nad singing harmonies which intentionally or not are a fitting tribute to the late Chris Squire as it sounds very much like an early Yes pastiche. This song is saved from ethnic overkill by Hackett's traditional pace and change of time signatures ably accompanied by Roger King's killer orchestrations. Hitting the Led Zeppelin trail again
In Another Life
give off the impression that a cover of
Bron-Y-Aur Stomp
was about to unfold. Scottish and historic references soon become apparent in both melodies and song. Again just a smattering of overkill which i did not warm to. Not even the wonderful Troy Donockley's earthy Uilleann pipes at the end which i always enjoy hearing didn't manage to charm me. A matter of taste methinks. A subject close to my heart is that of night terrors having suffered with them from a very young age. It seems i may have found a musician in Steve Hackett that fully appreciate the effects of these life like nocturnal episodes.
The Skeleton Gallery
certainly gets the message across. Man of the match here is Rob Townsend injecting some atmosphere with his sax and bass clarinet along with wife Christine adding viola. Apart from The fabulous orchestration this song really did hark back to the days of
Please Don't Touch, Defector
and ,
Cured
 with perhaps just a little more heft. The dark and sometimes worrying nature of night terrors are well portrayed here musically and i doth my cap for capturing it so dramatically. Easy to get wrapped up in such clouds and forget a little hope and optimism. My faith restored by the rather wonderful
West To East
including yet again those Eastern melodies with added scale. Of note singers Kobi Farhi and Mira Awad are Israeli and Palestinian respectively giving further credence to the message of unity  and the need to break down barriers. I was reminded so much of
Afterglow
here which in itself win win many friends as a song. How to conclude such an adventure? With grace and reverence which Steve Hackett can do only too well.
The Gift
is just that, an absolute musical gift. Peace and tranquillity in the most suitable way to complete such an adventure. Hackett's guitar bleeds emotion as he paints the musical end piece assisted by the sumptuous keyboards of Benedict Fenner. Very much a step in the right direction as mooted above. Melding classic Steve Hackett landscapes with his more contemporary styles and influences. All relevant as it can sometimes come down to which of Mr Hackett's styles or era's you prefer. With this in mind there is something for everyone here with
The Night Siren.
I think the music benefits hugely from the inclusion of new musicians bringing with them multiple influences and textures. Retrospectively it's good to see Benedict Fenner involved making me want to see collaborations like this in future in particular keyboards whiz Nick Magnus who helped shape some of Steve's classic sounds. I would say in true Carlsburg fashion That 
The Night Siren 
is probably the best Hackett album since 
Darktown 
and i can see it winning him many new friends. Available from the usual outlets including Steve's webstore at  www.hackettsongs.com Double heavy weight vinyl £22 CD £12:50 CD/Blu-Ray media book £18:50 16 bit CD quaity flac £10 24 bit download Studio master flac £12