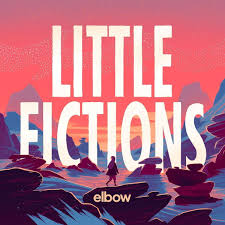 I have had a strong liking for Elbow's refreshing honestly portrayed music since i watched their
Live At Joderal Bank
concert. As far as progressive music is concerned i think Elbow represent the best of contemporary musicians that leave me spell bound with the story telling nature of their songs whilst not forgetting the all important melody. In true fashion lyrical content is always open to interpretation and this wonderful clutch of songs leaves me intrigued after every listen.  Of all the bands albums fans will have their favourites, well, this is mine!
Little Fictions
appealed to me from the off which may well have to do with my strong Northern roots. For the purpose of my review my findings are based on the heavy vinyl version of the album which is sonically very pleasing indeed. A quick not however to those like myself who use record clamps "the lead out track to this album is very short and i found that the headshell just fowls the outer edge of the clamp". Of course this won't apply to all but a fair warning nevertheless. From the outset
Magnificent (She Says)
had me right back in my chair relaxed into the vibe. A single or radio playlist frequenter if ever i heard one. There is something rather comforting about Guy Garvey's vocal delivery him being to the North of England what the Proclaimers are/were to the Scots. Recorded at Blueprint studios in Salford can only have added to this strong passionate feel. The Halle orchestra add their sumptuous string tones here adding scale, breadth and class to beautifully penned song. Drum loops are scattered around this album liberally courtesy of Craig Potter first up being
Gentle Storm.
The simple piano chords here remind me very much of Talk Talk, though Garvey's sonnet is just that, a good old fashioned love plea beautifully pitched the spirit of which continues into what is without doubt my favourite song on the album,
Trust The Sun.
With mesmerising beats and rhythms
Trust In The Sun 
is like so many of the songs here, lyrically powerful and thought provoking. Passing the baton of cynicism 
All Disco 
resembles Elbow in their previous incarnation and a little more recognizable. A great take on life methinks a great band effort given gravitas by strong backing vocals and hooky  chorus. indeed most of the compositions take on a form of lyrical chant, a fair representation of this would be the simple and lilting 
Head For Supplies. 
Set to a gentle guitar and bass drum i basked in the tranquillity of this crafted ditty. Elbow seem to have hit on a rather sweet formula here though the overall sedateness of the songs collectively may not be to everyone's liking though i found the simplicity of the more sparsely recorded songs a welcome change.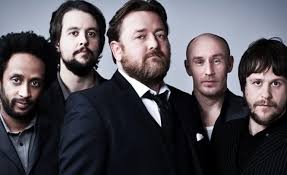 Firebrand And Angel 
finds Craig Potter utilizing the lower registers of the piano to once again give the Talk Talk feel. No bad thing when you think of the kudos albums like 
Colours Of Spring 
gained by pundits and music peers alike. Alex Reeves drums benefit the whole piece due to their uncomplicated beat and live feel. Backing vocals by The London Contemporary Voices add scale and impact to the previous sparse, uncluttered soundstage. 
K2 
finds the drum patterns a little overplayed and though my least preferred song of the album it's still an interesting listen whilst the next song upstream 
Montparnsse 
leaves me a little confused as to it's meaning. It conjures up an ode to an historical love event in what is perhaps the most bohemian sector of Paris. I would describe it as quaint. Back in their stride rhythmically, title song 
Little Fictions 
is perhaps the most word strong of the whole album. However, Guy Garvey's take on relationships to my mind and if so left me well and truly intrigued. Great use of samples here courtesy of Ginger Bakers Air Force. Quite wonderful i thought. To wrap things up is yet another song i struggled to understand, 
Kindling 
once again had my mind working overtime as to it's meaning though ultimately it left me feeling sad. As the songs message grew stronger as did the mighty strings of the Halle orchestra the climax of which nicely brought back to earth by the captured voices of the band rejoicing in their efforts. There's a lot of love on this album countered by a minor hint of concern likely inspired by topical subjects like Brexit, the migrant crisis and the many other newsworthy items. 
Little Fictions 
won't have you reaching for you air guitar nor your dance shoes either. What it will do is allow you to enjoy melody and substance whilst pondering real poetry. Robert Frank Hunter's illustration seems somehow inappropriate after listening to the contend though it is fresh and almost a cartoon of a Roger Dean cover with plain font. A lovely slab of vinyl is this and even worthy of consideration on one of those olde worldy CD things. Established fans may well struggle with
Little Fictions
comparative lethargy i see it as a breath of fresh air.