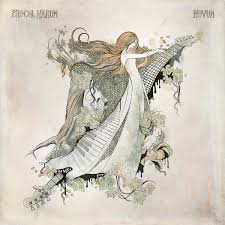 Yet another band that eluded me over the years Procol Harum left me with a view of them tainted by my youth. Let's get it over with shall we?
Whiter Shade Of Pale
was always going to be a tough act to follow and for those of a certain age like myself with a memory of the song formed in their formative years. Without doubt love it or hate it one of the best songs ever recorded. Quite an accolade and a marvellous way to begin a career. Along with
Conquistador
and
Pandora's Box
these achievements along with Procol Harum's back catalogue emanate from way back in another space time continuum. The bands new album
Novum
is just that! A brand new thing and a welcome one at that. Eleven well crafted songs from a band who in my mind command respect. Seasoned like ships timbers the salty dogs return to the front of the cue of vintage musical athletes setting the bar very high in 2017. Beautifully presented with illustrations by Julia Brown makes for a nicely packaged album, the band even list amongst their credits Riccola Herbal sweets which i believe are sugar free and available from Holland & Barrett for as little as £1:85 and even the flight cases in which they transport their gear within the booklet/cover. Bizarre but very quaint. Consisting of Gary Brooker the elder statesman of PH singing and playing the piano, Geoff Dunn – drums, Matt Pegg – bass, Josh Phillips – Hammond and Montage 8 synthesiser and Geoff Whitehorn – guitars. Looking at the band photographs within the cover art they ooz the confidence of musicians who have been around the block a few times and could play any venue in the world at a moments notice without a soundcheck or expensive Ryder. From the outset good old fashioned blues are the order of the day and
I Told On You
puts it right out there setting the pace and mood for the whole album. Gary Brooker's voice as strong as the day i first heard
Whiter Shade Of Pale
as an eight years old child. In the same approach as The Eagles discounting the obvious reference
Last Chance Motel
carries the same country ambience with a touch of Al Stewart thrown in for good measure culminating in a West coast finish. Something very homely about this song and it will win many friends for Procol Harum both young and older. Song writing and composition are here in spates throughout
Novum
with lots of current demons covered in the lyrics. None more so than
image Of The Beast.
Though i can't be sure it seems to me to be a pop at the banking and financial crisis. Musically it's a thrill. Geoff Whitehorn's blinding guitar riffs are bolstered by Josh Phillips rich Hammond swaths informing me of things i simply didn't know that Procol Harum do. In a more tranquil vein the band embark on a stirring and beautiful song with an extremely powerful message reflecting on events such as 9/11 et al. Highlighting misguided ideology and allegiance to them by those who count themselves as members of organised militia and religiously motivated groups 
Soldier 
finds Gary Brookers's soulful vocal delivery and wonderful chord structures quite heart rendering. I felt moved by this song such is the power of  it's composition and the quality of every note being played.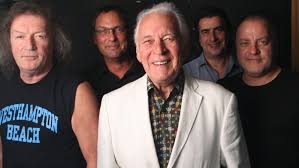 The story telling nature of this fine clutch of songs continues with
Don't Get Caught.
I was moved to think of Fletch's immortal words in the classic comedy series Porridge when asked "what are you in for"? and he replied "I got caught". Of course the sentiment here applies to so many things though i suspect infidelity may well be at the root of it's meaning. Yet another song which leaves me smiling upon it's completion as does the almost Ian Dury and The Blockheads like
Neighbour
which highlights the experience that many of endure having neighbours we would much rather not have. A humerus and jaunty piano driven piece that wouldn't be out of place on a Madness album. Moving back into a more blues driven piece is
Sunday Morning.
This song has the more "i woke up this morning" type blues mentality though ultimately it has a lot more class. Orchestrated beautifully by Josh Phillips courtesy of his Montage 8 synthesiser. This song showcases Procol Harum's rich heritage and reflects upon their classic sound. Another subject dealt with firmly is the horrendous way that business throughout commerce and the financial sector is
Business Man.
An all out raunchy rocker thanks again to Geoff Whitehorn's powerful edgy guitar licks and Geoff Dunn's powerful drums. Having just watched a Panorama special about dodgy bankers and their flagrant disregard for the general public i immediately identified with the words here. Cranking up the pace even further is
Can't Say That,
a total joy lyrically and musically. There's a sense of the whole band ripping it up here Gary Brooker's voice detracting from his splendid piano playing. Hard to pinpoint a man of the match here yet it got to this point in the proceedings before i fully appreciated Matt Pegg's solid bass playing.
On a larger scale the band find themselves steeped in the sumptuous
The Only One
which includes some rather sweet acoustic guitar possessing a more cinematic approach to the writing whist the vastly smaller scale, end piece
Somewhen
finds Gary Brooker alone at his piano singing a soulful and fitting conclusion to a meaningful and musical event.
Novum
nicely ticks a lot of box's for me. Having ignored Procol Harum's previous albums in the past,
Novum
has whet my appetite to unearth the bands catalogue. The story board format of Prog lends itself well to this album though all labels and pretence are set aside in favour of all out musicality. In fact i found this album so hard to review due to the fact that i couldn't stop listening to it log enough to write about it. No shades of pale here folks, just brightly lit music telling tales of wondrous stories. I doth my cap. Available from www.procolharum.com   and all the usual suspects. prices on Amazon  CD £12:63  and Double vinyl album £24:69.