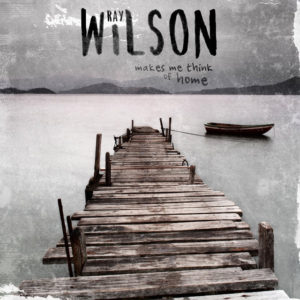 Ray Wilson known to many  Prog fans as the singer on the Genesis album Calling All Stations seems to be having a productive year creatively with the release on October 7th of his second album of 2016. Hot on the heels of his melancholy Song For A Friend album, Ray continues his life journey and observations with the highly reflective Makes Me Think Of Home. This nicely packaged and presented album of ten strong personal songs builds on the more acoustic nature of it's predecessor with a slightly more electric approach with more of a spring in it's step.
Plain to recognise Wilson's pride in his Scottish heritage as the bagpipe sounds heralding the opening song They Never Should Have Sent You Roses a fictional missive about a jilted Scottish boy driven to contemplate suicide. Not a subject to be tackled in an upbeat way you may think though Wilson and his steadfast crew pull it off quite nicely.  Uwe Metzler's guitar playing lends a U2 feel to this song as he lets rip with his Graeme Edge licks. Impressive from the outset here is Nir Zidyahu's powerful drumming. This continued into The Next Life where meaty drum and bass underpinned a solid rock rhythm. Wilson's powerful voice delivered an equally powerful message cleaning up your act before it's too late. Very much an anti excess warning delivered with appropriate punch.
Tennessee Mountains explores the effects on the emotions brought about by isolation of a man in mountain territory. Nice acoustic mandolin creating a great vibe which is continued into the next song Worship The Sun representing the same isolation throughout the summer months. I found this to be one of the strongest songs on the album very much continuing the hard rock theme before moving into the more dark and gloomy title song Makes Me Think Of Home. Marcin Kajper's flute is a great addition to this song that throws out a great soundstage and scale between the speakers. This song really does capture Ray Wilson's discontentment with his lot in his native and the need to escape from his basement flat in search of light and space.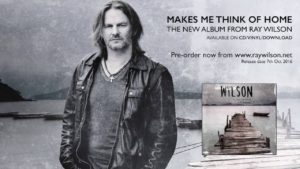 If there was a single to be had from this album it can be found in Amen To That, a good feel chant for want of a better phrase. The want to throw off the chains of life that bind us to the humdrum and seek self awareness and freedom. an accompanying video has been made which has an MTV vibe to it. This good feel message is pretty short lived however as grim reality of drugs and alcohol are covered in the jaunty Anyone Out There.This song has a big hearted country feel to it and an extra octave of bass for good measure. At this stage i was wondering just what it was that made Genesis choose Ray Wilson following Phil Collins temporary departure? His voice is more in the rock idiom, powerful, rich and soulful. So far removed from the classic Genesis sound and much more at home here with songs written to best exploit his talent.

For me the song of the album has to be Don't Wait For Me, a Peter Gabriel pastiche if ever there was one. Very dramatic this song grabbed my attention from first hearing it. Some quirky synthesiser effects at the end too. In stark contrast t this is Calvin And The Hobbes. Written by a friend of Ray Wilson Scott Spence  who wrote it for his daughter. Inspired by a comic strip and it's characters making or an interesting subject matter. Reminiscent of the Cranberries in parts. This quirkiness continues with the grand finale The Spirit. Inspired by ELO's Wild West Hero. The Spirit has some nice Mellotron sounds and whistling which further added to the cowboy movie atmosphere and a great way to end the album.
Artwork and the quality of the slipcase are second to none and follows on nicely from Ray Wilson's previous album released only a few months ago. Ray Wilson's powerful compelling voice and beautifully penned songs and music make this a must for his fans and a great way for those not yet so. Highly recommended.
Makes Me Think Of Home can be purchased via Wilson's webstore www.raywilson.co.uk
vinyl 24:99 Euros
CD   15:99 Euros