Let's put this out there from the beginning shall we? Kate Bush fans form an orderly clue. For lovers of Kate's work and style there is now once again a young and vibrant exponent of storytelling and musical theatrics. Ms Amy Birks first came to my attention as singer and song writer with the rather exquisite Beatrix Players known then as simply Amy Birks. Since Amy's departure she has been very busy with her latest project the beautifully packaged and presented All That I am & All That I Was album which is scheduled for release on April 3rd 2020. This is really Amy's personal story that of broken relationships and personal trauma. Having said that Amy's passion for literature is prevalent throughout in songs like Jamaica Inn, Catherine, The Fault Of The Lady Anne and I Wish. The remaining songs deal with the breakdown of relationships with a hint of infidelity and a personal negative experience whilst Amy worked as a very young girl in the modeling industry appearing in advertising such as DFS furniture. Amy's diminutive stature making the settees and chairs appear much larger than they actually were.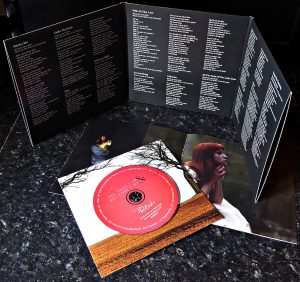 Hidden throughout the eleven songs here is a plethora of musical talent which includes Guitar supremo Steve Hackett and his brother John playing flute. This is very much a collecting of songs exuding a cultured feel about them, small scale and major on simplicity. Those looking for soaring guitar breaks and Synth solos need to look elsewhere as this is very much a listening experience to be savored and not just celebrated. Jamaica Inn is one of two songs from the album to have been released as a single with supporting Youtube videos both of which are stylish and further give the period drama feel to Amy's own persona, music and indeed the album as a whole. From the outset Jamaica Inn sets out the stall for the rest of the eleven minuet's with a sparse soundstage allowing the recording to breathe thereby enabling the listener to hear every nuance from Oliver Day's gentle touch on guitar to John Hackett's subtle flute tones. The bleakness of the subject matter is further enhanced by Carloline Lavelle's haunting cello. This is the one song where a direct comparison can be made to the rather wonderful Kate bush as it does have the Wuthering Heights vibe to it. Credit also must be given to Amy for mixing the album with the exception of I Wish herself. Not bad for a debut album. The first of the personal songs comes in the form of Unlike The Heart. Here the purity of Amy's voice so often found in artistes with youth on their side also has a lilting vibrato that captivated me and pinned me to my chair. Marie Kroon's violin carries this poignant song emphasizing the sorrow detected well enunciated mezzo vocal.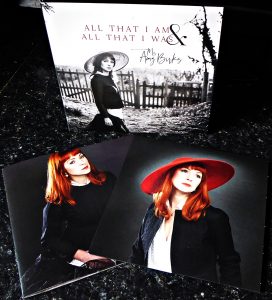 Very little pause is given between the songs only a couple of seconds at most so no time is wasted. This means that no impetus is lost and Not Every Night continues the in the vein of a decaying relationship hinting at infidelity. Yet there is a very soothing nature about the song expressed not only in Amy's voice and piano playing but John Hackett's sympathetic flute style. This spill over into All That I am where instrumentation has a little more gusto here perhaps to represent the tempestuous nature of a failing partnership in its terminal phase.  Perhaps the most thought provoking song of the personal foray here has to be without any doubt Say Something. The song refers to her time as a teenage model when she was taken advantage of by an older man. Given recent events in the US and Harvey Weinstien's conviction and prison sentence, the song will have a resounding effect on anyone who may have experienced this type of personal trauma. Lyrically explicit of the emotion and musically stark it left me stunned.
Elsewhere songs like Catherine tread the path so boldly trodden by Prog icon Rick Wakeman had all those years ago though here Amy Birks concentrates on one of Henry VIII's wives and not eight. Though it is with the elaborate production of I Wish that really leaves a bold impression such as the impact of Steve Hackett's crisp classical guitar played in a flamenco style. There are some fine elements to this piece not least ukulele bass and samples by Nick Wollage who also along with Amy added subtle percussion. Based on the 1862 poem by Christina Georgina Rossetti's "I Wish I Were A Little Bird" the song gives out a powerful Catalan vibe and without doubt the liveliest song present. Andrew, Amy's father (a Supertramp fan so I am informed) helps out with backing vocals here too. To conclude the album Amy enlisted the talents of Lazuli boards man Romain Thorel on piano. That said I do find the compressed toned of Romain's piano sound a little underwhelming compared to Amy's crisp and finely etched tones on display throughout the rest of the songs. A  Jaunty, intriguing song despite my personal reservation about the piano sound and a great way to complete a rather special debut, Keeps You Guessing upholds the quality aspect of the recording right until the final note.  For those of us who enjoy the music of Tori Amos and the fore mentioned Ms Bush will find this album a breath of fresh air. I would advise prospective purchasers to buy into the album as a package and not just the audio excellence. The imagery of not only the Youtube videos but the pictures included on the front cover and throughout the booklet is essential in conjuring up the intended mood of the finely crafted songs especially those with historical significance. I have been lucky enough to have received both the CD and the CD 7" box package to review and confirm that the larger the images the more impressive the album becomes. The good news is that a vinyl option is also available even bigger and better. Now, where did I put my credit card?
Pre Orders
https://themerchdesk.com/index.php?route=product/category&path=88_296
I Wish https://youtu.be/pf4F9jQVz_E
Jamaica Inn https://youtu.be/g_ji_1Sm2vE