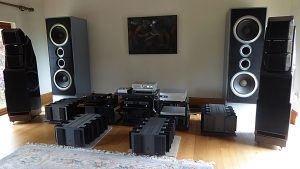 As 2023 steams like an out of control, unmanned railway train an invite to escape the humdrum is very hard to resist. With this in mind I decided to accept few days away at a friends beautiful and very special home in deepest and secluded south Wales. Caron Jones and his lovely wife Fiona have been my friends for a few years now though my last visit was pre-lockdown. Caron listens to my on-line radio show on Progzilla radio and we discovered that we both have many of the same musical preferences. We also share a passion for audio equipment, though I have to admit that Caron's commitment, and steering of considerable resources in to his quite frankly breathtaking Hi-fi system leaves my humble attempt at being an audiophile firmly in the shade. Where we both stand as equals though is our love of music. So, early one Sunday morning I loaded up my trusty sports car with records and beer and set off on a six hour journey for a few days adventure. I was about to say R&R but it was far from it!
I sometimes pinch myself when I visit Caron because from my arrival till the moment I leave I am treated like a celebrity which I am most definitely not! I am a firm believer in synergy and when two minds think alike about so many things it transcends all differences in personal circumstances or backgrounds. After dumping my bags in my luxury bedroom and consuming a quick cuppa Caron and I were sat in front of his legendary Hi-fi system listening to music via vinyl LP, CD and stream. Everything was on the table too from pop, blues, prog, electronic, folk, new age, ambient, rock and classical. Listening to music in such an environment through such an amazing audiophile system is quite an experience and very rewarding. The room in which the system is housed was purpose built for it and has a story behind it too. The subwoofers in the system of which there are two had to be manouvred into place by a local rugby team when the room was under construction as they weigh 470kg each. It is almost church-like and certainly the place to worship at the alter of Prog.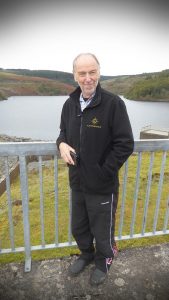 Oh, something I forgot to mention is that Caron was for a while a rally driver and the next morning he took me out for a spin through sone very narrow country lanes and forest tracks. I kid you not, you have never lived until you experience speed in the hands of someone with this kind of skill and experience. We visited Llyn Brianne reservoir travelling along roads on which Caron once held a record for completing in the fastest time. It was awesome! We even stopped off at the most remote chapel in Wales where Caron's late father used to preach from time to time. How do you follow that? Well, you return to the house and listen to more music. We also had time to watch some great music via You-tube on Caron's kitchen based system which also includes Krell amplification and Wilson Watt speakers. After consuming some great food washed down with a nice welsh single malt I slept soundly in the inky black surroundings of the most breathtaking country side in the UK.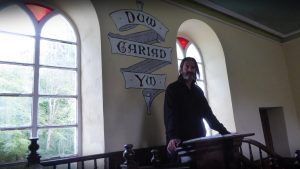 The following morning Caron opened one of the three garage doors next to the house revealing a rather beautiful Porche Boxter. After checking the tyre pressures and informing me of the cars technical prowess like break horse power etc he invited me to join him in a quick jaunt along the lane outside. Both invigorating and terrifying at the same time. On our return to the house we decided to have a walk in the rather beautiful house and gardens of the nearby Aberglasney. A rather stunning place steeped in local history. On this occasion it was my turn to drive which must have mede Caron feel like he was being driven around by a grand parent given his extraordinary talent. After a refreshing walk followed by coffee and cake it was time to do some serious listening. We ran the gauntlet listening to some amazing pieces. Two highlights were Los Endos from the Abbey Road cut if Second Out by Genesis and a Telarc pressing of Stravinsky's Firebird Suite.
Following a rather splendid meal at a local hostelry we settled in front of a rather large TV and watched some great music before I had to turn in early due to me driving home to the North East the following morning. I drove home totally humbled by the whole stay. Somehow thank you just didn't seem to cover Caron, Fiona and their lovely families kindness. I am most grateful for The Progmeister's big welsh adventure. I have no doubt that they are now enjoying the well earned silence in my wake.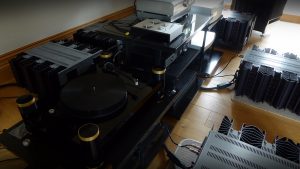 The Hi-Fi system we listened to for the audiophiles who may read this consisted of the following components….
Basis turntable with SME V tome arm and Koetsu Anniversary MC Cartridge
EAT E-glo petit phono stage (on loan whilst Krell being serviced)
DCS Rossini CD player/DAC and DCS clock.
Dan D'Agostino Progression pew-amp and power supply
Krell KBX active crossover
X4 Krell KRS200 mono-block amplifiers
Wilson Audio Alexandra X-2 speakers
Wilson Audio XS subwoofers X2