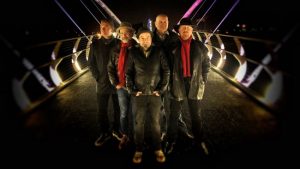 Every once in a while something comes along that forces you to over use the volume of your favorite music device. One such thing is a new album The Life Of A Honeybee And Other Moments Of Clarity by Scottish band Abel Ganz. To think it was something I missed out on for a while due to the Mp3's dropping into my junk mail! Listening to the tracks through my laptop I was prevented from working on other things and decided to burn them off onto a disc in order to hear them properly. Unlike many albums that require a few plays before embedding themselves into your head I was instantly smitten with The Life Of The Honeybee & Other Moments Of Clarity. So good in fact that I ordered a copy of the vinyl version of the album and within a couple of weeks it arrived in all its glory.  It is this rather splendid possession on which I base this review.
The nucleus of Abel Ganz are Denis Smith/drums and percussion, Stevie Donnelly/acoustic and electric bass, Alan Heaton/keyboards, Mick McFarlane/vocals and guitars and David King/guitars. The band are well augmented here by a host of seasoned musicians most notably keyboard player Jack Webb who plays some great Hammond and pianos both electric and acoustic throughout. The album kicks off with the title piece The Life Of A Honeybee And Other Moments Of Clarity and a good old fashioned synth drone broken by a crisp acoustic guitar. This song has a pleasing reminiscence of early Genesis with dual acoustic guitars and flowing electric and acoustic pianos the tranquility of which is disturbed by a real growling Hammond at around 4:40 minutes just to remind all there are Prog foundations here though folk leanings are met head on at around half way through this twelve + minutes mini opus. Mick McFarlane's voice is solid throughout with great harmonies too. There is everything from fiddles, harmonica, Bouzouki to Mini Moog synthesizer here with a blast of sax to round the piece of by one of my favourite exponent of the instrument Snake Davis.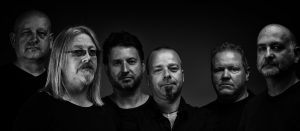 In sharp contrast One Small Soul is light and airy, Mick McFarlanes strong voice contrasted by the sweetness of guest singer Emily Smith. David King's electric guitar break is supported by a steely Hammond whilst Jack Webb's piano sound more like something from a Bruce Hornsby album lending a touch of Americana to the proceedings. However, this song helps lift the album from Prog autopilot in a very pleasing way. Another shift and welcome moment of levity from the lyrically poignant message is Arran Shores, emanating as it does a fair dose of Scottish pride. David King's mellow solo acoustic guitar playing followed by yet another delicate moment captured so beautifully in Summerlong. Mick McFarlane toned down his driving voice whilst a string section added even more subtlety. It isn't until Jack Webb's gritty Hammond and synth outburst that you are reminded where you are. Yes, in the middle of a concept album! An interesting vibe here is that background noises can be heard. There was something very human about this.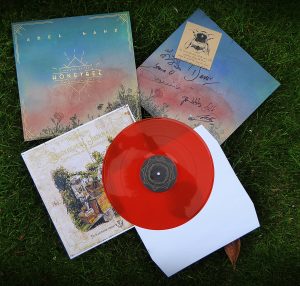 Without doubt the hub of the album in my humble opinion is Sepia And White. With a frantic groove ably laid down by bassist Stevie Donnelly. The fiery opening continues with glaring organ and synths. Denis Smith's drums give out solar flares until the pace slows down allowing the lyrical content to pour forth. Following Alan Hearton's tranquil Mini Moog break there is a guitar and keyboard outing augmented once again by a killer bass line. I found the pace and time changes throughout this piece astounding loving every minute of it. At around seven minutes in a Supertramp-like piano motif changes the mood a little heralding a little light into the proceedings. Given the title of the song this may or may not be intentional? I give five stars for this piece alone not just for its musicality, for its thought provoking messages too. To complete hidden and not so hidden messages, the finale in its slower guise is The light Shines Out. Don't be fooled by the low whistle at the beginning of this gorgeous song, it isn't a folk piece or such like. Here Peter Gabriel meets The Blue Nile. Denis Smith trades his drum kit for the microphone allowing his sumptuous voice to flow through this more electronic excursion using drum patterns instead. Alan Hearton contributes Mini Moog synthesizer, string machine and piano in a way that it creates a great atmosphere for the piece. I found the words to The Light Shines Out haunting in their delivery yet contrasting sadness with hope. A song for 2010 methinks given the fact that it was stolen from us by an unseen foe. Other subtle nuances are the inclusion of vibraphone, French horn and congas to lift the song away from total greyness inflecting as they do some beams of light. A lot of music in specific genres is open to interpretation both from musical and lyrical points of view. The artist's original ideas and meaning may be totally misconstrued by the listener. Abel Ganz has created a huge tapestry here for many eyes to gaze upon and take the shades and colours from it in the way that they will. Other bands and artists are tackling the subject of memory loss and desolation most notably and coincidentally Scottish is Fish. However, Abel Ganz has eloquently presented the world with a musical platform for all individuals to interpret in their own way. I would describe this album as on the whole beautiful, human and highly musical making it a joy to listen to. As a package the vinyl version if that is like mine you specific penchant oozes pride of ownership though any format holds with in it the same musicality. Hats off to the boys from Glasgow.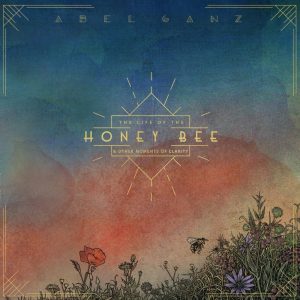 The Life Of The Honeybee And Other Moments Of Clarity Can be bought from the usual outlets ie Amazon, Bandcamp etc or via the Abel Ganz Facebook page and website…
Signed digipak – £15.00
Standard digipak – £12.00
Signed deluxe 180g LP – £25.00
Standard deluxe 180g LP – £23.00
24/96 Master – £15.00
Mp3 320kbp – £7.99
Find out more at www.abelganz.com