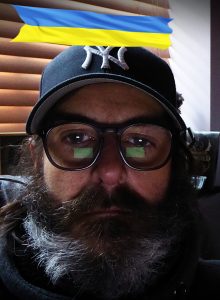 Depressing times with the state of the economy and the war waged on Ukraine by Russia. 2022 is proving to be a real bummer in so many ways for so many people. I attended the funeral of a fiend and joined the legions of hip pain sufferers sleeping even less than I was a year ago. We recently lost three giants of the world with the passing of Klaus Schultze, Vangelis and Dave Smith (inventor of polyphonic synthesisers, MIDI and of course the renowned Prophet 5 synthesiser) not to mention Andy Fletcher of synth pop band Depeche Mode. One of the biggest shocks for the Prog community has also been the loss of Yes drummer Alan White, yet another of the genres stalwarts joining the supergroup of masters since passed. This is not a good picture to paint, is it? Yet in a bizarre way rather than dwelling on such misery I have once again turned to my drug of choice to get me through all of the above, music! In a strange way I feel kind of guilty that I am as content as I am with my personal lot outside of my working environment as so many folks are suffering badly. However, as the year moves forward and I both reflect and look on the positives I feel humbled. Winter saw me attending the album launch in Newcastle Upon Tyne for the new release by Tony Patterson and Doug Melbourne
Dark Before Dawn. http://theprogmeister.com/dark-before-dawn-tony-patterson-doug-melbourne/ 
Myself and good lady partied hard with some great people of the Prog music world and managed to witness first hand the joy musicians get from handing their art to both the record company though most importantly the public. I am a fortunate chap indeed to count many of the artists I have known in the past only via their music, CD's, LP's etc as friends on a personal level and not merely journalistic ways. Here are my views of the album    http://theprogmeister.com/dark-before-dawn-tony-patterson-doug-melbourne/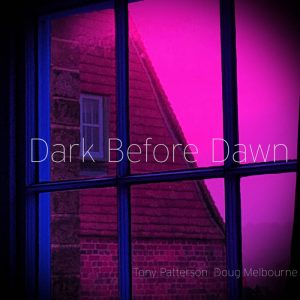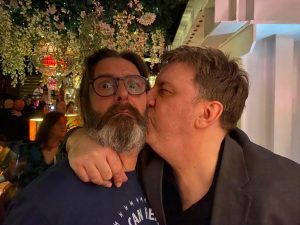 Then of course I was approached by an old school friend Paul Rogers (no, no relation) to ask if I would present as The Progmeister Dave Bainbridge and Sally Minnear on stage at an event he was organizing in a local church. I of course accepted the gig and was thrilled to do so. Not without sharing a little of the stress I may add as the selling of tickets and getting bums on seats is no easy task in the North East as I remembered only too well as i staged not one but two indoor festivals over ten years ago. Despite the gig being held in a church the positives far outweigh the negatives especially when there is a fully licenced bar within.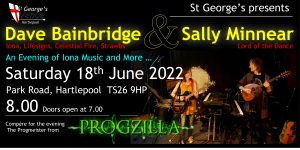 As the year continues Big Big Train fans despite the mourning of lead singer David Longdon have the launch of a book about the band to enjoy and despite the expensive aspect of it for me it is a must have. Also, the fact the band have found a new singer and will be continuing is a bonus and all being well I will get to see them at HRH in Leeds. This is something I am looking forwards to immensely! May 2022 also heralded the visit to my home by the third member of the Progzilla radio team visit my home, fellow presenter Mike Whitfield paid a somewhat all too brief whistlestop trip to Progmeister towers during which we played some great music enjoying as we did a pint or two and mirth. It's ok though, it wasn't a party it was work! Mike and I also discussed the possibility of doing more shows. Watch this space.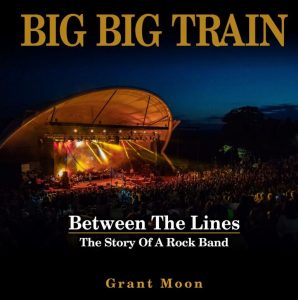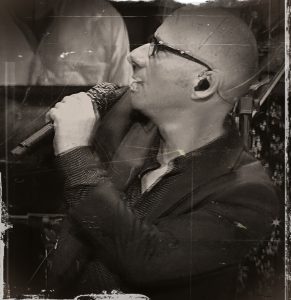 Last year we visited Tangent legend Andy Tillison and his lovely lady Sally Collyer at there home out in the sticks where Andy was hard at work finishing off the band's album
Songs From The Hard Shoulder
. We had some fun in his studio before freaking out to some of what we discovered to be our mutually adored musical penchants most of which had nothing to do with Prog whatsoever. Release date for
Songs From The Hard Shoulder
is/was depending on when you read this 10
th
June 2022. A full review of the album can be found here
http://theprogmeister.com/the-tangent-songs-from-the-hard-shoulder/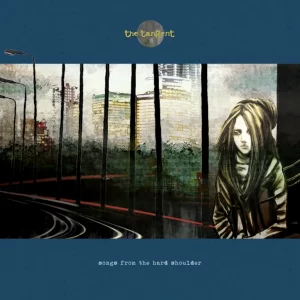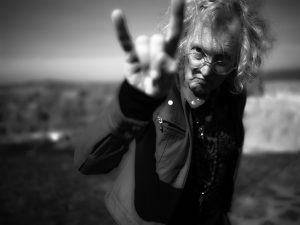 My plans to continue holding annual events for audio enthusiasts show no sign of abating as NEBO 12 is planned for September and a trip to New Zealand at the end of November giving me things to look forwards to intertwined with spontaneous catch-up events with some great friend.  So, that's where the world of the Progmeister is at the time of writing. I am resolute in maintaining my positive slant on a difficult world to live in albeit from my little psychological bubble up in the North East of the UK. I guess it's right what my teachers used to bellow at me "Petch, you are in a world of your own", How correct they were.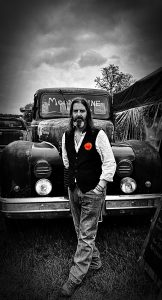 Drinking moonshine, driving old cars and immersing himself in music. The Progmeister is in a world of his own.