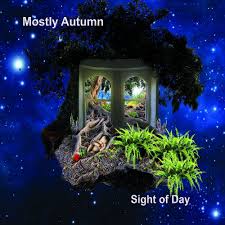 Many moons ago i trundled my way through the rain to see a band i had eagerly waited to see play for quite some time. It would have been around 2001 or even 2002 that i arrived at The Woodcutter pub to watch Mostly Autumn play. A few weeks prior i had purchased their new album Last Bright Light and was totally smitten by their imagery and sound. On that particular evening i managed to speak to the bands commander in chief Bryan Josh who informed me "we ain't playing mate, the PA hasn't turned up". I managed to catch them a few weeks later though. I stayed as enthusiastic for a number of years though along with the Woodcutter pub which alas is now no more the band changed direction and one i was at that time interested in following.
That was of course until Mostly Autumn's new album Sight Of Day landed at Progmeister towers. I was intrigued by the eye catching sleeve despite it reminding me of a British Gas advertisement and newer to me personnel. The nucleus of the unit that i came to love and admire back in 2001 or thereabouts remain though spearheaded by his Bryan and his Beautiful wife Olivia Sparnenn Josh. Old news to the many no doubt but for me it is new territory.  Having seen the couple perform an acoustic set in Support of Steve Hackett's Genesis revisited show at The Barbican in York i was keener than ever to hear just how far they had come since the heady days of playing much less grander surroundings. I wasn't to be disappointed.
From the opening few bars of piano to the uplifting chorus that is the title song Light Of Day i was instantly transported back to the bands formative years when they brought something invigorating and new to the party. Celebrating the arrival of a new day and i suspect the countless musical events in which they have taken part in so eloquently put to music along with Josh's signature Strat soaring  in true Mostly Autumn style akin to the heart warming return of an old friend. Iain Jennings keys doing a fine job of orchestration whilst at the same time offering up subtle support for Josh's soulful meanderings. For Camel fans like myself there are a moment or two here that may just make toy smile.Got to admit there are a few 2hair on the back of the neck" moments here. Steaming ahead at almost a quarter of an hour long  Sight Of day's powerful anthem crescendo lays down a sturdy track for the rest of the album to travel along.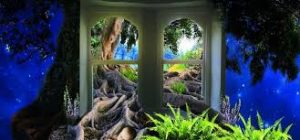 listening to once Round The Sun i was a little confused at first with the different inflection in the voice which instantly reminded me of Roger Daltry. Big and bold with true grit. This song reminded me also that i have been AWOL for a significant part of the bands career though welcomed the  extra weight in such composition. In stark contrast Olivia Sparnann Josh's sweet pleading voice is swathed in an almost holographic soundstage in the haunting Man Without A Name. This continues singing in unison with husband Bryan in the massive Floyd-like Hammerdown. Big bluesy guitar and drums that could crack a chestnut Hammerdown represents a welcome edge to the music without going all out metal, a happy medium rarely achieved with band such as Mostly Autumn.
In more of a conventional rock idiom changing Lives is a rocky upbeat change of style with the lighter vocal texture of Chris Johnson at the helm adding a little diversity to the mix and making for a little freshness as if applying a new coat of paint. Having said that Mostly Autumn soon return to what they do best, adding folk to Prog complexities with Only The Brave. Here we find Mostly Autumn returning to their roots and sounding all the better for it. Only The Brave could have been plucked straight from the bands 2001 Music Inspired By Lord Of The Rings album. Iain Jennings steely Hammond organ lays down a strong platform for the stomping powerful drums of Alex Cromarty. Strong vocal harmonies and blistering guitar make for an exiting battleground of a piece. Adding the folk to the fury is Troy Donockley on whistles and all things blown together with Anna Phoebe and violin/viola.
Getting a little dark and moody with just a hint of aggression Native Spirit has an American (Canadian) wilderness feel about it containing the most powerful electric and acoustic guitar licks of the album in some respects. Once again Alex Cromarty's drums thunder driving the song into a shimmering climax. A powerful celebration of nature tinged with a little bitterness with regard to it's abuse. Complete with Duane Eddy twangs, totally cool. Tomorrow Never Dies may sound like a James Bond pastiche and to be honest you would be right to think that because it is. Olivia Sparnann Josh's vocal range  stretched to the limit here for an Iain Jennings/Bryan Josh epic writing collaboration. This joint effort makes for an impressive large scale piece which could easily be film score gold and for the second time had the hairs on the back of my neck on end.
Adding their folk flavourings for the second time are Anna Phoebe and Troy Donockley bringing the pace down with their familiar violin and whistle sounds. Allowing th listener to pause for breath Raindown is a gentle stepping stone to the big finish Forever And Beyond. Another great return to their roots, a modern day shanty if you like and a fitting end to a gratifying collection of songs each packed with heart and hope. In some ways Mostly Autumn have travelled the golden miles adding new flavours along the way. The band have obviously won a lot of new friends over the years and must be regarded as industry stalwarts. My view is that with Sight Of Day they have been brave enough to return to a winning formula. Long may it last.
http://www.mostly-autumn.com