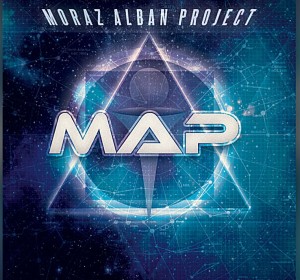 This album landed at Progmeister towers all the way from the states courtesy of Glass Onion who send a broad church of material for us to review. Moraz Alban Project (MAP) is the collaboration of keyboard ace Patrick Moraz and drummer Greg Alban. Patrick Moraz is best known for his brief membership of Prog legends Yes as well as a thirteen year tenure with The Moody Blues. Patrick also recorded numerous solo albums one of which was 
Timecode.
So impressed with the playing skills of Greg Alban and his band mate John Avila Patrick asked them to play on the album. Greg Alban had approached Patrick and asked him to compose some music for him to play the drums on. So Patrick then started to write, compose and arrange the music for MAP. The album is beautifully packaged and the one sent to Progmeister contained a poster of the art work. Opening the gatefold sleeve the picture of messrs Moraz and Alban resemble a couple of game show hosts rather than the rock n roll icons of yore. Gone are Patrick's bouffant hair and chiseled chin. Instead a clean cut businessman like presentation paints a more sober picture of the duo. The danger with keyboard albums is that they can easily become musak if the participants aren't careful. MAP manage to avoid this my filling the huge soundstage with high octane energy and imagination. From the outset
Jungle Aliens
launches from a standing start to very heavy and powerful barrage of great keyboard sounds. The piece is laden with bells and whistles. Alban's driving drums a far cry from the clean cut image portrayed in the photograph would suggest really adds thrust and vigor with some great percussion added by legend Lenny Castro. Prevalent throughout is the saxophone like synth sound favoured by the late Peter Bardens. In fact here and throughout the album I could hear similarities with Peter Bardens early albums. Moving into a more rocky theme is
Strictly Organic.
Moraz used some eighties keyboard sounds on this piece though this was more than made up for by the shear power of Alban's tight rhythmic drums.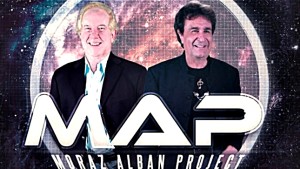 Benefiting from a real tenor sax ably played by Dave VanSuch
Canyon Afternoon 
is a more jazz influenced piece finding Moraz accompanying on piano rather than taking the lead. John Avila's bass and Lenny Castro moves the recording away from the trap that many keyboard players make which is to perform many of the bass and percussion parts themselves which can make for a robotic sound and stifles the natural nature of the recording. 
Jazz Night
cashes in on Greg Alban's jazz fusion roots. Lots of time signatures here highlighting it's west coast Californian heritage, something i found most enjoyable whilst
The Drums Also Solo
can only be described as aural gymnastics. I found the keyboard sounds on this piece sounded dated lending an incidental music sound to it. The drum solo on it is absolutely scary, it's velocity made me feel quite sick such was it's impact.
The Real Feel
has a sound to it that i would describe as mean. A much slower pace than the majority of the other pieces throughout the album. This is real jazz fusion at it's best and makes for a pleasing listen. It is easy to forget that the main man behind this project was at one time a Prog god though a reminder comes in the form of
Alien Intelligence.
This could easily have been plucked from a myriad of Keith Emerson themes. I found it very difficult to define bass guitar from keyboards here though the score-like melodies made up for the technical nature of the rhythm section.  Moving onto the penultimate piece
Mumbai Mantra
the Asian rhythms and tight bass playing by Patrick Perrier add intrigue and colour to the album. Matt Malley adds slide electric sitar to the mix further enhancing the feel of the piece. Greg Alban's use of Iron Cobra or chain linked double kick drum pedals slightly mars this piece. These devices are normally chosen by heavy metal drummers and seems out of place here. To conclude this interesting project Patrick Moraz opted to finish off with a spacey soundscape entitled
Alien Species.
This is the kind of music found on chillout albums or music used in conjunction with aroma therapy. Patrick Moraz user subtle flute sounds amidst his swirling keyboard fills whilst Greg Alban adds cymbals giving a sense of space and atmosphere. The production throughout the album is truly superb and  up there  with the best I've heard. MAP has taken up residence as my Hi-Fi system warm up disc  which is testament to just how good the production, music and sound quality is. As a keyboard driven album it is perhaps one of the best cross over albums i have heard combining big bold sounds with jazz fusion complexities both of which i find appealing. This is well worth checking out and will win a few friends with it's full on presentation and rhythmic drive though some may find it a little over the top. I think it is excellent. To find out more about MAP go to………….
www.glassonyonpr.com