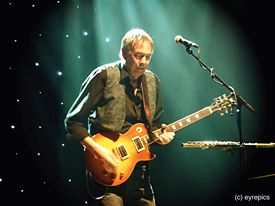 One of the things i am not too keen on in life is hero worship. And yet i am perhaps as guilty as anyone else of it. That is why i attend gigs by Camel on every occasion that it is possible. Knowing full well that the band had no new music to play i still made the journey to Sheffield and the rather splendid City Hall there to pay homage and immerse myself in the splendour of Camel's music. There has only been a few months between the bands welcome return to the stage following Andy Latimer's long illness so the set changed very little.
One major difference this time around was the change of lead keyboard player Guy LeBlanc for old Camel stalwart Ton Scherpenzeel. Guy Le Blanc had to forego the tour due to illness and Ton kindly stepped in. As good as he is and as kind it maybe, Ton Scherpenzeel lacked the dynamism and fluidity of Guy's playing and it was missed throughout the whole show.
This then is less a review and more a synopsis as i have already said many of the things previously whilst reviewing Camel's gig last year in Harrogate. Once again The Snow Goose was played in it's entirety though it did have a different feel about it this time around. It was on pieces like Rhyader Goes To Town That Guy Le Blanc was noticeably missed. The whole suite was played without a word being spoken and just like last year left the audience spellbound.
On their return from a twenty minute brake messrs Latimer and Bass donned their acoustic guitars and along with second keyboard player Jason Hart who also played along on his acoustic guitar sang the intro to Never Let Go. This is without doubt the best i have heard the piece played with Denis Clement playing bass before dashing back to the drum stool to finish the job. Andy Latimer's energy and confidence has returned in spades putting him way ahead of many other guitarist of his age that i know of.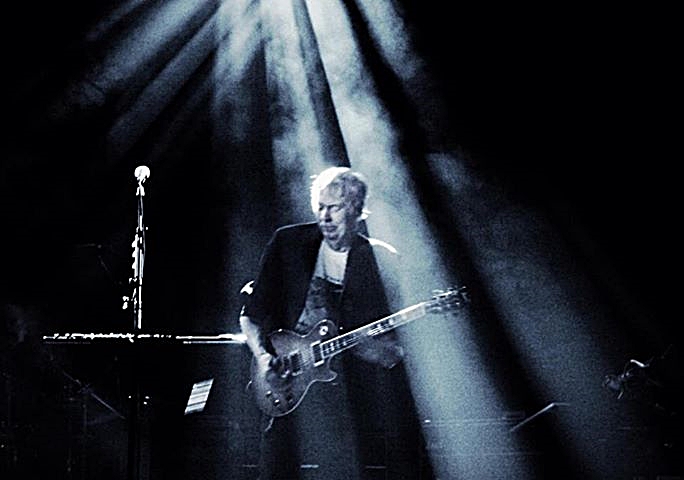 Elsewhere in the second set it was to be noticed that many of the songs from the first shows last year had been dropped. The ode to the late Peter Bardens being one of them, yet the theme for paying tribute to Camel keys men continued with the breath taking and soulful Watching The Bobbins from the Harbour Of Tears album was warmly dedicated to Guy Le Blanc. The band stormed through songs like Song Within A Song and Drafted with great aplomb culminating in the heart rendering For Today.
It took many sore hands to clap the band back to the stage though it was definately worth it even when you know exactly what they are likely to play. And as not to disappoint they they yet again surpassed themselves with a stonking rendition of Lady Fantasy. A fine performance played in yet again beautiful surroundings. It is good to see Camel back where they so rightly belong playing venues like the venerable Sheffield City Hall and the likes.
So, there you have it. Yet another amazing musical adventure. From arriving in Sheffield and enjoying a great social build up complete with excellent ale and free pork pie in the Sportsmans bar, to attending a gig in fabulous surroundings to becoming trapped in the labyrinth that is Sheffield's one way system. Whilst been driven home i pondered on just how good Camel are and how many people who have yet to discover them. Fore they Know not what they miss.
Pictures by Brendan Eyre.