It's always good to get away for the weekend and the capital is as good a place as any. Especially when you are with an old friend who is as passionate as you are about your mission. Saturday 30th September  was one such day and the adventure started on the railway station early doors when i met up with my close friend big Prog Al. Planning our day over a hearty breakfast in the railway cafe the excitement was palpable. Despite being seated among a crew of very loud and slightly drunken ladies on en-route to a day in York for a birthday outing which left the rest of our journey peaceful enough to talk music. Arriving at London Kings Cross we dropped off our bags at the hotel and made our way to the V&A were after coffee and muffins in the garden attended the Pink Floyd
Mortal Remains
exhibition.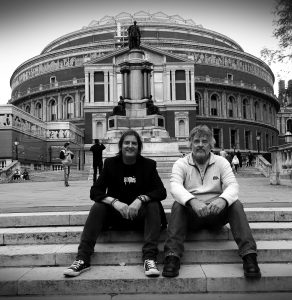 This really was a stunning event and not one that can be rushed We spent two and a half hours in there and every moment a gold one. A total must for all Pink Floyd fans. There was everything we could have wished to have seen in there and so beautifully put together. I am so glad that we did it. It was like my life being chronicled in an exhibition. Things i have wanted to see up close and read about all there in plain view with footnotes and explanatory fact sheets. Lighting and music two was as you would expect out of this world. Before being ushered into a large room at the end of the exhibition for the Live Eight performance of 
Comfortably Numb 
projected on all four walls with light show, i read a small notice that read "This Exhibition is dedicated to Richard Wright" which i thought was a touching thing.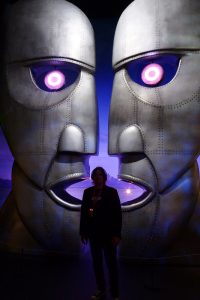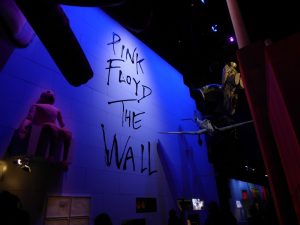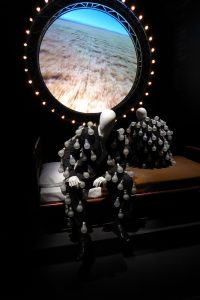 With not a moment to spare we embarked on foot from the V&A bound for the Cadogan Hall just off Sloane Square. I was approached by a lady on the way who asked "excuse me, but are you going to the Big Big Train gig" to which we replied yes indeed, do we look like Prog heads? Turns out that she had noticed my Progmeister T-shirt and deduced our final destination. The ladies name was Lesley and she tagged along with us right up until we got to our seats having met up in the pub around the corner with a lot of the other passengers. Lesley informed us that Tony Banks of Genesis had been in the audience the previous evening and had apparently been very enthusiastic about the show. It was here i got the chance for a very brief chat with Peter Jones who by all accounts had just played a great gig himself in Islington. Also present was actor Mark Benton who i managed to chat with about music and some of his fave albums.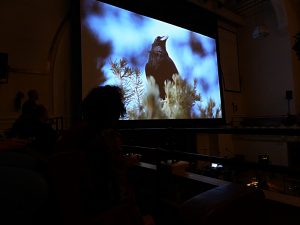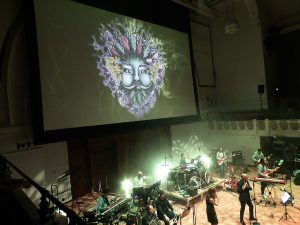 As we took our seats a large crow appeared on the screen above the stage an image devised by the talented artist Sarah Louise Ewing. The crow known to passengers is Grimspound and now adopted as a logo. As the band filed out to perform the excitement if the hall was electric, a fabulous vibe. As they launched into
Folklore
it was validation enough that the journey had been worth it. New material was well represented with songs like
Brave Captain, Experimental Gentlemen, A Mead Hall In Winter, London Plane, Telling The Bees
and
Meadowland
it was wonderful to hear some of my favourite songs too from
English Electric
and
The Underfall Yard.
Rikard Sjoblom shone during
Judas Unrepentant
as did Dave Gregory's faultless guitar playing. The song that shall forever sick in my heart and mind however with be
Swan Hunter.
So beautifully sung with passion, empathy and soul. The brass section made it something really special. I felt a lot of emotion here in the audience and on stage. David Logdon really has started to fit rather comfortably in hi skin as a front man communicating and connecting with the audience on many levels. The quiet man stood at the back in the shape of Greg Spawton added so much throughout the evening with his understated playing style that the overall sound would have suffered massively without his subsonic endeavors and also without his writing contribution evident on
Victorian Brickwork.
An absolutely stunning performance. The same can be said of Danny Manners and Andy Poole who make up such an important sound ot the Big Big Train orchestra. Their keyboards were bang on all evening.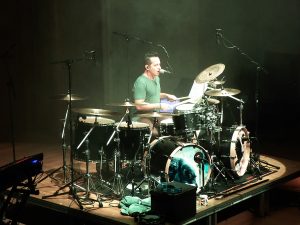 Fast becoming a rousing live standard is
East Coast Racer
which utilizes black and white footage of what i think may be The Mallard steaming across a viaduct further adding to the excellent delivery of the whole band. Having been left a little stunned by the fore mentioned 
Victorian Brickwork 
the band left the stage to a hugely animated audience relentless in their applause until the solitary return of drummer Nick De Vigilio. Nick started to pound out some powerful rhythms before introducing the members of the brass section to the audience. As the remaining seven embers walked onto the stage for their encore it was evident that it was to be 
Wassail 
from the overture being played. Donning his Peter Gabriel-like face mask David Longdon had the crowd in the palm of his hand as did Rachel Hall who played her violin like it was about to explode. Rachel's energy throughout the whole evening never let up, what a musician? As we filed down stairs to the merch area the band mingled with the crowd. It was obvious that getting to chat with these guys would take some time so after shaking hands with Andy Poole and Dave Gregory we bought some Big Big Train wares (of which there were many, even an umbrella) we decided to catch the tube back to our hotel to reflect on the day. Some days are good, some great, some are very special. This day fell into the third category. Not just a day out or a city brake, not just a gig more a big big London adventure. Sometimes it's great not to be the driver instead enjoying the pleasure to be had in being a passenger.