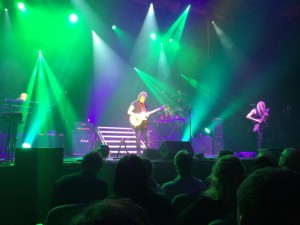 Having already seen two shows on the Genesis Revisited Juggernaut i hadn't intended to travel to any of the extended tour gigs. However, my recent disappointment with BBC's Genesis documentary and blog ramblings there of didn't go unnoticed by team Hackett so off to York i went to watch the band perform a slightly different set. Having spent almost a quarter of an hour on York's inner ring road and exchanging expletives with my sat nav i eventually found the rather nice Barbican theatre.
As i took to my seat i noticed that i was only a few feet away from Steve's mum who attracted quite a following of her own. She does appear to be an enchanting lady and totally amazing given her age. As the lights dimmed for the support act Mostly Autumn's Brian Josh and his beautiful wife performed an acoustic set of the bands more recent material as well as some old favourites of mine. It was good to hear songs like Hero's Never Die and Evergreen again after many years. Indeed it inspired me to check out the bands new album. After their brief but highly entertaining performance it was time to have a mooch around the merch desk and have a cuppa. It was great to see ice cream ladies selling their wares in the main auditorium which i thought was a nice touch especially with it being so warm in there.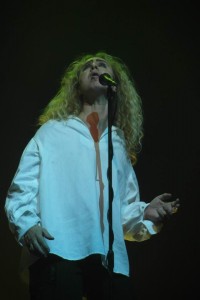 To avoid the risk of repeating myself having reviewed previous Genesis Revisited shows i can confirm which will be obvious to a large degree that the set remained much the same throughout the evening and played with the usual dexterity by all involved. The show seemed pared down a little compared to those i had seen at Gateshead sage and Newcastle's City Hall though the use of lights and smoke were exemplary. Hat's off to both the lighting and sound engineers both were excellent. Making their way to their individual stations through the fog aided by torches the band commenced the proceedings with Dance On A Volcano which seemed a little more pace and grit than i had noticed before.
Following a rousing reception Steve had some banter with the crowd and appeared a little looser than he normally tends to be and quite clearly enjoying the event. It wasn't long before the band struck up quite a healthy rendition of Squonk during which Nad Sylvan demonstrated how much more comfortable he has become in the role of the Genesis Revisited vocalist. One of the highlights of the evening for me was Firth Of Fifth which saw Steve's brother John Hackett walk onto the stage to play the flute part. Again, theis piece seem to have a little more edge and grit aided in no small way by Nick Beggs who's bass and pedal playing captured this classic perfectly. Needless to say there were numerous comments from the crowd afterwards in the light of recent events, one heckler asking Steve if he had cancelled his TV license.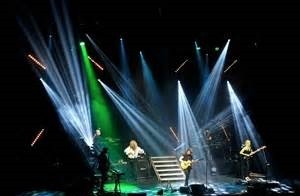 Other stand out pieces The Knife and Fountain Of Salmacis. Both played with a new vigour by what appeared to be a much more relaxed band. Rob Townsend brought an almost comedy feel to things with his casual approach and roaming demeanour. As the band worked their way through Supper's Ready towards the finale of a highly charged and entertaining performance it struck me at just how polished the band had become. However, realising this they seemed to have peeled back the top coat of varnish to reveal the natural colours beneath. There was a lot of fluid playing from all concerned especially Gary O'Toole who's powerhouse drumming was the best i have heard from him.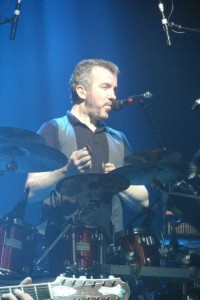 After the usual blister forming applause the band returned to the stage and played two encores Watcher Of The Skies and Los Endos which encompassed Hackett standards like slogans before returning to the original theme. As the band took their bows Steve had a sit down on the drum rise to catch his breath, all in all a very impressive performance and from a man in his sixties that looks the best he ever has.
Chatting with Steve backstage afterwards he enlightened me about a few things that had been on my mind and turned into a mini interview. Indeed we chatted for about ten minutes whilst he re-hydrated. It would be very remiss to reveal all but let me tell you, he wasn't happy about the BBC's editorial antics with regards to the dismal documentary. Of the four hours he did to camera only a few seconds were used he informed me and he is convinced there is an agenda.  I asked him about his input into the Northlands project with Tony Patterson and Brendan Eyre. Steve enthused about the song that he had played on and feels that based on what he has heard it will be a terrific album (praise indeed). We also had a chat about the band with himself, Keith Emerson, Jack Bruce and Simon Phillips. Sadly after Steve had returned from a winter brake the notion of such things disappeared into the aether due to disagreements by some of the others. A real shame methinks. I asked Steve about his new album to which he said "it's still in the pipeline and if you think of Loch Lomond form my last album, it will be pretty much a continuation from there. I chatted briefly to some of the band but decided that i had to battle one again with the ring road. A memorable night though and if you are a Steve Hackett/Genesis fan and you haven't yet managed to see any of these shows then i suggest you take action quickly. You may never get the opportunity again.
Thanks to John Merrick for the pictures. Diamond geezer.