Steve Hackett's new album will be released on March 30th and carries on from where Steve left off with his previous album Beyond The Shrouded Horizon.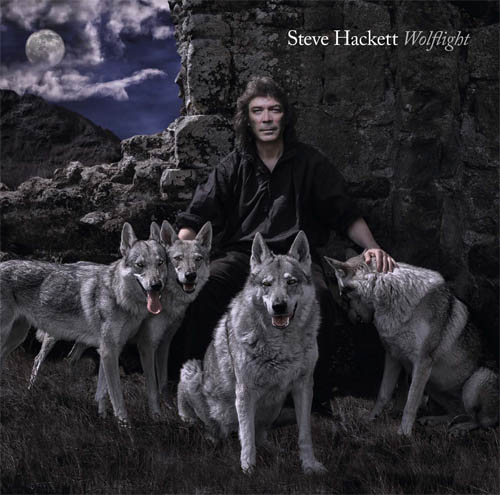 Wolflight – out on 30 March 2015 (EU) & 7 April 2015 (US)
* PRESS RELEASE *
Music pioneer Steve Hackett has announced the release of his new solo album Wolflight. According to the man himself, this "wild pack of tracks – starting with a wolf cry – will be unleashed on the unsuspecting on 30th March 2015."
Pre-order your copy now – all pre-orders signed by Steve!.
A teaser trailer for the album, featuring the first exciting snippets of new music plus some insight from Steve himself, can be viewed HERE.
From a plaintive wolf cry to Steve embracing real wolves (see sleeve above), exploring dark caverns, ancient ruins and tropical lagoons, primal energy is at the root of this album as a springboard to an exotic and exciting adventure.
Wolflight is Steve's first original solo studio album since Beyond The Shrouded Horizon in 2011. Primal and orchestral, it retains the Hackett trademark as electric guitar runs right the way through with a regular sprinkling of acoustic. The concept behind it is a new unexplored chapter in the guitarist's career.
The ten tracks take the listener through a journey in space and time looking at the different faces of the endless fight for freedom. Wandering between parallel universes, Hackett explores contemporary and ancient cultures, from Greece (Corycian Fire) to the Far East (Wolflight), the USA and Martin Luther King (Black Thunder), but also his very own childhood memories (The Wheel's Turning) and the unresolved drama of domestic violence (Love Song to a Vampire).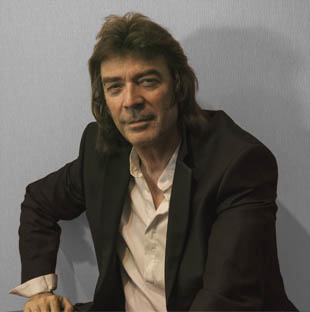 An excited Steve Hackett tells us more about the record: "My new rock album Wolflight is at the ready and lying in wait. It reflects everybody's struggle for freedom on a journey travelling through both inner and outer space. It explores sounds from as far afield as Greece, Azerbaijan, the deep American South, Sahara desert and beyond, from all our yesterdays, evoking the ancient past".
Steve Hackett's electric guitar plays a powerful role, whilst we also hear him on acoustic guitar, Arabian lute and twelve string, along with his strong lead vocals. Guest Musicians include long time collaborators Roger King (Keyboards & programming), Gary O'Toole (drums), Rob Townsend (sax, duduk), Nick Beggs (bass & stick) and Amanda Lehmann (harmony vocals). Malik Mansurov on tar and Sara Kovaks on didgeridoo add an extra exotic element, plus YES bassist Chris Squire plays on Love Song to a Vampire and Hugo Dagenhardt plays drums on Dust and Dreams. The innovative song writing team includes Steve Hackett, his wife Jo Hackett and also Roger King.
Track list as follows:
Out of the Body
Wolflight
Love Song to a Vampire
The Wheel's Turning
Corycian Fire
Earthshine
Loving Sea
Black Thunder
Dust and Dreams
Heart Song
Let Steve Hackett's magic guitar lead you like Pan's flute through a primordial dream of love, struggle and liberation. Take the journey to freedom with Wolflight, taking off 30th March.
Steve will embark upon his 'Acolyte To Wolflight with Genesis Revisited Tour' in October 2015, with 19 UK shows. Hackett states: "I'm excited to embrace Genesis Revisited once more on my tour whilst also celebrating 40 years of Voyage of the Acolyte, playing several Hackett favourties and introducing my new Wolflight album".
The album will be released in the following formats:
Special edition CD + Blu-Ray Mediabook incl. 5.1 mix, interviews & two bonus tracks
2LP & CD Gatefold vinyl
Standard CD Jewelcase
Digital Download
A teaser trailer for the album, featuring the first exciting snippets of new music plus some insight from Steve himself, can be viewed HERE.
A short video message from Steve can be viewed HERE
Click here for more info on the tour