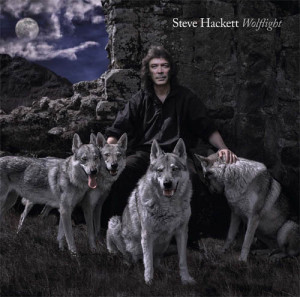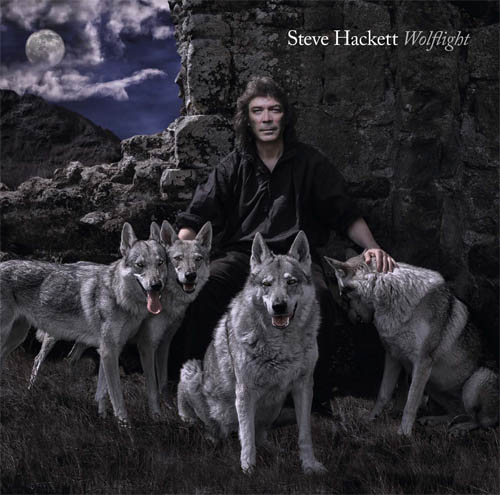 It's great to see Steve Hackett returning to what he does best which is writing and recording great albums of original music. Especially after the grueling Genesis Revisited tours that must have been all consuming this past couple of years. Steve utilized the downtime in between the tours to write new material sometimes in the early ours of the morning during the pre dawn period which is known as (yes, you guessed it) Wolflight. During a recent conversation i had with Steve he informed me that Wolflight his latest album would be a continuation of his previous album Beyond The Shrouded Horizon especially that albums opening song loch Lomond. Quite believable as Wolflight casts the same footprint.
This review is of the basic MP3 download version which is the first of five format options listed below. In recent interviews and press releases Steve has mentioned a departure in some ways from his normal formula with regard to Wolflight including more World Music influences. True in part methinks though i would suggest that ingredients from the tried and tested Hackett recipes are all prevalent with flavours of Defector, Please Don't Touch and Darktown all here for the delectation of the dyed in the wool fan.
Opening with sounds of howling wolves it isn't long before the all too brief Out Of The Body gets up to speed and hints at old Hackett foot stompers like Land Of A Thousand Autumns before subsiding and flowing into the title song Wolflight. The dramatic tones of the Tar lends an eastern vibe with great orchestral overtones which i found cinematic in many respects. The song moves between beefy aggressive guitar and gentle sweeping acoustic guitar outbursts portraying rise and fall throughout the whole piece. Steve's unique vocal harmony style gently conveys the tale of his time spent in Italy with Czechoslovakian wolves and with this in mind the song and musical styles depicts the varying characters of these much maligned animals.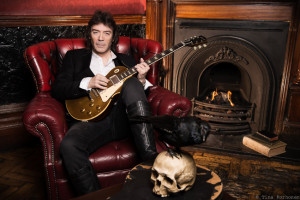 A sample of a Victorian street scene heralds the beginning of Love Of A Vampire a song that represents the different elements of a vampires bizarre existence. This song becomes quite hectic with some great orchestration and Steve Hackett's voice suspended right across the sound stage augmented by Sqauckett cohort and Yes bass fiend Chris Squire adding to the pace and intensity. Morphing wonderfully with the fairground sounds found not only from Steve's distant childhood but musically from his own back catalogue it being reminiscent of sounds on his Please Don't Touch album The Wheels Turning creeps eerily through the speakers in the same way as a scary clown looks up from a drain in a Stephen King novel. Great percussion once again injects a Persian feel to the song though it's lyrical content hint at the personal nature of Steve's own childhood visits to Battersea funfair and the effects that different parts of the fair had on his psyche
Indeed lots of this album seems personal to Steve Hackett and reflect on his past and more recent adventures. None more so than Corycian Fire. Here Steve puts to music his holiday in Greece where he and his wife Jo explored remote caves gaining inspiration by the spiritual presence within. This is beautifully captured in the atmospheric intro, Rob Townsend's spooky duduk playing and gentle harp sound setting the mood of the piece. Gary O'Toole's drums and percussion drive Steve's guitar along beautifully along with some heavy choral effects generated no doubt by technology and keyboard whiz Roger King. This piece may well leave you in need of oxygen and i have to admit that it fast become my favourite song on the whole album.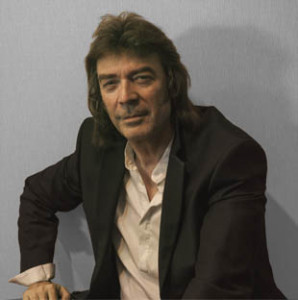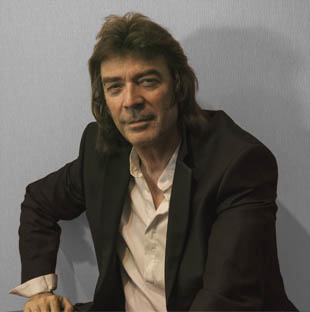 What's needed after such an event is a rest. And what better way than to listen to a small scale piece to inject some tranquility? Earthshine finds Steve exercising his fingers delicately picking and strumming his acoustic guitar. This beautifully roaming  begins with the Corycian Fire refrain though quickly changes direction into a calming and peaceful musical sketch. Earthshine empties beautifully into the Yes like acoustic guitar strumming of Loving Sea and again is filled with Steve Hackett's signature vocal sound generating an upbeat vibe.
In contrast Black Thunder regales the misery and oppression experienced by the slaves in the deep south and as a result is a powerful blues driven piece. Along with Steve's rasping guitar pummeled home by Gary O'Toole's monstrous drums, this song would not been out of place on a Led Zeppelin album. Steve definitely going into Jimmy Page mode here with Christine Townsend adding further weight with violin and viola. Black Thunder slips back into something that we have come to expect from the solo Mr Hackett of late, think, Put Of A Tunnels Mouth!
Stepping back into the world music influence, the flemencoesque plucking of an Arabian oud gives a hint of Morocco with some hard hitting drums by Hugo Deganhardt on the penultimate piece Dust And Dreams Not to be mistaken for the Camel album of the same name. Here Steve Hackett's guitar soars skywards only coming back down to earth to celebrate the place in which he now finds himself in life. This would be at peace with the world and sharing his life with his wife and soul mate Jo in the finale of the album Heart Song which glancing at the tracklist had me thinking it may be a cover of Gordon Giltrap's 80's hit Heartsong. Indeed it is not! Heart Song is dedicated to his wife Jo and the power of love in their lives. Some Hackett disciples may find this a little too sugary and find the outpouring of affection taboo, but hey, it's his album for f..k sake and if he can't have a moment of good old fashioned sentiment on an otherwise great album then it's a poor show.
I have no doubt that Wolflight will divide opinion. From start to finish it is evident that this is a deeply personal album for Steve Hackett, the energy, reflection and imagination found within demonstrates this on many occasions. It has been recorded with passion and the want to create something fresh after touring relentlessly playing crowd pleasing standards. The styles and inflections throughout Wolflight are nothing you haven't heard before from Steve Hackett though the spirit of the album is larger than the sum of it's parts. Wolflight takes It's creator a couple of steps away from the Prog idiom in which we all like to place him, he has cast caution to the wind and put something out into the aether that represents a man comfortable in his own skin who has found contentment in life. Steve Hackett has nothing to prove, his talent is a given. With Wolflight he lays bare his diversity in much the same way as he did with A Midsummer Nights Dream. This is not an album that can be listened to at low levels or i-pod fodder, it's to be played on the best gear you can get your hands on at Number 11 on the volume scale.
The myriad of options are as follows……….
Mp3 £8
16 bit CD quality FLAC £10
Studio master FLAC £12
CD £12.50
CD + Blu-ray and media book £17
Vinyl album +CD £19
All available from www.hackettsongs.com