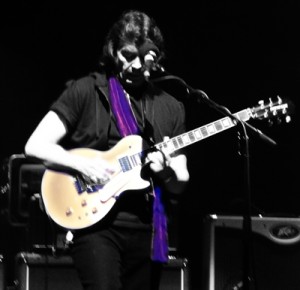 I have been an avid Steve Hackett fan since i first heard Dancing WithThe Moonlit Knight in 1973. Sine then he has been one of the most prolific writers/recording artists true to the genre of progressive music and someone whom commands the respect of his peers and fans alike. Many thanks to Steve for taking time out to answer a few questions and to his partner Jo who arranged everything.
PM  Hi Steve, It's been a very difficult year for you personally though you seem to be closing it on a high note with a superb new album. Do you feel that you are through the worst and able to miove on professionally?
SH  It's a relief to be able to release new product now. Response has been overwhelmingly positive towards the album and tour.
PM  The new album seems to build on areas previously explored on the Wild Orchids album. It is a marked return to your old style. What was the inspiration for the album?
SH  I find the pan-genre approach works best to give the sense of a musical journey. Spanish, Hungarian and Turkish music play their part on the new waxing. As lyrics are very personal it seems to draw people in more and more.
PM  Why the title "Out Of The Tunnel's Mouth" ?
SH  A boyhood fascination with trains meets a sense of coming out into the light after a dark period.
PM  In the CD booklet notes you inform that the album was made in the living room. Is this to be taken literally?
SH  Unbelievably, it happens to be true.
PM  I am very surprised. The production and recording quality is gold standard. Will other projects be recorded this way or will you be returning to the studio?
SH  We'll see.
PM  How did you meet Nick Beggs and how did he become involved with the recording and touring band?
SH  I met Nick at an EMI bash that we were both performing at. He was MD for Belinda Carlisle's band whils i was promoting A Midsummer Nights Dream. We hit it off immediately. He's a great player. We stayed in touch over time and i called him to ask if he was interested in joining my circus.
PM  What was it like working with Chris Squire and Anthony Phillips?
SH  Both Chris and Anthony are equilly as enthusiastic when working on ideas that fire them up. It6's fun working with them both and i love them dearly. They are great players and hugely influential.
PM  Do you have any more projects in the pipeline?
SH  Chris and i have a project in the pipeline, which just gets stronger every time we work on it. I'm always busy trying new ideas and material.
PM  Were you happy with Alan Hewitt's biography "Sketches Of Hackett"?
SH  I thought Alan did a fine job on the book, which i'm glad to say has been so very well recieved.
PM  Obviously there were more personal areas that Alan rightly steered clear of. Do you invisage writing your own autobiography in the future?
SH  At some point down the line i'll write my own warts and all memoirs of an old Pimliconian!
PM  You were the only ex member of Genesis to maintain progressive rock roots. Whilst you were a member of the band did you ever feel isolated?
SH  Genesis were a great band. I loved my time with them but since then iv'e enjoyed the benefits of an autonomous afterlife.
PM  Whom did you feel that you had the most in common with?
SH  I had things in common with all of them. for instance, classical with Tony, Musique concrete with Pete, folk with Mike and big band brass arrangement with Phil.
PM  reflecting on the Genesis revisited album, the magnificent "Deja Vu" was a piece started by Peter gabriel in the Selling England By The Pound days. Are there any other such diamonds worthy of the Hackett polish?
SH  There may be the odd recycled riff worthy of exhumation. Ther's a song called "Wooden Mask" that we once recorded at a studio called Theatre Projects, but unfortunately the tape remains lost in the vaults.
PM  Of your own albums which is your favourite?
SH  Spectral Mornings and Out Of The Tunnel's Mouth. But they are all my babies.
PM  The Genesis box set 1970 – 1975 were also released on 200g vinyl. Would you consider having some of your classic or newer albums released in the same format?
SH  Sketches Of Satie is available on vinyl. there may be more in future for vinyl fetishists!
PM  Will there be a tour next year? and if so will there be any shows further North than holmfirth?
SH  The answer is yes to both questions. There are plans afoot. I'm addicted to gigging and i know i have an extraordinary band.
PM  What next?
SH  Other than a nice cup of tea, it promises to be a very nomadic new year.
PM  Steve, thank you far taking time to answer my questions. Best of luck with the new project and i look forward to seeing you in 2010. You remain a legend for many people, myself included.
SH  Have a progtastic yuletide and a happy new year to you and all your readers. Very best wishes.
Steve Hackett
SH