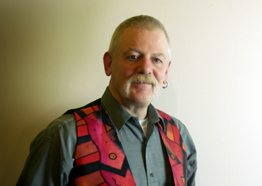 I have been a lover of Nick Magnus's music for may years now and have recommended all three of his albums to music lovers's for many years. Following a recent telephone conversation with Nick he agreed to let me know what has been going on in the world of Magnus and kindly give in to my interigation.
PM What have you been up to since your previous 2004 album Hexameron?
NM Quite a bit, actually – I've not been away from 'the biz', even though it it might appear that way! Most importantly, I've been working hard on the fourth album 'Children Of Another God', which should be ready in the new year. I've also totally revamped my website
www.magnus-music.com
which has details (blogs, videos) of the album's progress. Aside from the album, it's been a mix of speculative projects and production work. I even got to score an independent movie called 'The Release' in 2006, which was great. Sadly it didn't go on general release, so like a lot of things you do, the outside world never gets to hear them! One thing that a lot of people will have heard is the current version of the 'Who Wants To Be A Millionaire' theme tune. Not that I wrote it (drat and double drat!) but I was commissioned to re-record it for the TV show using a more 'modern' approach. I've been involved with a number of John Hackett's projects, producing 'Checking Out Of London', as well as helping out with 'Velvet Afternoon' and 'Prelude To Summer'. We did a mini 'Checking Out' tour in 2006, which was the first time I'd performed live in 17 years! I also produced an album for Lyn Paul ('Late Night Lyn Paul'), and earlier this year Pete Hicks and I released our first collaborative album 'Flat Pack', which I also produced. And let's not forget those other small but all-important musical jobs that we all have to do to make a crust and pay the mortgage! One other project worth mentioning is the songwriting… A few years back, Dick Foster and I experimented with writing songs with specific target artists in mind. It was great fun to do, and we think we came up with a handful of crackers (well you do, don't you?) But we also discovered that it's easier to burrow throught the Great Wall of China with a toothpick than getting those songs to the attention of major artists. Nevertheless, the songs exist, and we're still very fond of them – they cover various genres including ballads, pop, disco, dance and rock. Maybe we might make them available as a downloadable album.
PM What brought about the transition of your musical style from that of being more rock orientated to a more atmospheric form?
NM I never think of having transitioned from one style of music to another. Rather, I like to think the style has developed to embrace a whole diversity of approaches. Any changes in style are just part of the natural development any composer goes through, with no particular reasons other than it feels right to go down a particular road at the time. The word 'atmospheric' suggests New Age, which definitely is not what I do! I'm not even sure that the term 'progressive' adequately describes what the music is – although I'd say that the generally held 'conventions' of progressive rock provide a major ingredient. There's plenty of rock flavoured moments on the albums, but also lots of classical influences and therefore, I like to think, a lot of dynamic variety.
PM Many of the tracks from your first album "Straight On Till Morning" sound very much like film or TV music, were they written and recorded to be used as themes or soundtracks?
NM As a teenager, sometime last century, I used to record TV themes from the telly onto my Philips cassette recorder. I amassed a huge collection, and listened to it almost to the exclusion of any other music. It was very educational, because TV exposes you to almost every imaginable genre of music. Also, the late 60s/early 70s turned out some of the best theme tunes ever written – for example, The Avengers, The Prisoner and Lost In Space (seasons 1 & 2) are simply classics. Both the UK and America turned out so many great writers like John Williams, Jerry Goldsmith, John Barry, Laurie Johnson, Edwin Astley, Barry Gray – the list is endless. So it's unsurprising that I've always wanted to write music for films and TV, but the right opportunities have somehow never come along. SOTM was, in some ways, driven by those wishes – and I was very much into writing 'shortform' thematic pieces at the time.
PM Straight On Till Morning seemed far removed from you previous musical output. What was your inspiration?
NM As above!
PM At what stage did you decide to part with your older analogue equipment Mellotron, Moog etc? And why?
NM There was no single moment – things have been replaced or upgraded gradually, over a long period of time. Sometimes things broke down and repairing them was not viable – other times a new toy came along (and we all love new toys) that superceded an older instrument. The Mellotron was replaced on stage simply because it became unreliable. Same with the Roland SH2000. Latterly, I've replaced much of my hardware in the studio with software instruments. There are loads of reasons for that – restricted space, primarily, but there's no doubt that the instruments I have now are quantum leaps more versatile than their hardware equivalents. I get total recall, too – I can load up a song and it comes back exactly as I left it – effects, synth edits and all. Now, you can't easily (or affordably) do that when it's all hardware!
PM Did any of them survive?
NM A couple of things did survive to the present day. I only recently sold my two D6 Clavinets, and my RMI Electra Piano is still around, living in storage in a friend's garage. Otherwise, they're all living with someone else now – assuming they haven't also sold them off.
PM I saw you many times playing with Steve Hackett's band and noticed that you seemed to have a penchant for Police uniforms. Are you a frustrated Highway patrolman?
NM Movies featuring highway patrolmen (e.g. Magnum Force, Electraglide in Blue) seem to end up with them getting shot. So that would probably be a no…
PM What was the main reason for leaving Steve's band?
NM I didn't actually leave the band – it dissolved by default when we stopped touring in 1984. I continued working with Steve in the studio right up until 1989. When he decided to resume touring in 1990, I was already deeply involved in doing production work. I felt I couldn't do both, so I took a deep breath and opted to go my own way.
PM Do you foresee working with him again either as part of his band or recording together?
NM Steve contributed guitar to my last album 'Hexameron', and to the forthcoming new one 'Children Of Another God' – so we are still recording together, albeit occasionally. Working with Steve has always been a hugely enjoyable experience, and I hope we'll always be able to find excuses to work together in the future. As for being part of the band again, Steve now has a superlative collaborator in Roger King. Roger's contribution is spot on – and just what Steve needs. Don't tell Roger, but I'm a huge fan!
PM Your new project sounds very exciting. As with two of your previous albums it is inspired by (dare I say the word) a concept. Can you tell me more?
NM The back-story of the album really serves as a vehicle for a more general idea. Basically, it's an examination of uniformity versus diversity. Uniformity offers strength of numbers, but it also stifles development and progress. Trying to make people all the same (in other words, forcing the idea of 'normality' on society) is not A Good Thing. Diversity, on the other hand, is a very positive Darwinian idea – adapt and change to flourish and survive. Uniformity can be very beautiful (flocks of birds and shoals of fish all moving as one) but it is often very negative (Nazis, football hooligans, cults and religious fanatics). The album attempts to illustrate this with a story, following one character who is assimilated into a uniform group of ten others, and what becomes of them. I won't give away any more than that!
PM What can we expect from the new album?
PM Hopefully something thought-provoking that takes people on a journey. Each track has its own distinctive flavour – I've tried to make the musical styles follow the changing moods of the story, a bit like scoring a movie. So it goes through a lot of dynamic variations, ranging from prog to rock to orchestral – but with an overarching 'prog' way of thinking behind the whole thing.
PM Will you be recording at Alpha control?
NM Absolutely.
PM When will the new album be available?
NM At the time of writing (mid November) I'm still working on the last couple of tracks, so I can't give a definitive date as yet. However, I'm hoping it will be as early in 2010 as I can manage!
PM Will the usual suspects be appearing?
NM Guests so far include the Hackett brothers, Tony Patterson (ReGenesis), Pete Hicks (Hackett Band), Glenn Tollett (The Enid), Linda John-Pierre, and Andy Neve.
PM Nick, thanks for taking time to answer my questions. Like many other's I eagerly await the new album "Children Of Another God". It sounds fascinating. I hope to being posting a review just as soon as I can get my hands on a copy. Watch this space!