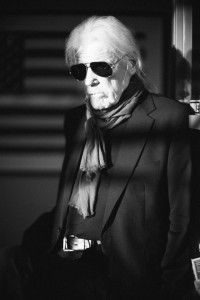 In a truly sad bit of news Progmeister reports that Edgar Froese, the legendary founder of German electronic music pioneers Tangerine Dream, has passed away after suffering a pulmonary embolism, He was 70 years old.
News of the musician's death was shared via the group's Facebook page today (January 23), with the post confirming that Froese had died "suddenly and unexpectedly" in Vienna on Tuesday (January 20).
"The sadness in our hearts is immensely [sic]," the post reads. "Edgar once said: 'There is no death, there is just a change of our cosmic address.' Edgar, this is a little comfort to us."
Froese formed Tangerine Dream in 1967, following the breakup of his psych-rock outfit the Ones. Over the years, Froese had produced an absurdly prolific catalogue of experimental electronic music with a revolving cast of supporting players. Debut LP Electronic Meditation was a Krautrock-leaning tape collage experiment, while landmark effort Phaedra was an expansive exploration of modular synth work, ambient tones and drones. The group's last studio LP was 2014's Chandra – The Phantom Ferry Part II.
In addition to the multitude of Tangerine Dream full-lengths, EPs and live releases, the project produced several scores and soundtracks for films like Risky Business, Sorcerer, Legend and Firestarter. The group recently contributed to the Grand Theft Auto V videogame soundtrack as well. Froese likewise maintained a prolific output as a solo artist, releasing electronic touchstones like 1975's Aqua and Epsilon in Malaysian Pale.
The iconic electronic music innovator is survived by his son Jerome and wife Bianca Acquaye.
On a personal note, Edger's influence on me was immense. Tangerine Dream opened the gateway for me to enjoy so many other avenues of electronic music. In a week where the music of Karftwerk has been celebrated by academics haling it's importance, not enough has been made of Edgar's uba important ground breaking style. It was no coincidence that Edgar was friendly with Salvador Dali, Edgar in my opinion took Dali's art form and turned it into sound. Edgar's inspiration can be heard in many contemporary musicians work and covered by such bands as The Tangent and many more. In the same way as the passing of Dr Robert Moog, the passing of Edgar Froese can not and should not be understated.
The Progmeister 24th June 2015