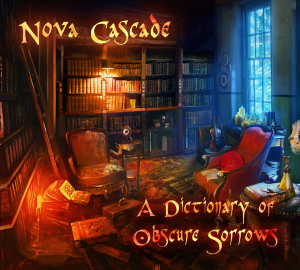 Nova Cascade are a relatively new band the nucleus of which is Dave Hillborne who kindly provided me with the album here for review. Dave's cohorts on the album are Dave Fick on bass, Charlie Bramald / flute, David Anania / drums and last but certainly not least Eric Bouillette / violin and lead guitar. The premise of the album deals with the uncertainty of the future and that of loss so don't dig out your disco shoes just yet. This is very much an album that can be listened to in isolation or whilst going about your day as it doesn't disturb or command your attention. What is does is intrigue and to a point sooth as it plays out. No mean feat. The title and inspitation for the songs and music are taken from John Koenigs website and Youtube channel which deals with Neologism and the way our language et al are evolving. A very interesting philosophy on which to base an album though yet again I found myself intrigued.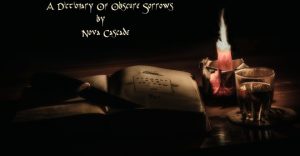 Beginning with the sombre synth swathes common throughout many of the songs
Unwavering
appears to be a little random at first though the dreamy sitar sounding synth holds it together well setting both mood and pace for rest of the album.
Antillus
in turn builds on the atmosphere and has ethnic overtones. Dave Hillborne's voice which permeates the rich layer of instrumentation percussive or otherwise lends a
Clannad
feel to the softly uttered song. I noted an eerie darkness here though very peaceful. There is even a certain part of the song which reminded me very much of the closing section to
Dancing With The Moonlit Knight
by Genesis. I did detect a little difference in the way that the next song
Rabbit Hole
had been produced as it had a much lighter feel and slightly lighter touch overall losing a little depth and low end in comparison to the previous songs. However, this is a minutiae compared to the quaint electronic rhythm and openness of the piece and perfectly placed in the running order in common with the architecturally beautiful
Echo & Narcissus.
Like the subject matter itself this piece isn't a song you can bop to though it is poignant given that "the narcissist will hurt you to make themselves feel better". Eric Bouillette's violin added an extra dimension to the piece and at this point I found myself turning up the volume dial. I did feel that drums were a little low in the mix here though this may be due to the fact that I may have based my observations on a not yet mastered pre-production Mp3's so hey, let's cut the guys a little slack here! Having been a victim to narcissism I related to this piece and once again enchanted by its structure behind the meanings. Staying within the darker musical shades and another scary scenario
Apophis
explores the possibility of the asteroid which passed us by in 2004 and heading our way again in 2029. I loved the deep and sinister sounds here and the way that Dave Hillborne's piano is the only instrument that seems firmly anchored in the mix whilst string synths and drums patterns swish and swirl around. Representative then of the random chance of
Apophis
colliding with Earth or merely a happy coincidence?  The piece reflects the anticipation of the asteroid and peaks towards the middle heralding a change of pace and then passing into a more tranquil soundscape again anticipating the relief that the asteroid did not impact on the earth.  Bringing things back down to Earth is the homely sound of a vinyl record with ts pops and crackles as
Palsticine & Paint
takes you into world of lost childhood and the celebration of it. Charlie Bramald adds a little lightness by way of his flute to a piece that I found to be on the heavier side of
China Crisis.
All in all another piece with an eerie side to it and once again I found myself mesmerised by it. I simply loved the fact that in keeping with a return to childhood and better times that it sounds like a record.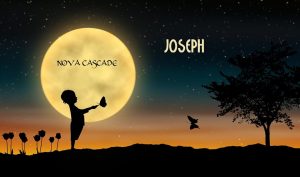 Given that the whole of this album is written about personal experiences and thoughts of Dave Hillborne it comes as no surprise that some songs and pieces are deeply personal which may resonate more with the composer than the listener. I draw attention to this as the album is dedicated to the memory of Maureen O'Grady Dave's late mum who passed away in 2015 and to Joseph John Hockley Dave's great nephew who was borne the  yearafter his mums passing. This is reflected beautifully in the song that bears his name
Joseph.
There is a great retro Synclavia sound in the mix which I found appealing and mixed well with the heavy drum machine/software a combination of which I instantly warmed to. Though ultimately what makes this song so appealing is Eric Bouillette's exquisite violin rendering a soothing nature to the whole proceedings.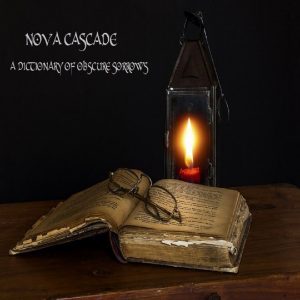 Hard to pigeon hole
Nova Cascade
or the album for that matter. I do feel that Dave Hillborne's Captaincy leads the project towards electronica with a little chillout thrown in for good measure. Lovers of latter day
Tangerine Dream
and the fore mentioned
Clannad
would not be disappointed in anyway with this ensemble if music and musicians. My comparisons are further borne out by the title track
A Dictionary Of Obscure Sorrows
which in a Prog fashion is split into four parts,
Sonder, Ellipsism, Paro
and
Kenopsia.
A brief synopsis of each segment can be found in the rather splendid booklet containing equally splendid and colourful artwork. There is a large degree of solemnity throughout especially via headphones though it is broken by some growling guitar chords and glassy lead guitar courtesy of Eric Bouillette. There's also some fine rich bass playing by Dave Fick bringing the whole piece to a favourable crescendo. Concluding the album is
Thaw.
Once again I was fooled into thinking that Dave Hillborne's voice was that of Maire Brennan of
Clannad.
I am sure Dave won't take offence as this is meant in a complementary way. The lyrics are of a personal nature and to the observer/listener may not make much sense, though having said that I have yet to meke sense of nearly all Jon Anderson's songs. So, no fifteen minute extravaganzas complete with flashy guitar and Moog solos! No massive or expensive studio production or influential guest artistes. So what's to like? In the case of
Nova Cascade
I would have to say that the greater is better than the sum of its parts. Bite size Prog one might say? Despite my brief description of their style I would be inclined more to turn the volume dial up rather than treat this album as musak or background music. Instead listen to what it is, atmospheric soundscapes with both chilling and intriguing messages within. I definitely give this album the thumbs up and heartily recommend it.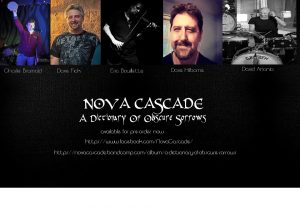 Available to pre-order now from  https://novacascade.bandcamp.com/album/a-dictionary-of-obscure-sorrows?fbclid=IwAR0Vt-xhkuDXwGXHJC26hp_c_UPEt2vTuDHwLq6dkkiBodcgofvQObx4jtw     for digital download. £8.99 Or here for CD £9.99  https://www.ebay.co.uk/itm/223606487204?fbclid=IwAR0yN5wXM2DYhgDVv2j51uWNArWKJlw7oCmArF9WsdaHTn5tCgst5YSJXvI Release date September 9
th
2019.