NEBO 10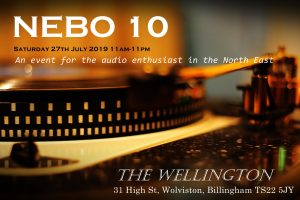 July 27
th
2019 found us celebrating the tenth NEBO (North East Bake Off) at The Wellington Inn in the village of Wolviston near Billingham Teesside. The second occasion we have held the event there. The room is hardly ideal for Hi-Fi having as it does a bouncy floor as straight as a dog's hind leg. This in itself presents many challengers which with a little resourcefulness we managed to overcome. Lessons learned from the previous occasion inspired me to call in the previous evening and move tables and chairs to make way for supports etc. I utilised the hearth the most solid/firm part of the floor. It paid off, the effort was worth it. I also utilised long wooden tables stood on end with matting over them to deflect from corners and form screens at the long aspect of the room. These too paid off throughout the day.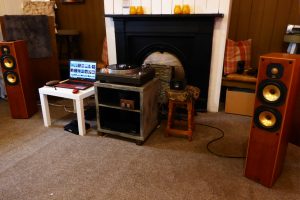 All I had to do now was turn up on the day and meet up with a great bunch of folks that make every NEBO special. As I pulled up in the car park in my heavily laden toy car I spied a small group of Neboites loitering with intent. As I gained entry to the officially closed pub I sat my aged Sony PS-6750 direct drive turntable on the pre prepared Ikea bedside table which I had daintily shabby chiced. It was at this point that the first casualty of the day was to happen. I have been eagerly awaiting the opportunity to hear Mike Davis upgrades rega turntable with Audiomods tonearm and Audio Technica ART9 mc cartridge. Mike had bought an Ikea Lack table on which to stand it upon. However, after assembling the table and carefully placing his turntable on it Mike got that horrible sinking feeling as he noticed that the rear of the tonearm was very mobile and had sustained damage in transit due to said Lack table colliding with it. Baaaad nooz!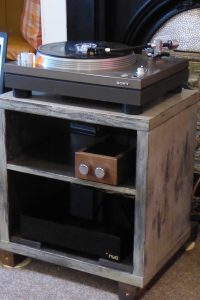 I finished setting up my old TT connecting it to my Vincent PHO 700 valve phono stage and setting it for MM due to using my A&R Cambridge P77 with Jico stylus. First up with amplifiers was Ken Wynn with his awesome Nord pre and power amps. These are gorgeous things built to perfection. However, these stunning amps became the second casualty of the day as when we fired them up they produced a fraction of the volume they normally put out. Swapping out the power amp and replacing it with an NVA A60 power amp. Still not good so Ali Tait's AVC passive pre amp using Tribute Autoformers was connected which had the desired effect. All that was left to do was swap out my tiny Q Acoustics speakers and replace them with Mike Davis's Monitor Audio PMC 705 floor standers. This combo got the party started and as the components began to warm up it was time to officially begin the proceedings. Following the usual preamble and housekeeping announcement Whitesnake and Bad Company among other up beat warm up albums had us underway.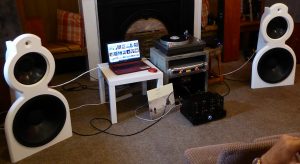 It wasn't long before the first major swap out of the day saw ali Tait's rather special Bastini OB speakers were put in line. In order for them to work at their best Ali used his Behringer I-Nuke NU3000 pro bass amp with a built in DSP. The Bastini remained the main speakers used throughout the day and once fettled sounded exquisite. It was agreed that the NVA A60 was a mismatch for the Bastini's so it was swapped out for Alan Kendal's Ming Da valve amp which sounded much better. That was until we tried them with Mik Rik's Radford that as always blew us all away. A rare treat was to hear Micky Ricky's Naim CD555 CD player with its huge and heavy power supply. The Naim flagship in my opinion did everything it says on the tin. It sounded inherently right and dare I moot? Analogue in sound this is audio engineering at its very best.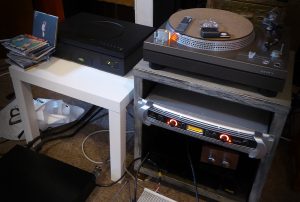 Prior to the arrival of the Naim Jeffrey Balmer demonstrated an all in one system by B&O. Yes a life style component with a slot in the top for your CD's looking like an 18" x 18" electrostatic speaker Jeff treated us to some great music not least for me the OST of
The Last Samurai
which I thoroughly enjoyed. Jeff's mission was dispel the notions that B&O weren't taken seriously compared to other big players in the industry. Got to take my hat off to him as the device actually filled the room and I could hear a pin drop as the normal level of chattering and banter dissolved to silence. Jeff also demonstrated a minute Bose portable Blue Tooth device that totally belied its size. Jeff earned round of applause.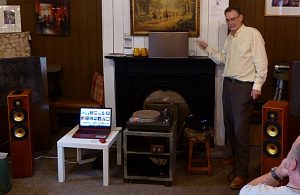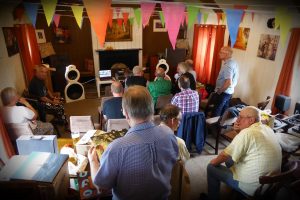 It was great as always to see Barrington again who brought along with him a big Bottle phono stage and a very expensive looking mains cable. I was asked by him to plug it in to warm up about an hour or so before it was used along with my Sony TT and ART 9 cartidge. I was busy eating my tea whilst it was playing though I was suitably impressed from what I could hear from the back of the room. Whilst all this was going on surgery was taking place to transplant the ART 9 cartridge into my headshell. In the meantime Alan Kendal Mr Firebottle himself treated us all to some funky items such as a Topping D50 DAC about the size of a wallet though very easy on it. Such an inexpensive Chinese item left many including me aghast! Alan went on to demonstrate a small pair of Sony compact speakers at first placed on the mantelpiece that again filled the room with music. His Ming Da Piccolo Mk2 valve amp also belied its power limitation adding enchanting warmth.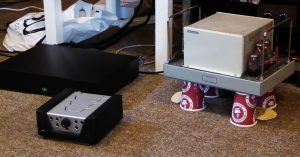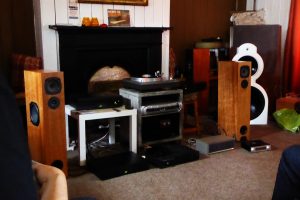 As always when NEBO gets into the late evening it stated to get messy. This is where it always gets interesting. Lots of swapping in and out too much for me to recall though I noticed that Mick Rick's Radford made its second appearance balanced atop of paper tea cups (Ringtons I believe though other makes are available). From this period of the day my aging body was suffering the effects of Thatchers Gold cider and Glen Livet whiskey as well as the toll of lifting heavy Hi-Fi and large wooden tables around all day. However, what did make an impression on me was the ART 9 cartridge via Alan Kendal's Lounge phono stage. Stunning as was his Out Of The Park device earlier. As usual we literally ran out of day and I felt a little cheated as there was still a few things I would have love to have listened to like Mick's Canton speakers and another proper sit in front of Barrington's Big Bottle phono stage. More info about that on the NEBO Facebook page.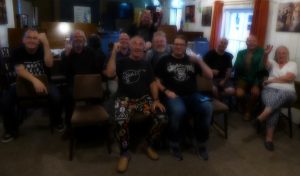 As people were leaving I started to reassemble the room in order to leave it as we had found it. It was then that I had noticed that my stylus had gone missing. On a positive note I had been granted the opportunity by Mike Davis to borrow the rather wonderful ART 9. This along with my turntable went home in a taxi with me. I woke up the next morning with the hangover from hell, sciatica, missing a stylus and a large dink in one of my speakers. So NEBO 10 was bedecked with tragedy in one respect though all of these were vastly outnumbered by the positives. Despite all of this I announce NEBO 10 a triumph. A very special day I thought and one of the best we have had. I missed regular attendees like Alan Towell and les Wolstenolme and humbles as usual by those who travelled many miles to attend. To all of you a huge thanks. So NEBO 10, an achievement methinks. Have we had enough or do we go on? Let me know. Fabulous day.