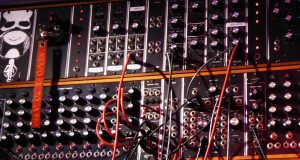 What to do on a very rainy day in New York? Well for this boy there was no better way than pay homage to The King. Not Elvis Presley but the king of Prog, the late Keith Emerson. Keith's famous Moog modular synthesiser and Hammond C3 organ have been on display at the Metropolitan Museum Of Modern Art and will be until October along with his battered and war torn L100 organ complete with two daggers wedged between some of the keys. The iconic keyboards are part of a much larger exhibition including a Mellotron owned by Mick Jagger and a host of guitars belonging to Prince, Jimmy Page, and The Beatles. As my trip out to Coney Island had to be postponed for a few days I took my place in the que which stretched around both corners of the building. My umbrella was rendered ineffective by the driving wind and rain so as I reached the top of the steps of the Roman style palace I could feel the excitement building up as I was channelled through the security. It became clear to me that I wasn't going anywhere soon having looked at my exhibition guide and noticed that an elaborate display of Native American culture was also to be experienced another passion of mine.
As I traversed the aisles and display cases housing instrumentation by full bands like The Who and the Beatles I could hardly contain myself and I could feel my pace quicken as I turned the corner and glimpsed the machine on which so many of my favourite ELP pieces it featured. As I approached It became clear that many of Emo's loyal admirers had the same idea. A large contingent of American speaking nerds enthusiastically exchanged tails of organ abuse with regards to the stabbing of an innocent Hammond by Mr Emerson and the well exchanged tails of the pyrotechnics emitting ribbon Moog. Being there on my own I kept my counsel as my North Eastern UK twang may not have been fully appreciated or indeed understood. As the baying fans moved on to another display I enjoyed a moment alone with these iconic instruments of extreme prog that have had such an everlasting effect on me since adolescence. During this lull and solemnity I was approached by a willowy figure in a smart suit and tie sporting a dapper rouge rinse informed me in a soft Warren Cann-like voice "you can touch it if you want". I was of course unnerved by such an approach and offer until I realised that this rather sweet man must have noticed the child-like longing glint in my eye and allowed me stand astride the cordon to place my hand on the keys. Although I fought off the overwhelming want to rock my head backwards having donned a fish scale jacket on make like my late hero I remained respectful and very grateful for the opportunity. Bless you sir.
Like so many fans I have seen these instruments played live and on film so many times in the past though nothing prepared me for the feeling you get when allowed such close proximity and to even touch them. I honestly believe that I could feel the energy of their aura. Of course this is deep within my psyche and there is little doubt that those not of the same mind and obsessive nature will in no way feel the force Obe Wan. Two days later as I was walking towards Fifth Avenue on my way to Central Park I happened upon Christies who just happened to be auctioning David Gilmour's guitar collection. As the clouds gathered and the drizzle began where better to shelter? The look I had on my face only a couple of days before must have had the desired effect on my good lady as she sighed, took a deep breath and said "go on the, off you go". Well I mean, what else would you do in New York on a rainy day?