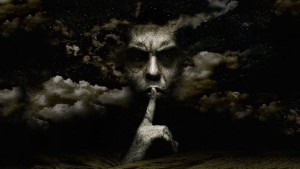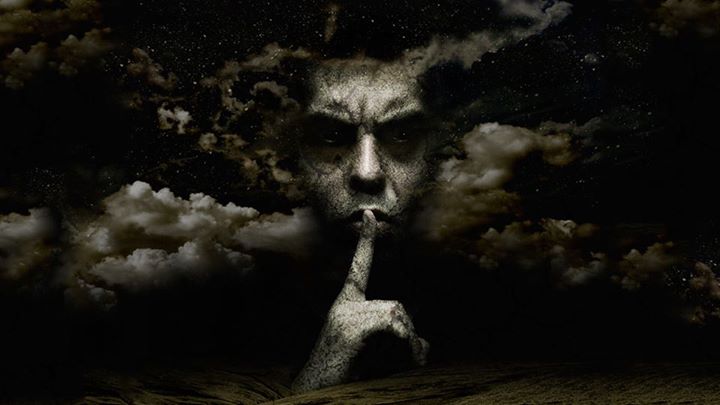 The long awaited studio album from prog stalwarts IQ has finally arrived. Road Of Bones is an interesting proposition for IQ fans in that four fifths of the original line up are here as well as the inclusion of their well road tested keys man Neil Durant. As with most IQ albums Road Of Bones is beautifully packaged and the art work as always reflects the musical content in this case very dark and somewhat sinister. This review is of the special edition and really has the pride of ownership ethos in mind. Well, the bodywork looks impressive what's under the hood?
Eleven tracks spread over two discs disc one being the album and disc two being bonus material consisting of songs that were recorded at the same time though excess to requirement for want of better words. I have it on very good authority that vampires and serial killers are the subject of some songs many of them lengthy, very lengthy. From The Outside In gets the show on the road (of bones) in an almost prog metal way. This hard guitar thrashing repeats itself numerous times throughout the album and though it isn't to my personal taste many will see it as a welcome change. One thing that is noticable from the outset is the sheer subsonic presence of founder member Tim Esau. Tim's contribution here and throughout the album is astounding. Using all the trick of his trade available to him Tim colours the black even darker on this song and the more sinister titles.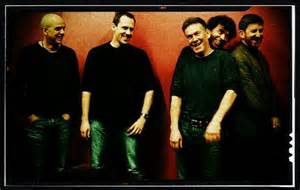 stand out songs are the title song Road Of Bones which is a fairly tranquil aggair for the first six minutes with some great glockenspiel type sounds and holographic vocals and Ocean  with it's densely layered keyboards and guitar patterns make for a full and powerful soundstage thanks in no small part to Paul Cook who seems to have taken on a new lease of life. The production throughout is exemplary and a credit to Michael Holmes as are his guitar forays. Peter Nicholls projects his lyrics with sling shot vocals the sheer volume of which can be heard during the many parts of Without Walls.
The build up of Without Walls finds Neil Durant laying down some rather fine piano and organ to Peter Nicholls story telling lyrics with some great Linn drum type software sounds. After three minutes though hell breaks loose again and Michael Holmes power chords are unleashed accompanied by some great Hammond.
The song seems to take on an almost Pink Floyd sound after about nine minutes before getting very lively again with some great guitar and Voyager outings which i feel will make this a greatbpiece to play live. Completing the album is Until The End with it's satanic sitar patch opening. There are some great percussion sounds and church organ which really does embed the view of misty grave yards and bats in your mind. This monster of a song was brought beautifully to a close by Neil Durant's piano and Michael Holmes silky acoustic guitar playing.
Making my third cup of tea and considering something a little stronger i placed disc two into the drawer of my CD player and continued the dark journey. As the low frequencies krept out over the room at me again with some interesting sounds and beats it wasn't long before knucklehead give way to an apocolypse in 9/8 style rythmn and had me thinking that many of the textures and patterns are reminisent of songs from much earlier work like The Wake. Peter Nicholls sharply etched words had me intrigued yet baffled at the same time. The inspiration for these songs are obviously about a subject that i know little about, though they had me wanting to find out more about them and their meaning and i would imagine this will be the same for many listeners.
1312 Overture is the kind of IQ i know and love, lots of interesting things going on and a barnstorming pace which again harked back to earlier albums in this case Subterranea. This was followed by what can only be described as a Prog workshop in the form of Constellations. Steeped in dark shades of gray with a full armoury of drums, bass pedals and tron on display the way is pathed for Fall And Rise. Tim Esau's sumptous fretless bass give this song a beautiful opening whilst Neil Durant's warm keyboard swathes and Moog Voyager really does make this a treat on the ears.

Ten Million Demons is without doubt my favourite song of the album. It has to be an Ultravox pastiche. In fact had i heard this on the radio without hearing it announced i would have taken it for a new Ultravox song. I am somewhat confused as to why they had included a Glitter Band style beat and a Chikory Tip tribute on the run out of this song but hey, it's IQ, theyv'e done stranger things in the past. A little fun perhaps before the concluding opus Hardcore. I have always thought that IQ are filled with many influances the strongest one being Genesis, though i do remember having a conversation with Widge many years ago during which he denied this.
There is definately a strong Genesis influance here throughout Hardcore More specifically Steve Hackett. There is definately a nod and a wink to A Tower struck Down at one stage and Michael Holmes lilting acoustic guitar adding a fitting finale to this rollercoaster of an album. This makes the spedial edition very much worth the extra outlay given that the launch box set is now out of stock.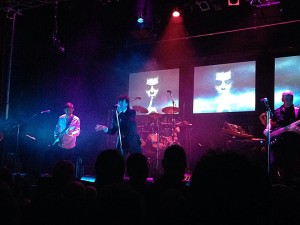 Road Of Bones is an IQ aural theme park for dyed in the wool fans like myself and where better place to build such a place than  in the listeners home or place of worship. I couldn't think of a better album to have a surround sound mix. The band may not have strayed far from their tried and trusted formular and many of their signatures, flavours and themes throughout their history are here for all to enjoy and savour. IQ have crafted a monument to themselves with Road Of Bones which throughout it's darkness shines like highly polished shoes. Be warned though, if you intend to listen via large speakers or have a subwoofer, make sure the neighbours are either warned or away!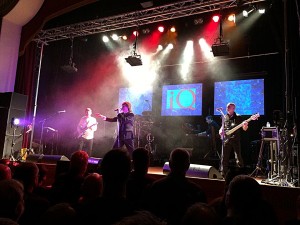 Available from varios outlets and the IQHQ webstore…
Road Of Bones CD £10
Road Of Bones Special edition two disc digipack (recommended) £14
Thanks to John Merrick for the live pictures of the Road Of Bones lauch gig. Top man.