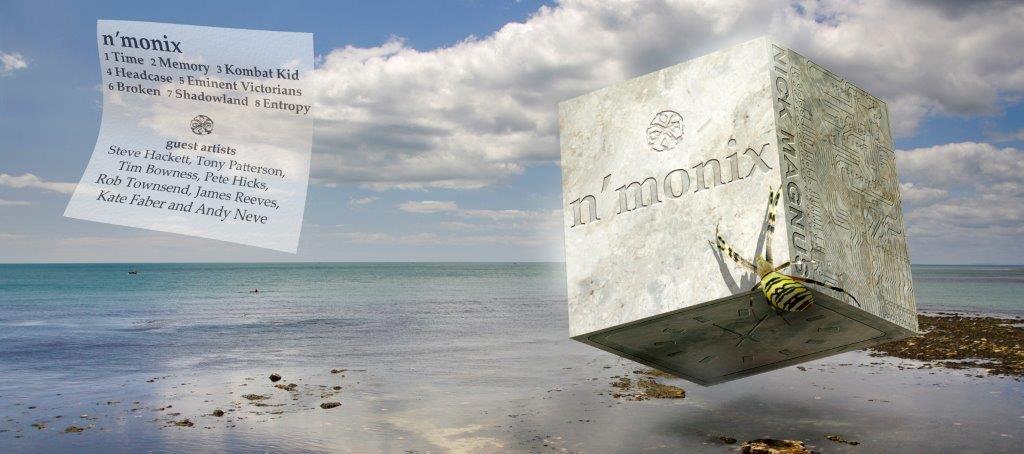 Nick Magnus is without doubt a very special individual. His cheery demenour and willingness to answer questions about is ideas, music and all manner of things with regards to his endevours make him a joy to get along with. M'monix is Nick's fifth album under his own name and one i feel close to his heart. N'monix is about memory and how important it is to us all especially as we start to lose it. Such an emotive subject is handled in many ways throughout N'monix, the songs take on both a serious and more light hearted view of the subject and Mr Magnus has as ever got the mix just right.
Beginning appropriatly with Time, Nick has enrolled the talents of Northern lad Tony Patterson once again to use his Gabrielisms amidst the mele'e of musical thunder to etch the lyrics in an almost angst ridden way creating a very nostalgic feel to a very conteporary sound. With so much going on in the mix Tony does an excellent job of projecting the message contained within the powerful words. Nick seems to have used some of the effects and sounds first heard on his previous album Children Of Another God throughout the album and to conclude this first song he used a sound similar to the one that opened his Inhaling Green album. This aided the seemless transition into the next song Memory.
Sung by soprano Kate Faber this song is an oasis in the surrounding thunder. Along with Nick's fantastic ear for orchestration and the subject of memory loss this may well stir the emotions of anyone who has someone in their lives suffering from dementia or Alzeimers disease. Kate Faber's singing really did create a very special moment within what in my opinion is a very special album. Getting back to a more heady pace a military march takes you into Kombat Kid, regaling the tale of Richard of York, a young boy addicted to a video game who eventially becomes sucked in and part of the proceedings. The narrative is superbly played out by Tony Patterson who presents the mystifying lyrics amidst Nick's intricate synth playing and soundstage filling samples.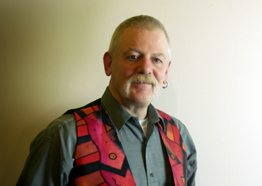 As a matter of intrigue Headcase will literally have you scraching yours. On first hearing the words "old people from Texas eat spiders" you start to ask yourself what the heck is it all about. It is all to do with mnemonics and you must look for them. There begins the puzzle, not only an album but a game too! Headcase is pretty much a one man show with some funky Wurlitzer piano and Nick taking on the role of singer too.
Continuing in an even brighter and lighter vein is Eminent Victorians. Packed to the gunnels with references of our great past, Bazalgette, Wilde, Faraday Brunel et al and their various achievements. Old friends from the Spectral Mornings days Pete Hicks on vocal duties and Steve Hackett himself and his unique guitar style augment Nick's funky clavinet and organ playing. This song also includes some rather tasty drum samples first heard on Crime Wave Monkeys. No one i know does virtual drums like Nick Magnus and none of the pieces suffer from their use.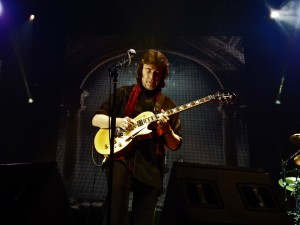 From here on in the remaining songs become more serious and certainly more atmospheric. Broken finds the compelling voice of Tim Bowness representing the tortured mind of the confused, bewildered and frustrated whilst the gentle flute and erratic soprano sax capture the extremes of such inner turmoil. This piece is brought to a conclusion by Steve Hackett playing arpeggio guitar and harks right back to Nick's earlier work.
Shadowlands features Steve Hackett backed by Nick using some familier samples. So angelic is Shadowlands that i felt a lump appearing in my throat as i listened to it. As i mentioned earlier this album is pretty close to Nick's heart and it can be felt both here and the amazing finale Entropy. Listening to Entropy you realise from the textures and dexterity of Nick's playing that both his heart and soul was poured into and out of it. The very young James Reeves makes a fantastic job of singing this impassioned and beautiful song matched only by Andy Neve's backing vocals. Great to hear Nick concluding the proceeding with his keytar as if to add a final seal.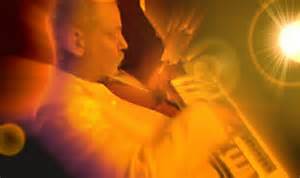 Nick Magnus albums can be compared to your children. You may have five of them yet you would not confess to loving one over the other because they are all different and you love each one individually. M'monix will not slap you round the chops and make you fall in love with it from day one because it is not just a musical experience, it is a learning event. I can think of few other musicians which may be placed in the same catagory/genre as Nick Magnus who encorporate such diversity and imagination into their music to such a degree that it draws you in. N'monix isn't music on the move. It is not ipod music. It is to be absorbed, enjoyed, debated, celebrated and thought about. Beautifully packaged with an elaborate booklet with all the information you should need N'monix will be available from Esoteric Antenna on April 28th. So, my advise is to log on and pre-order a copy if you haven't yet done so. This will be the sound of summer 2014 at Progmeister towers.
Available from cherry red records and cd services £10:95.