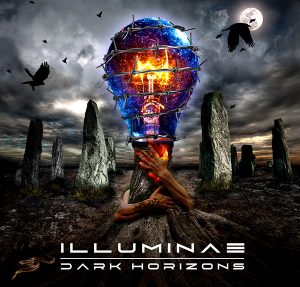 Ian Jones may be thought of as the founding member and bassist with Welsh folk rockers Karnataka, however, this in my view is selling him a little short. Having recorded six albums with Karnataka Ian spearheaded a side project Chasing The Monsoon releasing the excellent No Ordinary World in 2019 and already colluding with Polish singer song writer Agniesszka Swita during it's recording to form Illuminae. It's only when you see the list of credits on Their new collaboration Dark Horizons that you realise what an absolute tour de force Ian Jones is. Apart from the myriad of quality musicians including Steve Hackett (ex-Genesis) Guitar Craig Blundell (Steven Wilson/Steve Hackett band) Drums, Luke Machin (The Tangent/Mashine) Guitar, John Helliwell (Supertramp) Saxophone/Clarinet and Troy Donockley Uilleann pipes and low whistle, Ian himself plays bass/bass pedals/keyboards/piano/acoustic guitar/programming and string arrangements. This is finished off perfectly with Agnieszka's sweet and at times powerful voice made all the more interesting by her Polish accent.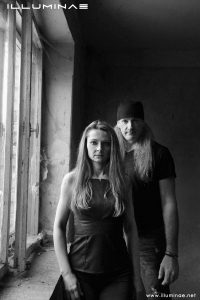 Ian met Agnieszka through a mutual friend and Karnataka fan around ten years ago and started casually writing together between their own projects. In 2017 Ian was listening back over the ideas they had written together and decided that they sounded strong and needed to be finished. It was then that Ian contacted Agnieszka and Illuminae was born. Dark Horizons is a beautifully crafted album and just like the Chasing the Monsoon album every attention to detail has been pawed over and finely honed. The album consists of ten songs each capturing the mood and atmosphere of Agnieszka Swita's haunting lyrics. First up is The Lighthouse. This song is about immortality and being reborn and remain in stasis within a place of safety. The atmospheric opening really sets the scene with the sound of the sea and a fog horn. It made me feel the bite of the sea breeze as I was listening to it. A softly played piano introduces Agnieszka Swita's lilting voice telling the tale of a journey which builds in scale and intensity. Luke Machin's guitar style contrasts beautifully against the grand wizard of the Prog axe Steve Hackett who wealds his might in his inevitable style adding just that something special to the proceedings.
With the many war-torn states in the world at the moment Blood On Your Hands really strikes a chord with what is happening in the likes of Syria where so many people become blind-sided by extremism and becoming misguided into think they offer some kind of salvation with their actions. Having said that, there is an almost Russian feel to the opening chords. The orchestration is huge possessing awesome depth thanks to Ian Jones forays with the bass pedals. Definitely one for the Prog metal fans to enjoy methinks. There is even a song for horror fans too. Edge Of Darkness is a gothic tale of a woman falling in love with a werewolf and follows him to a forest. The song begins with Agnieszka running to or away from someone or something. The worrying chase is eased by Luke Machin's deft guitar intro which soon builds to a pounding scale thanks to Craig Blundell's powerful impactful drums.
Coming down from this with gentle whispers is the haunting Lullaby. A song about dreams and a promise that time stands still when we close our eyes and go to sleep. Thia song is made all the more tranquil by the sampled harp lending a Clannad vibe further augmented by Troy Donockley's Uillean pipes and low whistle. I found myself rocking back my head and immersing myself in this folk laden aural sonnet. In a similar vein is fanciful Twice which talks about the importance of seizing the moment which opens with a great organ intro. Best described as a sweet ballad and in such larger scale company may to some be a little too sweet. Nevertheless, it showcases Agnieszka's voice perfectly. The dark and bleak atmosphere of the larger scale pieces continues with Heretics And Prophecy which would not be out of place in Game Of Thrones. Very dark and stirring to say the least and once again imbibed by the folk element courtesy of Troy Donockley the go to musician for all such things. A sinister tale seen through the eyes of a woman burning at the stake. Powerful stuff and conveyed so by all concerned. As the album title suggests there is a very dark element throughout the album and the second visitation to the horror theme is Sanctuary. Where would an album about darker matters be without the obligatory vampire tale? The songs progression is about a vampire despite being drawn to the light that kills and feeding on the blood of innocent victims builds a sanctuary of love that becomes an obsession through which he or she must live and die a thousand time. Bass and drums drive this song along beautifully and I found myself being drawn to them throughout. Moving into a more west end musical area (my interpretation) Black Angel is full of ambiguities exploring the contradictions within the human condition. It had me thinking of theatrical shows such as Phantom Of The Opera. For those who enjoy the more theatrical music leanings I have no doubt this will score highly, my views is that Luke Machin's subtle guitar inflections steer the song in the right direction such is the importance of musical nuance. Subtle and effective.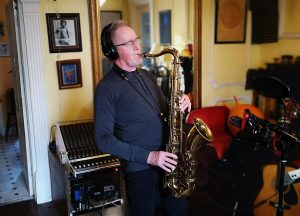 Revisiting a similar theme to Illuminae's opening gambit The Lighthouse, Signs Of Infinity is about reincarnation. Agnieszka Swita sings of being cast ashore and dancing with her ghost. The mood of the piece is lightened by the acoustic guitar and Karnataka boards man Gonzalo Carrera playing piano. A welcome guest appearance and yet another subtle contribution. The soundstage of this song seems less busy and uncluttered. There is very much a Pink Floyd pastiche prevalent here as Supertramp's John Heliwell adds a great saxophone break and elsewhere clarinet. I found myself reaching for the volume control which tends to be a personal sign that I am enjoying the music. Last but certainly not least is the title piece Dark Horizon. One thing that stands out throughout the song and indeed the rest of the album is the sterling job that Ian Jones made of the orchestration. Intentional or not Luke Machin parodies David Gilmour in this very Floydian feel to the song. Despite its title the song is about moving away from darker thoughts and coming out of your shell. It's about realising that we need each other and a helping hand sometimes. Something that resonates with me personally at the time of writing.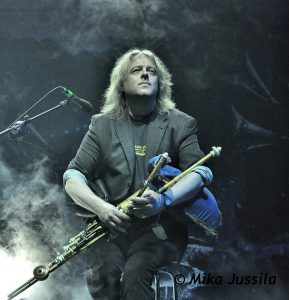 Production and recording quality are gold standard given our present situation. The cohesion mapped out in the mix would have you believe the contributions of all musicians here had visited the same sound booths and mixing desk in a formal studio setting. Artwork and packaging too are top class and also contributable to Ian Jones. The images for each of the songs really capture the mood of the pieces and their meaning. As with Ian Jones previous project Chasing The Monsoon this fledgling collaboration is available in many formats including Mp3, FLAC downloads though it is the more tangible format media I would encourage those who have the means to play them be bought in preference. Pride of ownership figures large here due to the fit and finish of the artwork of the CD. Vinyl is available though a delay in its manufacture will make it worth waiting for. Ian Jones has brought together all the right people to make the best of his and Agnieszka Swita's now completed songs and compositions.  Buy a copy, play it loud, enjoy it! The boy from Swansea and tha gal from Poland did good.
For more information go to….
www.illuminae.net
CD Deluxe digipak £10
USB digipak with booklet £15
24 bit WAV with booklet £9
FLAK £8
Double vinyl record £25.