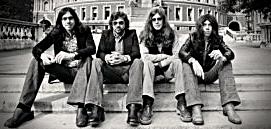 CAMEL! What would life be without them?
I am a very firm believer in the fact that you don't ever miss something until it's gone or not as freely available to you. Like most people that frequent the Earth I am as guilty as the next man of taking some things for granted. Whilst thumbing my way through the record collection the other day I was halted at the letter C by the influences and memories brought about by one of the most musically inspiring bands in the world, Camel.
There is little I can tell you about Camel that cannot be found on there own website and with a greater degree of accuracy too. Instead my intention is to tell you about the impact that this bastion of prog has had on my views and opinions with regard to music. A famous Scottish manufacturer of Hi-Fi equipment once mused that "music chronicles your life" and I have to agree. Whist I was an apprentice and taking my exams I can think of little else than Katie Lied by Steely Dan and my holidays as a teenager listening to John Miles, Manfred Mann's Earth Band and Alan Parsons.  It's fair to say that the standard bearers throughout all this time would be the big four, E.L.P., Pink Floyd, Genesis and last but not least Yes. However, despite all these bands and their tributaries I would have to site Camel as the band that captured my musical soul in totality.
My musical journey with Camel began in 1976 when I saw a full page add in the Melody Maker for their now eponymous album Moonmadness.  I was intrigued by the whole concept of a camel in a space suit and suspected that it may be just up my street. In the advert were some tour dates and as luck had it one of them was close by. I and a friend hastily bought two tickets without even hearing a note of what they had ever played and from that evening onward became a devout Camel disciple. I soon acquired their three previous albums and cursed my self for what I had been missing. I attended most of their ensuing tours with the odd exception and remain mesmerized to this very day.  I was saddened on some occasions by the all too regular line up changes and musical direction, though thinking back I was probably maturing at a slower pace that Camel's music. I soon became as in tune with innovation and new directions as the band themselves which made every new Camel album an exciting prospect. Following their 1984 album Stationary Traveler all went quiet on the Camel front as Andy Latimer who to all intent and purpose is Camel left the UK for California, setting up home their with his long term partner Susan Hoover. It was some time before any new music appeared and it was in the form of Dust And Dreams. By this time Andy had set up Camel Productions and basically given the finger to the record companies. It was at this time around 1990 that I started writing to Andy and always received a written response, not something that busy musicians do. Something I have always remembered. I met Andy Latimer twice, once at the lead mill in Sheffield and once at a meet and greet following Camel's appearance at the 2003 Nearfest in TrentonNew Jersey. On both occasions he remembered my name and on the second occasion he even told me in which town I lived. Something I think  is rather special.  I am only one of many Camel fans and most that I have spoken to are as passionate as I am about the band.
Imagine then how the news of Pete Bardens death affected each and every one of us and the sense of heartfelt disappointment that any possibilities of a reunion with Andy under the Camel guise had been cruelly stolen by the most terrible of diseases.
In the last few years as many of you know Andy himself has been battling illness and fortunately for us all survived to tell the tale. Hopefully the Camel story doesn't end here? As I ready myself to head to London for the High Voltage Festival I was heartened that there was at least a rumour Andy might make an appearance. Sadly that's all it was, a rumour. The excitement that I felt for that brief moment though was cameshear bliss.
I have a lot to thank Andy Latimer, Pete Bardens et al for. The quality and diversity of Camel's work the sincerity and lasting images that I and many others will cherish all our days. Thanks also to Susan Hoover to whom I owe a great deal of gratitude for keeping me a copy of Curriculum Vitae, of which she had only brought a few copies to Nearfest which the band duly signed.
Over the next few months I will be cherry picking some of Camel's albums and expressing my views about them. I think it hideous to consider that I favour any particular album as it would be like trying to choose one of your children. They are all very different and it would be a mood driven event as to which one I would listen to at any given time.  Please feel free to share your views etc about Camel by e-mailing me at inf@progmeister.com or post something on the forum.
Prog is indeed a wide church. There is room for everyone new and old, though as I reflect on all that has gone before and hearing some of the new up and coming prog bands I am compelled to think of the huge body of work from the early seventies to the early naughty's presented to the world by Camel. There are many bands over the years that have been presented with accolades and trophies. The awards given to Camel reside in the hearts of their many followers. Camel eh? Where would the world be without them?
The Progmeister