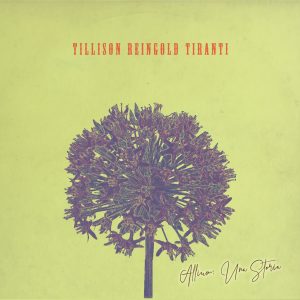 Back in 1973 when I bought my copy of Brain Salad Surgery by Emerson Lake & Palmer I was intrigued by the information circulated at the time of it's release with regards the bands own label, Manticore. Signed to their new venture was King Crimson adjunct Pete Sinfield, a Italian band called Banco and a band that became a legend in their own right, Italian band PFM. I mention all this because I was reminded of this when I received an album which very much had the mid seventies Euro-Prog vibe. A concept album based on a band that Andy Tillison met whilst on holiday in Italy in his youth.    cool is that? The band to which I refer is made up of keyboard wizard Andy Tillison of the Tangent, Jonas Reingold of The Flower Kings/Karmakanik/Steve Hackett band playing bass and guitars and Italian singer Roberto Tiranti of New Trolls/Ken Hensley and Labyrinth adding his bold Italian vocals to the mix.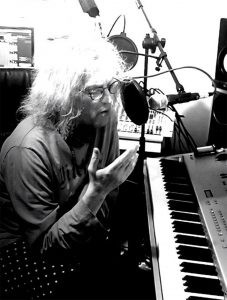 The concept is about the band Allium hence the album title Allium Una Storia". It is the vision of Andy Tillison who set about recording an album that he and cohorts feel representative of an album that Allium would have made had they garnered more support and recognition. One of the most impressive aspects of this album is the attention to detail. All of the keyboard sounds used throughout the album where those used in 1976 so modern sounds were avoided to maintain authenticity. Even the way that files were shared between the three hombres were sent as if they were tapes being posted to and from Austria, Italy and Yorkshire UK. The lyrics are provided by Moongarden's Antonio De Sarno. Unable to understand the words I decided to treat the vocals as another instrument rather than attempt even a vague understanding of the richly poetic language. Worry not though as a complete explanation of the story can be read on the CD booklet or the Tangent website.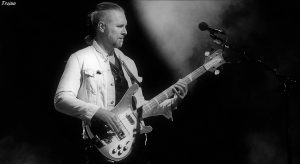 Allium Una Storia consists of only three pieces the first of which is Mai Tornare the longest song of the three at just over seventeen minutes. The Moog drone intro is smattered with string machine and clavinet beckoning me home from the apocalyptic aspects of the present day to those of the mid-seventies revisiting the Canterbury sound.  This rather pleasing start erupts into a huge soundstage brimming with musicality. Jonas Reingold proving, he is as adept with lead guitar as he is with bass in its many forms. Drums are deceptively good considering their ubiquitous source. Added to this eclectic mix are some fair saxophone licks courtesy of guest muso Ray Aichinger. As this piece progressed towards the second offering of the album, I found myself adding purchase to the volume control. To me this is a positive sign as it usually means I am wanting to hear further into the mix.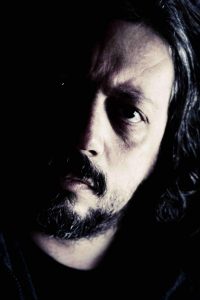 Andy Tillison is without doubt one of only a handful of keyboard players who have mastered the craft of orchestration using the tools available to them to such an authentic and effortless degree without access to a full orchestra. The opening flute and oboe heralding the arrival of Ordine Nuovo certainly had me fooled. Beautifully interspersed with sleepy piano meanderings Sax and Rhodes there are many of the very best of timeless influences woven into the rich musical fabric of this eight-minute treat. To my ears I could hear Steely Dan working their way to the surface and a shift towards all out jazz fusion as Jonas Reingold's fuzz guitar adds to the great vibe.
With only three pieces representing the story of Allium and what they may have achieved the project moves into its final chapter with the rather grand Nel Nome Di Dio. Roberto Tiranti's vocals are carried wonderfully on a bed of Hammond organ whilst Jonas Reingold's guitar lines are taken directly from the Carlos Santana hand book. There are some of the highest moments of the album emanate throughout this song given a European feel by the use of a Melodica/accordion or at least a sample of such a device. With only three songs at just under forty minutes Allium Una Storia is in Barista terms very much Espresso rather than a flat white. Each of the three songs are high impact shot in the arm experiences and represent a Rotters Club for the present day. Tillison Reingold Tiranti are at pains to explain that Allium Una Storia is a homage not a forgery and best treated that way by the listener. With this in mind there are two mixes of the album included on the CD. There is what is described as an original mix representing the way that the album would have been mixed in 1976 and an up to date mix utilising present technology to master the tracks. All in all, I found this one of the most stimulating listens I've had in a while. Even the concept and its execution I find totally captivating. This isn't a highly polished trophy or an audiophile grade musical weapon, instead it's a document of how innovative musicians were with the tools they had at their disposal in 1976 and a fitting celebration of what may have been and superbly channelled by Messrs TRT. This isn't an album just for Tangent completists or obsessives. It is a stand-alone project to be experienced in isolation rather than comparing it with back catalogues and personal styles. No analysis needed here, put it on, crank up the volume and loose yourself in the boogie!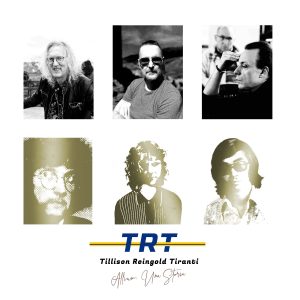 CD and digital downloads are available from www.jonasreingold.se/shop
CD 20 Euros.