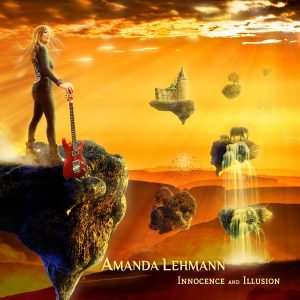 Rhythm guitarists always get a bad deal when it comes to recognition within the context of their contribution to most bands especially in a live setting. Least of all within the confines of progressive rock, a predominantly male orientated genre of music. So, imagine to my surprize well over ten years ago that gracing the stage of ex Genesis guitarist Steve Hackett would be a striking blonde lady with a bright red guitar. Bringing a much-needed femininity to the Hackett foundation whilst infusing one of Steve's classic pieces
Shadow Of The Hierophant,
Amanda added her own sweetness to an established live musical vehicle. I had no idea at the time she was to become Steve Hackett's sister in-law and known to his audience as a transient member of Steve Hackett's touring band. Fast forwards to 2021 and the release of a new solo album by Amanda Lehman featuring many of Mr Hackett's associates it would be easy to assume that
Innocence And Illusion
would be a dyed in the wool Prog outing laced with the associated dichotomy of the genre. Not so! There are some of my favourite musicians lending a hand here, though make no mistake, Amanda is very much at the helm here.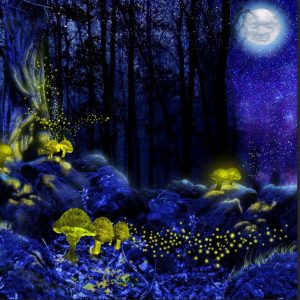 The haunting opening of the album with the powerful
Who Are The Heroes?
sets the bar high from the outset. Amanda collaborating with the uber talented keys man Nick Magnus who with Amanda arranged this poignant and thought-provoking song. Nick also included a rather fine synth and Mellotron that further adds to the atmosphere and nature of the piece. Many of the songs throughout Innocence And Illusion are open to individual interpretation and this for me said a lot about those who throughout the Corona virus pandemic stepped up and showed love and compassion without receiving the accolades of which they rightly deserve. Of course, it is easy to judge from such a starting point that the stage is set for epic after epic. Nothing could be further from the truth. 
 Tinkerbell
remains with the magical formula of Amanda and Nick Magnus who so beautifully orchestrated parts of this almost Disneyesque song which on first hearing appears lightweight in comparison to such a powerful beginning. Nick's orchestration during this enchanting song reminded me very mush of Harry Potter as well as the fore mentioned Disney animations and along with the sweetness in Amanda's voice becomes a joy to listen to.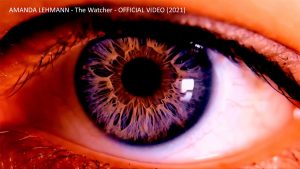 In sharp contrast and a change of supporting musicians
Only Happy When It Rains
moves into a more jazz tempo with Amanda's beautifully penned lyrics pointing towards apathy and to a point feeling sorry for ourselves. The glass half full or empty philosophy. Best described as jaunty and without doubt an ear worm I found my foot tapping and after more than a few listens singing along. Steve Hackett plays some great harmonica and fellow touring band member Rob Townsend adding some much-appreciated saxophone to complete the jazz vibe whilst keyboard player Roger King collaborated with Amanda in the arrangement and playing some fine keys. Moving to a more bluesy and in parts a more rock feel is one of the highlights of the album
The Watcher.
Here Amanda's guitar playing takes centre stage, though as a song I found it the most intriguing. Though as all the other songs here it is open to interpretation the main message is somewhat darker and a little to close to my own heart. The watcher is a negative critic and restricts the natural flow. It may come from within or externally. It is about someone or a voice that constantly questions you and disrupts the any positive thoughts you may have. Both Nick Magnus and Amanda share keyboard duties throughout and it is testament to Amanda Lehmann's talent as both a writer and musician that makes this song work so beautifully.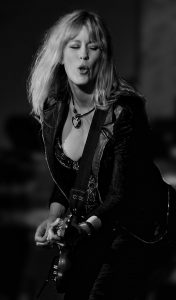 Moving away from the powerful nature of the album thus far finds the listener drawn in by the much lighter and simplistic production of
Memory Lane.
For anyone like myself who has experienced a family member or loved one being stolen from you by dementia this beautiful song will without doubt resonate. This song was written about Amanda's mum whom she lost to dementia. The song demonstrates the pure side of Amanda's voice in a traditional way like a Joni Mitchell composition. I was mesmerised by it from the first few bars and knew instantly from the pleading and mournful words just what the song was all about. By now it is apparent how multi-timbral the album is and how Amanda Lehmann can place a lyric in the most appropriate musical style. To create the Ying and yang to the solemnity a rockier pace is for
Forever Days
a faster moving celebratory song about days that you don't want to end for whatever reason it may be. The big guns are brought out here with Steve Hackett doing what he does best aided and abetted by Nick Magnus adding some wonderful Mellotron to assist Steve's instantly identifiable guitar lick. Included amidst the freshly prepared songs that make up the Amanda's Lehmann's debut is the slow burning
We Are One.
Originally written for the multi artist album
Harmony For Elephants
a few years back
We Are One
has an almost Celtic feel to it despite its Proggier instrumentation. This earthy song wouldn't be out of place on a Clannad or Capercaillie album. The latter part of this song I thought would have made a more suitable finale to the album than its place in the running order due to its fade from chant and then guitar crescendo. Returning to a more blues/jazz vibe Amanda turns her hand to piano as well as guitar for the penultimate tune
Childhood Delusion.
Another in the more whimsical of Amanda's compositions regaling the wonderment of a child's perspective and the elements of childhood innocence. Beautifully arranged in collaboration with Nick Magnus who also contributes some fine keyboard work too. The childhood theme is continued in the stunning lullaby
Where The Small Things Go.
A song I would quite happily sing to my grandson to sooth him to sleep. Indeed, I almost nodded off myself so tranquil is the mood. Amanda Lehmann's lyrics so admirably sung by her to Steve Hackett's virtuoso acoustic guitar.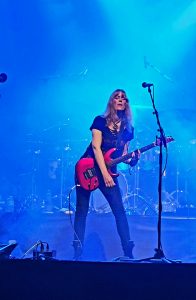 On first hearing this album it is easy to assume it to be from an artist with a track record for such a high calibre of song writing and production.  The fact that expert assistance was at hand to give a hand with arrangements and additional instrumentation only serves to augment Amanda's strong writing and musicality.
Innocence And Illusion
could well turn Amanda Lehmann's admirers in her role as Steve Hackett's rhythm guitarist into her own fan base and rightly so. I found this album ticking many boxes, crossing many musical styles whilst melding power with gentle strokes. Not just a purchase for completist fans of the Hackett enterprise,
Innocence And Illusion
is a must have for those like myself to immerse themselves in. Beautifully produced and packaged I would strongly advise immediate purchase. website….  www.amandalehmann.co.uk https://burningshed.com/amanda-lehmann_innocence-and-illusion_cd https://www.facebook.com/AmandaLehmannMusic https://www.instagram.com/amandalehmannmusic25