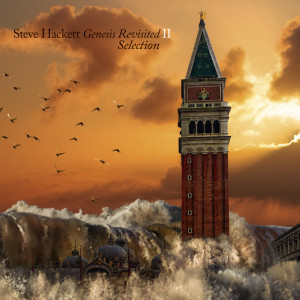 Announces the release of 'Selection' to coincide with UK tour
As the Genesis Revisited live experience is about to be unleashed in the UK, Steve Hackett announces the release of
Selection
on 13
th
May; the single CD album will feature a collection of songs taken from
Genesis Revisited II
and include a newly recorded version of
Carpet Crawlers
, a pre-tour treat from the legendary guitarist with Ray Wilson on vocal duties.  
Carpet Crawlers
will also be available as a single track for digital download.
"This single CD album features some of my favourite shorter songs and highlights from Genesis Revisited II'
– says Hackett enthusiastically –
"along with additional track 'Carpet Crawlers' sung by Ray Wilson, who joined Genesis as singer on Calling All Stations. He does a great job here filling Gabriel's shoes, but with his own special style. It's great to be flying the flag once more for the early Genesis sound on the eve of the World Tour…"
Full track listing is:
1.  Carpet Crawlers 2.  11th Earl of Mar 3.  The Lamia 4.  Dancing with the Moonlit Knight 5.  Entangled 6.  Shadow of the Hierophant 7.  Can-Utility and the Coastliners 8.  Afterglow 9.  Blood on the Rooftops
Since its release in October 2012
,
when it entered the UK album chart at number 24,
Genesis Revisited II
has collected rave reviews:
works wonderfully (
Classic Rock),
It's faithful, full-blooded
(Mail on Sunday),
a wonderful listen
(Music News) are only a few of the expressions used by critics to describe this outstanding tribute to the unforgettable prog pioneers. The album celebrates the Genesis period between 1971 and 1977 – known as the band's 'Golden Era' – and follows the first instalment released by Hackett in 1996. The
Genesis Revisited Tour
will be Hackett's biggest production to date, incorporating classics from both Genesis Revisited albums in a unique show not to be missed. Steve Hackett is the first member of Genesis to revisit this phase of the band's history and fans have welcomed the opportunity to take a trip down memory lane, with many dates already sold out.  
Selection
offers fans a handpicked anthology in preparation for the shows and, later, to relish the memory of one of their finest live music experiences. Full UK tour dates are:
Date          City                       Venue                          Box Office             Website
MAY 2013
Thu 9th       AYLESBURY       Waterside Theatre      0844 872 7607      www.aylesubryfriars.co.uk
Fri 10th       LONDON*            Hammersmith Apollo      SOLD OUT            www.eventim.co.uk
Sat 11th    CARDIFF              St David's Hall             029 2087 8444     
www.stdavidshallcardiff.co.uk
Sun 12
th     
LIVERPOOL        Philharmonic               
SOLD OUT
            www.liverpoolphil.com Tue 14th    GLASGOW          Royal Concert Hall      0141 353 8000      www.glasgowconcerthalls.com/ Wed 15th GATESHEAD      The Sage                     0191 443 4661      thesagegateshead.org/ Thu 16th    BIRMINGHAM      Symphony Hall            
SOLD OUT
           www.thsh.co.uk/
OCTOBER 2013 
Tue 22nd   BIRMINGHAM      Symphony Hall             0121 345 0603      www.thsh.co.uk Wed 23rd  BRISTOL              Colston Hall                 0117 922 3686      www.colstonhall.org/ Thu 24th    LONDON**           Royal Albert Hall          020 7589 8212      www.royalalberthall.com Sat 26th     MANCHESTER   O
2
Apollo                      08444 777 677      o2apollomanchester.co.uk Sun 27th    NEWCASTLE      City Hall                        0191 277 8030      newcastlecityhall.org Tue 29th    LIVERPOOL        Philharmonic                0151 709 3789      www.liverpoolphil.com Wed 30th SHEFFIELD         City Hall                        0114 2789 789      sheffieldcityhall.co.uk
NOVEMBER
Fri 1st        CAMBRIDGE*** Corn Exchange           01223 357 851     
www.cornex.co.uk
Tickets are £26.50, £24.50 for all venues – except Aylesbury £30 £37.50 & £40; Cambridge £26.50; London Hammersmith £27.50 and Royal Albert Hall £32.50 to £45.  Tickets available through 24hr Ticket Hotline: 0844 338 0000 Online: BookingsDirect.com Agency & credit card bookings are subject to booking fee. All venues are seated. Showtime will be 7.30pm.