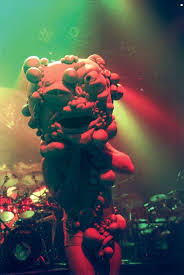 ReGenesis, the UK's longest established and much loved Genesis tribute band, are delighted to announce their most ambitious project to date.
In 2016, ReGenesis are embarking on a UK tour with a brand new production of "The Lamb Lies Down on Broadway". The album will be played in its entirety, 100% live along with some other Genesis classics.
In addition to the music, "The Lamb Lies Down on Broadway" will feature a brand new visual presentation of projected images and animations, created by some of the UK's most exciting up and coming artists who will bring a their completely original visions to this rock masterpiece. This will be something no-one has ever seen before and will bring "The Lamb" right up to date.
As ever, ReGenesis will be working hard to ensure that the music is faithfully recreated but delivered as a visceral rock experience rather than a theatre piece or tableau.
About "The Lamb Lies Down on Broadway"
In 1974, Genesis presented the most ambitious album and shows in their career – "The Lamb Lies Down on Broadway". Now considered not only the pinnacle of Genesis' creative output but one of the very best works of the entire Progressive Rock Genre, it was also the last album the band recorded with Peter Gabriel as singer, drawing to a close the "classic" era of Genesis.
"…some of the most visceral, thrilling music the group ever recorded" (BBC reviews)
"Genesis have never sounded quite as powerful as they do on "In the Cage," "Back in New York City" or other stand-out tracks on the album" (Rolling Stone).
The album was presented in its entirety on tour, with a visual show of projections and costumes that were ground breaking for the period.
In the subsequent decades, Genesis themselves have often considered returning to "The Lamb" and classics such as "Carpet Crawl" and "In the Cage" have remained in their set ever since – but it now looks unlikely that this will ever come to pass.
So in the absence of a reformation of the original line-up, ReGenesis are creating a new show which will give fans both old and new the chance to hear this masterpiece live.
About ReGenesis
Since their inception in 1994, ReGenesis have become a much loved UK act. They were listed as one of Mojo magazine's top 10 tribute bands, and featured in Channel Four's Top Ten progressive rock acts in the section dealing with Genesis.
Patrons include several members of the band including guitarist Steve Hackett who also wrote the sleeve notes for the ReGenesis album 'Live at the Empire'. The current line-up features a team of skilled and dedicated musicians for whom this is a labour of love, their aim being to deliver, completely live, blistering and memorable onstage performances.
"I was lucky enough to be at ReGenesis' Empire gig, hearing them faultlessly execute some of our most difficult material. If I close my eyes and listen back to this show it's very difficult to tell ReGenesis' live renditions from our studio originals except that they're more in time and in tune than the young band that originally struggled through the complicated rhythms and changes that were early Genesis's stock in trade" – Steve Hackett, 2009
"ReGenesis are not only as good as the genuine 1970s article, I suspect that they may very well often be better, especially on the most intricate aspects of the original band's catalogue. If you're a fan of the Peter Gabriel-era Genesis from the first time around, or a more recent convert to their classic work, there's no better way to see it brought to life in the 21st century. The 'Foxtrot At 40' tour culminated at a packed 02 Academy in Islington, where ReGenesis received the acclaim that their outstanding musicianship deserves." – Paul Sexton, journalist and broadcaster with the Sunday Times, Billboard magazine, BBC Radio 2 and others