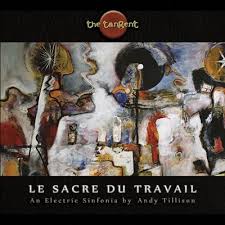 Forgive me for being one of the last ones out of the trap with regard to reviewing this album. I see that many have already posted their appraisals of The Tangent's latest music chronicle and sonic adventure. Hat's off to them. I found this one of the hardest of The Tangent's albums to evaluate to be honest. Le Sacre Du Travail is a hell of a lot of musical data for the human computer to process and anyone given a deadline to review it may well not have had chance to digest enough of it to give it a fair hearing. Here endeth the sermon. Much of the The Tangent's livery is here to be seen though i did miss the art of Ed Unitsky the packaging and booklet are rather splendid to behold. Martin Stephen did a great job as did Brian Watson with some work on the inner cover.
Mr Tillison has once again written an intriguing tale on which to base his latest opus or should i say "Electric Sinfonia"? My advice is to take time out and read it either before or whilst listening to the album. I am not about to explain too much here what it's all about though i found myself nodding in agreement with most of the concept and opinions. I will stick my neck out and say that Le Sacre Du Travail was written for me and people like me. I found myself say "f…..g right" aloud on more than one occasion whilst listening to this album. This really is a melange of the differing styles of Prog and i for one simply love it. Having said that, unlike other Tangent albums i have reviewed i found this one hard work at first but once with the groove became smitten.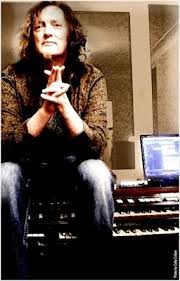 The sinfonia is in five movements all with their own sub headings. The first movement entitled Coming Up On The Hour borrows the orchestral keyboard technique used on Titanic calls Carpathia from the bands previous almm Comm. Nevertheless, a fitting overture introducing the myriad of themes, mini anthems and textures throughout the album and leads seamlessly into the 2nd movement Morning Journey & Arrival. At nearly twenty three minutes long it is the first of two pieces that make up the bulk of the sinfonia. Further fragmented into ten parts with some very pleasing Hammond and synth playing the massage of the story is firmly and in part aggressively growled by Andy Tillison. In contrast David Longdon's soft and mellow backing vocals cushion Andy's Roger Waters-like delivery.  Jakko Jakszk's guitar was nailed to the floor by Gavin Harrison's metronomic drum style delivering a welcome Punch to the sound stage.
Unlike other Tangent albums there seems to be a lot of data for the human computer to to process so don't expect to even scratch the surface until a few listens to it. The third movement and by far my favourite is Afternoon Malaise. Fully exploiting the inclusion of Gavin Harrison on drums, Afternoon Malaise begins in an almost King Crimson style with lots of random beats and playing. In fact just about every style of Prog/AOR are represented here. From Canterbury to traditional prog like ELP to Manfred Mann's Earth Band. Theo Travis lightens the intensity of this piece with beautiful flute and sax playing. For me though, it is the Earthband  Moog and Hammond that blows me away every time i listen to it as does the great jazz piano. Mr Tillison is a very gifted individual. Gavin Harrison's playing is once again rock solid and Jacko's vocal a pleasing alternative to Andy's full on passion. Jakko's guitar dual with Andy's brilliant Moog is a joy to behold and had me reaching for my air keyboard. The message of the story comes across loud and clear and once again found myself openly nodding in agreement with every syllable.

The forth movement A Voyage Through Rush Hour reminds me so much of my musical hero Keith Emerson in so many ways and i simply enjoyed the pomposity whilst the fifth and final movement Evening TV is a rousing and fitting finale to this modern electronic suite and says every thing about the banality of our culture with regards to our evening activities. I have to put my hands up to this one. Anthemic in every way this is the stand out piece which will implant itself first into the human and prog loving psyche. Gavin Harrison's drums again leading the way creating a stomp along with Jonas Reingold's growling bass which incidentally is another enjoyable dynamic to the whole album. With all engines engaged and travelling at full warp speed the band bring to a conclusion a great musical journey though following the crescendo a reprise of the overture hammers home again the banality of our ant-like existence. Some listeners may not see things Mr Tillison's way, in which case i would not become involved in it's sentiment and merely enjoy the fabulous opus for what it is musically. Personally i am in tune with the whole concept and feel it a fair musical interpretation of my views.
Bonus tracks on the album include a smooth and almost jazz club song in which Andy Tillison plays all of the instruments himself entitled Muffled Epiphany, complete with atmospheric distortion and ambiance. Mr Tillison sings of his frustration about being confined to his room whilst And You And I by Yes was being played in the living room. The second bonus track is Hat, a punk style rant lasting at just over a minute. Interesting to say the least. I have a feeling this may well raise a smile on a few faces. The final bonus track is and edited version of Evening TV. I am not sure why this has been included as although i do think it highlighted the fact that it stands up well on it's own and not just a part of the whole.
Beautifully packaged with very elaborate sleeve notes this really does fit in with Steven Wilson's ethos of giving people something that they will want to own rather than just a download. I think it was testament to  Andy and team Tangent that everyone who pre-ordered the album had their names printed in the booklet and was suitably thanked for their support. Something i have only seen a few bands do and also the many people who associated with the band or indeed influenced them. Many die hard Tangent fans may wish to draw comparison with previous work though i would council against this. This is without doubt a stand alone statement in the bands career and not merely a one for the collection.
I am glad that i didn't hold myself to a deadline reviewing this album as i think my views would have to be edited in the long term. Many will fall in love with this album from the outset. Many like myself may not find it quickly accessible as their favourite Tangent albums though give it the time it truly deserves and you will reap the rewards. An act of musical adventure or a work of genius? In my opinion both.