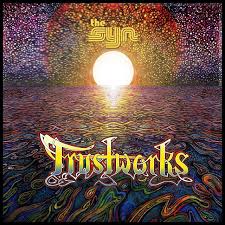 Last year i was sent a batch of albums to review and amongst them was a live recording of a band that i had never heard of before, The Syn. Following a short spell of listening to it in the car i was compelled to listen to it properly in the home. The result was that i was smitten by one of the best live recordings and shear musicality outside of a live venue. No wonder then when i heard that head Syn man and singer Steve Nardelli joined forces with Swedish band Moon Safari to produce a new studio album of new material i formally requested a review sample toot sweet!. Moon Safari are a Swedish band from the town of Skellftea who formed in 2003. They have four studio albums and two live albums to their credit which i would suggest checking out. The band are famed for their Jan & Dean/Beach Boys harmonies and strong traditional Prog formulae. An unlikely collaboration i would have thought though listening to the results how wrong could i have been?
Trustworks
may not slap you round the chops on first listening but when it does you may well find yourself playing it to death! Nine tracks of quality song writing, production and great music. What more could you ask for? Steve Nardelli surpassed himself here not only writing some great songs but choosing topics of substance to write about. The album is all about achievement against the odds built on loyalty, endeavour and trust. The mission statement behind the album can be found in the CD booklet adding to the intrigue set up by the profound lyrics and wide spiritual messages. This is further born out by the opening extracts of speeches by Swedish Democrat Olof Palme and leader of the pre-eminent Indian independence movement  Mohatma Ghandi. Indeed the mini overture
What If
melds nicely with the title song
Trustworks
maintaining the Indian flavour with the use of sitar. From the outset i found it easy to become immersed in Steve Nardelli's deeply philosophical lyrics and thought provoking sentiment both of which are not allowed to slouch having given a guilt edge by Pontus Arkesson's powerful guitar licks and Tobias Lundgren's equally energetic drum style.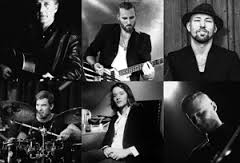 What i think the incarnations of The Syn excel at in my humble opinion is applying a rather nice sixties beat vibe to some of their songs and this can be found amidst the fabulous pace and rhythm of 
Revolution Now. 
The jangly Rickenbacker like sound certainly enhances the vibe and along with the now legendary Moon Safari harmonies creates a huge colourful aural picture. Great Organ sound too reminding me very much of the early Al Stewart albums. Continuing with this retro feel replete with glassy sounding guitar et al is 
This World Of Ours
fully showcasing the Moon Safari's adept harmonies once again. Moving along nicely to another very powerful message is
Something That I Said
putting a serious slant on the proceedings. A Bob Marley strength protest if ever i heard one without the Reggae overtones. A great homage to Yes going on here in no small part To Simon Arkesson's retro keyboard sounds and Jon Anderson backing vocals. Getting on towards an almost country/folk style is the jaunty
Never Too Late.
Great beat with an almost gospel feel in parts, very light hearted made even more traditional sounding by the inclusion of an accordion. Staying with gospel inflection
Lucifer Hesitating
would not be out of place on Songs Of Praise. On first hearing the song has that Sunday evening happy clappy style with a biblical nature to it. However, on hearing it numerous times it certainly doesn't suffer from it and has a nice Moog tag in there to give some Prog cred! All such notions are put too bed in any case with the penultimate song
The Wheel.
Balls to the wall this song finds the Syn/Moon Safari collaboration on fire. Simon Arkesson's organ playing is an absolute delight as is Pontus Arkesson's blinding guitar break. This invoked both my air guitar and organ which though not a pretty site is always a good sign. On recovering from this light the gas under the cauldron of Prog, sit back and listen to what has become without doubt my favourite track on the album 
Seventh Day. 
A compelling song which bears many references to today's and historic conflict  (my interpretation). Steve Nardelli's voice at first is seasoned with melancholy sounding a little like Elbow's Guy Garvey which is no bad thing. The structure and style of this piece will appeal to many fans of bands like IQ and Pendragon. All of the winning recipe of classic Prog is here, time changes, Moog and guitar interplay laced with the reprise of the gospel style vocal harmonies that help make this album such a pleasure to listen to. Along with Pontus Arkesson's soulful guitar playing and Steve Nardelli's poignant vocal delivery hi have to admit to a goose bump moment. As you may be able to tell,
Trustworks
really did float my boat (that's the last of the biblical references, promise) and would consider this a tenner well spent. Nicely presented and packaged the CD is a steal though for those who live in the download era the MP3's are available from amazon.com for £9.49 along with the CD for £9.99 to pre-order. Release date is March 26th 2016. For more information visit…. www.synmusic.net www.moonsafari.se