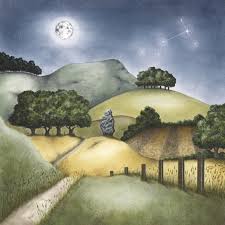 I remember watching a documentary many years ago in which David Gilmour said of the Pink Floyd album
The Final Cut
that "I see no reason for resurrecting materiel we had rejected for
The Wall
when it wasn't good enough then, why should it be good enough now". With this in mind I was a little concerned having read the introduction in the sleeve notes that Big Big Train may well have capitalised on materiel intended though unused for two previous albums,
Folklore
and
Grimspound.
Therefore I approached my review with caution though from the outset I had no need to be concerned and been a little too suspicious and judgemental. For the purpose of my review I will be concentrating on the vinyl edition of Big Big Train's latest offering
The Second Brightest star
which in keeping with the rest of the bands back catalogue is beautifully packaged and holds with the Steven Wilson philosophy of giving fans something that has pride of ownership. Placing the peppermint green record on my trusty turntable I embarked on the latest Big Big Train adventure. With a sombre yet dramatic start the title song
Second Brightest Star
very much sets the scene for what is an historical expedition set to some of the best music yet from the band.  A statement which may cause disagreement with some yet approval by others. Deep double bass courtesy of Danny Manners Segway's to a subtle swelling of orchestration interrupted by some great blues licks from Rikard Sjoblom and / or Dave Gregory. David Longdon's story telling is accompanied by ultra-descriptive sleeve notes the narrative of all songs included on the album easy to understand. This also applies to musical passages with various members of the bands contribution. The finale of this song is given further gravitas by Greg Spawton's monster bass pedals negating the need to stir my tea.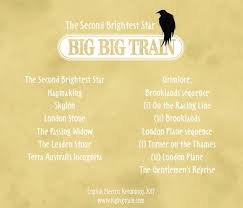 Continuing with a bright and breezy theme is
Haymaking.
 Rachel Hall's wicked violin blends Folk expertly and excellently with Prog. Upbeat, great vibe and feel good factor.  Celebrating Big Big Trains prolific output of late,
Haymaking
a very appropriate title and a joy to listen to. In contrast is
The Passing Widow,
inspired by the story of Rosie Swale Pope MBE. Having lost her husband Rosie found the strength to keep going for her family by running 20,000 miles or thereabouts. Rosie is still running to this day at the age of 70. David Longdon's soothing tones conveys this story to the full in a simple and poignant way using only simple instrumentation. Piano and violin are simply wonderful with Danny Manners double bass making an appearance once again. Penned by Rachel Hall the feminine slant on this piece is evident throughout and benefits from it. If there was ever a stand out piece on an album, then in this case it is
Skylon.
Without doubt my favourite piece of all. Yet another nod and a wink to modern history Messrs Longdon, Spawton and Sjoblom came up with a corker here. Celebrating the 300 feet tall structure erected during the festival of Britain after the Second World War
Skylon
consolidates just about everything I like about Big Big Train. Swathes of Mellotron and vocal harmony, as well as cello swell the soundstage to bursting point. Finished in a slightly sombre fashion by Dave Gregory's distorted guitar backed by a sleepy Rhodes.  A welcome interlude to all of the grandeur is
London Stone.
A simple piano and acoustic guitar piece it serves as a resting point between major events allowing one to catch ones breath as it were.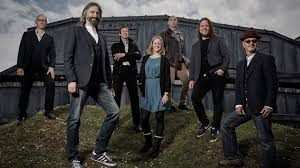 Continuing with songs based on geography, Greg Spawton's rather splendid
The Leaden Stour
brakes away from songs about the capital to Spawton's home county of Dorset. The leaden Stour is by all accounts an off shoot of the river Stour and the song relates to an old mill there and the priors who built an artificial canal there. Amidst the proceeding here is a veritable brass fest as Big Big Trains usual accomplices let rip with an assortment of instruments including trombone, trumpet and cornet, French horn, tuba and euphonium. Greg Spawton's bass playing too is exemplary along with Nick De Vigilio's powerful battery of drums. David London's voice is the sweetest I have heard yet. To finish off the first of the two LP set is
Terra Australis Icognita
(Unknown Land of The South) a musical piece developed from the end theme by Danny Manners from a song included on the bands previous album
Grimspound, Experimental Gentlemen.  
With a jazz intro there is something pleasingly free form about this instrumental piece built around a piano motif.
Terra Australis Incognita
demonstrates to the full just how coherent Big Big Train are as a band and who brings what to the party. Changing the record and glancing once again at the sleeve notes I noticed that the written track by track synopsis had ceased. Was I perhaps moving into an area described above? No, obviously not! It became apparent to me that these were not merely recycled songs but songs that superseded the capacity of a CD or double vinyl set. These songs despite not having the support if written text like their brethren on the first LP were neither short of musical artistry, great composition or imagination. As described in the introduction the album is a companion to the previous two albums.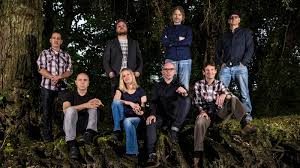 First up on the second LP is
Grimlore
which automatically places the crow included in the artwork into my psyche. Being as I am a massive Dave Grusin fan I was fascinated how the arrangement panned out from such a crisp piano opening to all out Prog. No many bands pull off this feat as well as Big Big Train and here Dave Gregory's guitar along with Rachel Hall's exquisite violin/viola/cello merge seamlessly into
Brooklands Sequence
. This song is in true Prog tradition split into two parts,
On The Racing Line
and
Brooklands.
This song is a continuation of the tale which began on the bands
Folklore
album. The whole sense of racing cars hurling around the famous inclines of Brooklands race track in Surrey is captured perfectly with the superb pace and timing of the rhythm section here.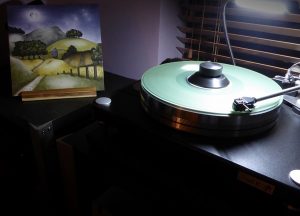 David Longdon nails the vocal throughout this song though ultimately it's an all to the pump affair. Both parts of this song I found inspiring blending the best of all I like about early Genesis, Camel, Caravan and their stablemates. Simply put it's the best I have heard Big Big Train throughout their career. I found this piece simply stunning. As David Longdon's voice died to fade keyboard flourishes can be heard and it is attention to detail like this that makes the album special. This continues on with
London Plane Sequence
once again reprising some of the themes included on the bands
Folklore
album. There is so much going on here that it is impossible to credit individuals apart from the most obvious. Instrumentation and soundstage here are vast. The choral Mellotron is great touch and registered high on the tingle factor. David Longdon'd voice steers towards Peter Gabriel territory along with a similar flute technique. The eclectic guitar, organ and flute firmly place the band in the Jethro Tull camp of rock (not for the first time). Dave Gregory's guitar is without doubt the best I have heard on any Big Big Train album being a little more assertive and to a point more prominent in the mix. I have to admit that it was only with the concluding piece
The Genleman's Reprise
that I was given the impression of the all too familiar "filler track". Due to the overall quality of this album this is more than acceptable given the fact that it rounds the proceedings off nicely indeed. As an album I would consider this more than a companion to
Folklore
and
Grimspound.
It's an excellent album in its own right and to be honest the one I find most pleasing of the three. Sarah Ewing's artwork and Andy Poole's design lend images to the music and with exceptionally descriptive sleeve notes complete the whole experience of the genre. An album I am happy to describe as celebratory on many levels and yet again a tribute to our heritage. An album of complexity and joy and something to immerse yourself in.