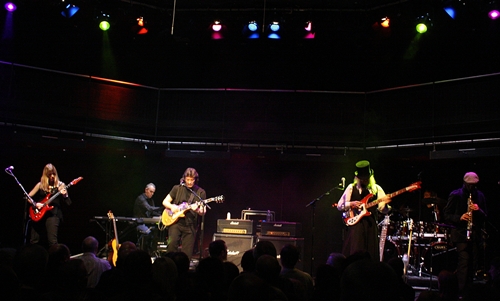 Travelling North from Teesside to Gateshead wasn't a sensible thing to do taking the horrendous weather conditions into consideration, but, it had to be done. For this I must thank Ian Kerr, Progmeister's prolific photographer for driving us there and back in the worst winter snow and ice for many years. Was it worth it? As Churchill the dog would say "Oh Yus". The Sage Gateshead is just a dream of a place to see any gig and Steve Hackett was no exception. Housed in hall two the surroundings were reminiscent of The Thunderdome being circular with many different viewing levels which added to the atmosphere of the whole event. When Steve and his band took to the stage with "Valley Of the Kings" it was greeted with a very warm reception and was soon followed by "Every Day" which went down just as well. Indeed all of the classic early Hackett pieces that historically stirred loyal devotee's to a frenzy were played. "Ace Of Wands" Spectral Mornings", The list too long to log. Of the pieces played from "Out Of The Tunnels Mouth", Fire On The Moon" and "Tube Head" were without doubt the most memorable. The whole evening was without a high point because the bar had been set high from the outset. If I were asked at gunpoint I would have to site "Shadow Of The Hierophant" as not only my personal favourite all evening but one of the best things that I have ever seen Steve Play live. Amanda Lehmann's delicate vocal making it a magical moment.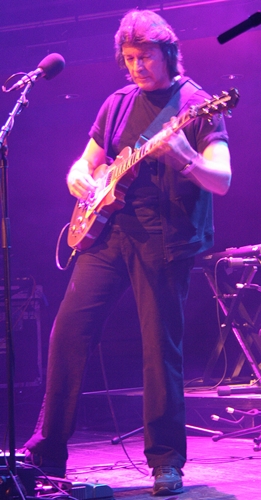 Of the Genesis songs that were played I was left wondering if the original band could ever have played them as well as they were by Steve Hackett's typhoon of a rhythm section. Not wishing to insight a riot I will keep my thoughts to myself. Gary O'Toole thundered his way through "Watcher Of The Skies like a demon whilst Nick Beggs proved himself not only a visual accompaniment to the event but to be the Professor Of Low frequency. Nick was as happy playing polite almost acoustic and atmospheric pieces on his Chapman stick as he was stomping on his Roland bass pedals. Leaving the stage following a magnificent crescendo of "Los Endos" the audience voted with there applause for more. After the usual amount of time the band returned to play "Firth Of Fith" and finished the evening with "Clocks" concluding with Gary O'Toole leaving nobody in any doubt who was in charge of the drum department, staggering! What an evening. Looking at my watch it was hard to conceive just were the time went. Over the passage of time since leaving Genesis, I have like many other people seen Steve Hackett in his bands in their many guises.  I honestly feel that the band I witnessed on that very Sunday evening at The Sage Gateshead is the most synergetic. Make no mistake though, Steve Hackett is still the man that everyone present was there to see. Without him there wouldn't be the songs, tunes or indeed the heritage of such an event. In which ever band that Steve Hackett finds himself he is by now a legend and can perform quite happily with brother John and Mr King playing an acoustic set or with his hand picked electric band playing classic prog. With the aid of technology and the skills inherent within the latest incarnation, songs that historically could not be played live can now be given the live Hackett treatment. None more evident in than "The Golden Age Of Steam" which I felt was just terrific. Hats off to Roger King who I'm lead to believe knows a thing or two.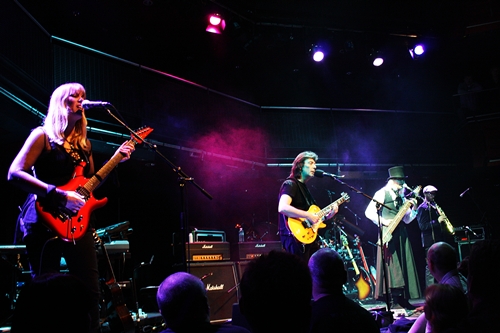 Reflecting on those early performances in Steve's post Genesis years, I catalogue as an onlooker the chameleon like nature of his bands to suit his persona of the day. I have viewed Steve as visually awkward, sometimes stilted and tongue tied to fully charged and up beat. On this occasion I viewed someone at peace with himself and surrounding. Content and happy in his own skin. I watched a band representing the gold standard in musical performance. I would therefore suggest that the next time Steve Hackett roles his train out onto the tracks that you brave the weather how ever good or bad it may be and experience what prog rock is all about.