There is something gratifying about being greeted with a smile and a merry "hello Progmeister". It really makes a man feel important even when he's not. This is my usual greeting when i enter my local vinyl emporium Sound It Out records  situated in the icy wastes of the great North East of the UK. when this occurs it's a fair indication that i am about to be old something. It's amazing how the guy's in there know what i am going to like even before i do. Most recently I was guided my a member of the team who i affectionately call Arkwright as he always manage to sell me something i hadn't gone in for to an album they had on order which he assured me i would love. he played me some very brief excerpts from three tracks on his computer and i was duly impressed. I was informed there was a list for the order they had and if i wished to be added to it? Of course i did. It wasn't until i had left (without what i went there for) and i was driving away that it dawned on me, i just bought a record by a band i had never heard of or how much it was going to cost. Damn, he did it again. However, when i returned to collect by purchase the following week a was assured i wouldn't regret the gamble. In Prog parlance "as sure eggs are eggs" i wasn't. Not without some tribulations though, a little bit more about that later.  In the first instance i will describe my experience as was via vinyl LP, a good quality pressing at that. Art work and packaging i would describe as industrial at best with a plain white heavy card inner sleeve. As the opening song
How Does It Make You Feel
burst into life i was a little shocked at the overall recording quality. however, focusing on musical content for the moment this is a rather pleasing opening gambit and one which reminded me of Swedish Proggers Moon Safari. Great harmonies, keyboards, guitar and up beat tempo, all in all a breath of fresh air really. Haling from Oakland California the band seem to have inherited an almost Beach Boys sound when harmonising. Something i warmed to immediately. Once And Future Band were formed in 2013 to record songs written by Joel Robinow who not only sings throughout the album, he plays keyboards and guitar too. Joel is accompanied by Eli eckert on bass, guitars and vocals, drummer and recording engineer Raj Ojha and Raze Regal adding additional guitars along with Josh Smith with back up singers Yea Ming Chen and Anna Hillburg on back up vocal duties. The latter i suspect adding the lush harmonies that for me make the album something special.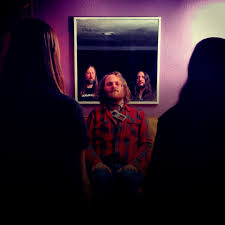 As the dust settles following the breeze of such a whirlwind opening
I'll Be Fine
Will make many friends with ELO fans. That wonderful ELO/Beatles sound is celebrated nicely with entertaining lyrics great keyboard and guitar playing which i found strangely engaging despite being a little unforgiving of the Beatles style. In fact it is the Moog playing here that gives the game away. This album flows quite nicely and next up is by far my favourite song on the album
Hide And Seek.
With a blues vibe the guitar and rich organ sound stretch back to the 60's with added 70's Moog motif's. a sure tonic if ever i heard one. here endeth side one of the LP! i was prompted by enjoyment to flip the disc quickly and get right into side two. I was greeted by an almost Steely Dan feel courtesy of the horns by Danny T Levin. This is however very short lived and the traditional Prog ethos was quickly resumed. No bad thing methinks as Once & Future Band don't celebrate the usual complexed rhythms, time signatures and eccentricities of Prog in it's hey day, instead they cash in on the smaller quarters of the genre with perhaps the most to say and give. An example of this is
Tell Me Those Are Tears Of Joy
reminding me so much of Caravan and Manfred Mann's Earth band i was totally captivated. Some great Moog soloing here of the more Jazz ilk like Herbie Hancock, Chick Corea et al rather than the more flamboyant Emerson / Wakeman fold. This more hectic form is brought to order by the rather dreamier
Magnetic Memory
oozing early Pink Floyd isms with it's bluesy guitar and sleepy wording. In fact Richard Wright's
Wet Dreams
album springs to mind with it's simplicity and tranquillity. In stark contrast is the grand finale
Standing In The Wake of Violence.
Replete with rich bass riffs as opposed to  slick percussive Rickenbacker outings this song has all the hallmarks of an early Level 42 style of writing and presentation. Once again the fine harmonies and fabulous Moog meanderings have all the elements of the wast coast fusion scene which gets a huge thumbs up from me. Well, what's the Progmeister's appraise? Tiz this, Musically this is one of the finest Prog albums (should you wish to harness it with a title ) that i have heard in a long while.  Without doubt the Cornish pastie of Prog. Both main course and dessert in one structure. Many other elements too which steers it away from the typecast progelikey exponents delete where applicable. To hit the nerd button for a while i do have to say that this is one of the rare occasions i have to admit that the digital format is more pleasing on the ear than the vinyl release. After downloading the Mp3 version of the album via the key provided some (not all) of my concerns with regards to the production and mastering of the album were alleviated. Musically this album is head and shoulders above most, however, the compressed soundstage especially with regards to the effect on lead vocal and almost 70's reproduction of drums may deter those of the more discerning ear. My suggestion therefore to those which may find this off putting is to focus on just how damn good the music is, because it is pretty darned good. If you are into Prog you need this album, if you are not you need it anyway because it is a refreshing new release despite production values. Once & Future Band says to me "Let's listen to the music people" . Let's not get entangled in the technicalities of the business and remind ourselves just what it's all about. MUSIC! Despite my reservations about mastering etc and this albums transfer to the vinyl medium it remains firmly glued to my turntable. If that ain't a recommendation i don't know what is?????