In hindsight Nebo 13 (North East Bake Off) may have been better off being Nebo12+1 or Nebo14-1 and not been held on the 13th May as the event became victim to bad luck only a week before it was to take place. Our venue became unavailable for the whole day only being able to accommodate our antics until 5pm. With this in mind a new gaff had to be found toot sweet. As luck would have it a new place to hold what is now a well established event for audiophiles in the North East of the UK at the Billingham Synthonia cricket club. The room at the cricket club is considerably larger than the previous establishment which presented attendees with a few challengers. Sadly I was unable to take my Alchris Audio speakers as the vehicle I had access to transport them in blew up. Mmmm, yet another set back. The curse of Nebo 13 strikes again! Not to worry, what else could possibly go wrong? The room fit the bill perfectly with a well stocked bar and all on one level which aided loading and unloading. It also made it easy for our disabled attendee to gain access to the room etc.
On arrival the shifting and placement of equipment took over an hour before we had sound. This is about the norm, however, a significant fault was diagnosed with the first exhibitors speakers which was at first disappointing as these vintage KEF 105 speakers really needed to be heard. So, in the true spirit of Nebo it was overcome with the usual community spirit and with the a cross head screw driver and a soldering iron all was made good. The speakers were brought along by Nebo stalwart Mike Davis who also brought along a beautiful Thorens TD125 loaded with an Audio Technica ART 9 moving coil cartridge supported by an Audiomods series 6 tone arm. A thing of beauty and the only turntable in situ throughout the day. Mike provided a whole system whilst other attendees were able to set up their kit and start moving air. Mike brought along his EAT E-glo phono stage with its EAT LPS power supply. Using his Prima Luna EVO 400 valve integrated valve amp the powerful tones of Faithless flowed into the room with a healthy kick. A great start to what ultimately became a great day of music and fun. Whilst emergency surgery was being performed on the KEF speakers a pair of vintage B&O Beovox MC120.2 speakers were pressed into play care of Macca who had travelled up from the midlands. The Beovox gave a very good account of themselves baring in mind that they had to be placed on chairs and the size of the room working against them.
I am a firm believer in that things happen for a reason and my inability to take my own speaker meant that more time was given to the superb audio equipment heard throughout the day had more chance to be enjoyed for longer periods of time without having to be swapped out as often. There was more than enough equipment present to fill the day with sufficient changes which is the whole point of the bake off. The day was still young at this point and a whole lot more fun was to be had. Some people travelled significant distances to be at Nebo and no one was disappointed. One of Nebo's regular attendees is the very talented engineer Ken Wynn who brings with him interesting and often off piste things to listen to. On this occasion Ken set up his equipment using the corner of the room, something not often utilised as a position for high end audio. Ken had with him Pair of Event Opal active monitor speaker which he placed on custom made stands controlled by his souped up Schiit Freya valve pre amp. Music was streamed by his Okto Research DAC 8 streamer. This system put out a punchy accurate sound in a typical monitor speaker fashion. The Sensational Alex Harvey band given grip and forthright presentation with every nuance of the performance laid bare for all to hear.
First time at Nebo for visitor Weetam Cutchy who brought with him a rather nice Music First Pre amp. It was at this stage the decision was made to have a bake off between numerous pre amps that had been brought along. To perform the shoot out Richie Britton's NVA A60 was used via the KEF 105 speakers using the same cables with each pre amp. The pre amps were Music First Audio, Ming Da and an Avalon BT2. There was very little between all three of them with only slight differences in presentation. Impressive was the way that the NVA A60 power amp managed to keep a grip on the hungry load of the KEF's. As the day moved on it was time to listen to the awesome system brought along by Gordon Watson. Playing a myriad of music starting off with Gordon's penchant for reggae through his tour de force of a system consisting of a laptop running Jriver via an Okto Research DAC 8 Pro streamer through a Linkwitz analogue 8 channel crossover and Apollon NC8350 8 channel power amp through his amazing Linkwitz LX521mg speakers. I would describe the ensuing sound as breathtaking. After such a digital foray the Linkwitz speakers would make a further appearance later on in the day utilizing The Thorens TD125mk1 via Ken Wynn's excellent LDA (Long Dog Audio) MCJ3 hybrid valve phono stage. This was equally as stunning. To hear such high end audio is a privilege and very hard to follow, so how do you? Well, in my experience over the past 14 years is to play the wild card and that is what we did. It was time to mix it up a little and press into play some vintage integrated amplifiers from Pioneer, Musical Fidelity and Technics. It must be said that in their day all three of the amplifiers were far from basic models in their manufacturers range. Instead they were all built using high quality components and beautifully engineered made of the finest materiels. This was evident by handling and using them and hearing them with the very best ancillary equipment. The Musical Fidelity A5 give the listener finesse and a full almost valve sound whilst the Pioneer SA7800 and Technics SU-V8 amplifiers were a little more sharply etched adding a little pep and vigour to the sound. It must be said that in the company of such grand vintage and contemporary audio equipment they acquitted themselves very well and put a smile on many people in attendance.
What a day! Absolutely full of music and fun. The Synthonia was a great success and ticked a lot of boxes for the ever transient Nebo. It was great too to have some new faces enjoying the day and even brought their partners along with them, always a good thing. Quote of the day was made by Micky York whom I heard asking if he could swap a Yorkie for a doughnut. A big thanks to all who travelled great distances to enjoy the day and contribute to the event in what ever way intended. It is important that people attending Nebo in future knows that everyone is welcome whether they are bringing audio equipment, music or both that it is just as much for those who wish to merely spectate. A big thank you to Mike Davis who bought everyone pizza, very kind. A big thanks to the groundsman too who loaned us tools to keep the show on the road. Apologies to the guys playing the match outside too, well It's Nebo and that's just not cricket is it?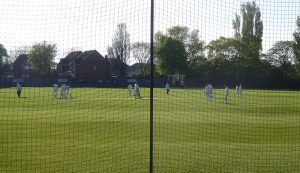 Till the next time honcho's