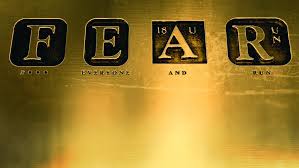 Marillion aren't a band i follow on an obsessive basis as some ardent followers do and i will admit to cherry picking from their now not unsubstantial repertoire for the things that really appeal to me. The bands latest album FEAR or Fuck Everyone And Run to give the album it's full title grabbed my attention. Nicely packaged with the front of the jewel case looking like a bar of gold bullion and the title as tastefully displayed as it can be It does compel one to look inside to just what it is all about. The booklet included in the CD is of very high quality so a big hats off to Simon Ward for that methinks.
From the outset i have to warn those looking for something to tap your foot to that you may need to look elsewhere as this is not Marillion's strictly album. It is painted in 50 shades of grey though i would let none of this put you off. In true Prog tradition three of FEAR's tracks have subheadings and are indeed tracks within tracks. Starting with El Dorado. Part one Long Shadowed Sun finds singer Steve Hogarth in gentle lilting mode setting the scene for the other four parts of the piece The Gold, Demolished Lives, F E A R and The Grandchildren Of Apes. all of these subheadings and their lyrical content are open to interpenetration without first knowing what the band may or may not have described them as being. I read El Dorado as a stinging attack on our culture or a stark warning to those migrating here from war torn countries fleeing tyranny or as economic migrants that our streets aren't paved with gold and that it may not be the utopian environment they think it is?  The Gold contains rich keyboard swathes melding nicely with Steve Rothery's acoustic guitar and Steve Hogarth's familiar vocal inflections. This is carried along quite nicely by a haunting electric piano motif which builds in grandeur with Steve Rothery's signature guitar style. There is also some wonderful growling bass playing here from Pete Trawavas.
I found Living In Fear dark and to a point frightening just like watching the news. One again lyrically some songs can be personalised and perceived in so many ways. This is one of them. A song of cynicism, mistrust and doubt yet musically one of the most melodic on the album borrowing some of the Roger Waters format of gentile vocals escalating at times throughout the song to accentuate the angst in the message.Steve Rothery keeping a firm hold on the Marilliion guitar sound throughout. This will win a lot of fans.
Without confirmation i remain unsure if five part epic The Leavers as to whether or not it is little dig yet again at out life style or not, however, this is the way that it caught my imagination and i will stick with it though i am still trying to decide which way the lyrics have me thinking. Pro or against global migration, thrill seeking or something even more spiritually based? There is a little sarcasm to put you off the sent? Absolutely intriguing. This is testament to Hogarth's ability to write thought provoking lyrics and keep the listener enthralled throughout a song. Wake Up In Music opens to chiming keyboard sounds giving this and following song The Remainers  a very Peter Gabriel-like feel and presentation. Indeed the album features some of keyboard player Mark Kelly's best work whilst vapour trails In The Sky hint at Steve Rothery's wonderful atmospheric solo album Ghosts Of Pripyat. All is brought back into line and the familiar Marillion livery in The Jumble Of Days.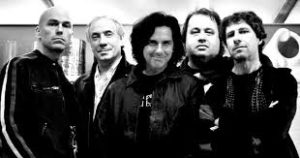 Returning to a more traditional Marillion flavour the sumptuous and atmospheric White Paper is dark and dramatic for the first two and a half minutes and melodically pleasing there after. The piano carries this song beautifully making it a stand out song for me harking back to one of my favourite Marillion albums Marbles. Doing what they do best from a sedate opening to a rousing crescendo Marillion excel themselves here and despite the song has a serious feel about it is one of the lighter moments throughout the whole of FEAR.
Back to serious matters The New Kings could be considered to be the title track containing as it does in one of the subheadings and lyrics fuck Everyone And Run. Once again throughout this four track operetta deep atmospheric message laden songs project an aggressive viewpoint of a toxic world. Throughout it's four components The New Kings deviates from it's grey statements and solemnity to peaks of scale and excitement. Russia's Locked Doors manages to convey an eerie view on the countries intentions and along with other points made throughout the album confirm that greed is at an epidemic point in every way as much as diabetes and obesity when it comes to the effect if has on world leaders, politicians and individuals. A scary sky had me thinking of people in Aleppo which is yet another human tragedy Russia has a hand in. Why Is Nothing Ever True? in my eyes questions everything from the governments control of us, the press and other media to the priorities of politicians globally down to local authority and of course bankers and their like. All stops seem to have been taken out here by all concerned to maximum effect. Watch out for low flying aircraft here, it took me by surprise, especially if you are listening on headphones.
To complete this Prog rock take on current affairs the 1:42 minute missive Tomorrow's New Country ends the album with the prediction of things to come as opposed to the reflective opening reflecting on our perception of our heritage. Steve Rotherey's best Gilmour licks on display here albeit in a blues tempo allowing FEAR to fade to silence Mr Hogarth having the last word, As the last word is sung and the silence prevails i found my first thought to be "What just happened"? With this in mind i listened to the whole thing again. FEAR is not a musical masterpiece neither is it Marillion's most melodic work to date. Sure, there are some great musical passages and memorable themes though ultimately where it scores highly is in it's lyrical almost poetic elements. With FEAR Marillion are delivering a message and as such are making the most powerful statements made in their musical history. I found it thought provoking, frightening and above all compelling to listen to. Marillion may well be the new soothsayers!
CD £11:99
Vinyl £19:99