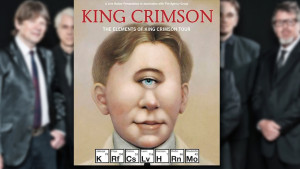 I was at both an advantage and disadvantage as i set off for Salford (11th September 2015) to watch Prog legends King Crimson. Firstly i have very limited knowledge and experience of King Crimson, their history or their music. I considered this an advantage because it meant i was experiencing something fairly new to me. Of course the disadvantage was similar in the fact that i had only heard classic King Crimson so the more avant garde materiel was alien to me. This was less of a problem as i had a partner in crime with me possessing as he does encyclopaedic knowledge of King Crimson and all who sail in her.
Taking our seats in the Lowry in Salford just below a cloud base i was struck at just how impressive a venue it is. I was worried though that being so high in the gods that sound quality may suffer and to a degree i think it may have. Prior to the performance a pre-recorded garbled message by the band was played requesting that people did not use their tablets/cameras/phones etc during the show to record or take pictures. This seems to becoming a trend at such performances and i was yet again impressed how the audience largely adhered to this polite and well structured request.  Following this announcement it seemed an age before the band took to the stage and when they did the audience respected silences and pauses in King Crimsons fascinating set. Even trips to the bar and toilet were carried out between songs never whilst the band were playing.
The members of King Crimson 2015 strode onto the stage as if manning a musical vehicle to the pre-recorded voices included on the Islands album Monk Morph Chamber Music. Very eerie indeed. No super troopers, vary lights or their likes just plain white lights above each members station. The lighting remained the same throughout the show with the exception of one song at the very end of the bands performance. Leading on with Larks Tongues In Aspic it was clear from the outset that King Crimson had created a new dynamic placing drummers Pat Masteletto, Bill Rieflin and power house Gavin Harrison to stage front with the rest of the band residing atop a riser at stage rear. The impact of this array was experienced during Pictures Of A City, Radical Action, Meltdown and Hell Hounds Of Krim.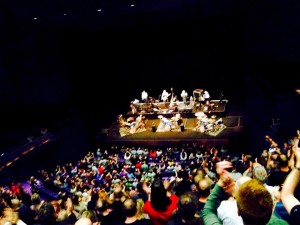 Many of these pieces i had not heard before and therefore  new territory to me. What made the music special though was the degree of accuracy, skill and panache with which it was played. The style and posture of the whole band was impeccable, Robert Fripp tucked up in the corner giving the impression he was the battery for the whole device. This became evident with the following instrumental The ConstruKtion Of Light where it dawned on me that i was listening to artistry, innovation and cool.
Listening to other songs like Level Five, Suitable Grounds For Blues and Banshee Legs Bell Hassle i realised the band had done a great sales job on me and from this point on in the evening i wanted to explore more of the bands work when i returned home. It wasn't until the band got to Easy Money that i started to recognise classics and stunned by the presentation and complexity. Jakko Jakszyk's voice not having the power of Greg Lake or John Wetton made up for by his subtlety and great guitar playing. It isn't often in a band that a drummer, in this case one of the drummers takes on keyboard roles too. The smooth yet tonally accurate Mellotron sound created by Bill Rieflin had the hair on the back of my neck on end. Epitaph had me almost tearful and craving my now distant youth.
Following Interlude, The Letters and Sailors Tale, the three ultra co-ordinated drummers give a display of dexterity and synergy with One More Red Nightmare. Their level of playing especially in unison could only be matched by the red arrows display team. Quite breath taking. The final song of the main set was the timeless and haunting Starless. It is here that the lights actually changed colour to red. I can't think of many other bands that could make such effective use of lighting or rather lack of it. Tony Levin's bass here as throughout the whole evening was as ever amazing. The intricacy of Starless played with relish every nuance played with such detail and feel. As the band finished and left the stage it hadn't dawned on me at that point that my favourite songs hadn't been played. I was so grateful for what i had received i had it in my head that that was the show finished.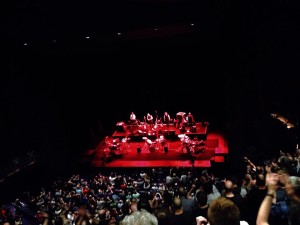 How wrong i was. Due to the length of the show and it's timed structure i didn't think encores would have been played. So i was bowled over when the band returned once again to their instruments and let fly with Devil Dogs Of Tessellation Row. Though my gob was yet to be further smacked when the Mellotron intro to Court Of The Crimson King was played. Of course i said to myself, how couldn't they play it? The evening was fully complete by the stomping 21st Century Schizoid Man. Mel Collins sax playing added yet more power to the Crimson machine just as it had throughout the whole show. A man of two extremes methinks. The delicacy of his flute playing, the weight and energy of his invigorating sax giving a signature to many of the pieces played throughout the set.
It was during 21st Century Schizoid Man that i witnessed one of the most amazing things i had seen within the confines of such a performance. Drum solos leave me cold yet i was totally in awe of the percussive and powerful display given by ex Porcupine Tree drummer Gavin Harrison. I prefer to think of this more of a sub event rather than merely a drum/percussion solo. This was something that will stay with me for a long time. Mind blowing simply doesn't cover it.
Leaving the hall and retiring to the bar for the usual post gig debate my co-pilot was rendered almost speechless. Himself an accomplished musician and recording artist commented "It makes me feel like giving up". My view is that King Crimson 2015 are a force to be reckoned with and for me retain their status as legends. A message to many live touring bands out there, go and watch King Crimson for they represent an amazing template.
Thanks to Brendan Eyre for the pictures.