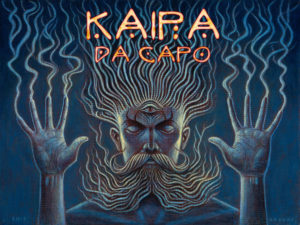 Forerunners to Swedish Prog legends The Flower Kings, Kaipa recently reformed with the extended moniker Kaipa Da Capo. This if my understanding is correct differentiates between Kaipa who are still a going concern. The incarnation under scrutiny here formed in 2014 for a festival and decided to stay together in their present to produce a new album Darskapens Monotoni.  With the brothers Stolt ( Roine and Michael) on board and seasoned Progsters Max Lorentz (keyboards and vocals) Ingemar bergman (drums) Tomas Eriksson (bass) the band are joined by guests Merit Hemmingsson (vocal on the Silent Gold) Ludde Lorentz (Saxophones) Peter Lindberg (Steel Guitar) and Otto Aberg (vocal on Tones) Artwork and packaging is top notch thanks to the artistic talent of Rick Jacobi
The album has been beautifully produced and mixed by Roine Stolt capturing great dynamics and sweetness throughout the soundstage. I was blissfully unaware until i heard the rich vocal tones of Michael stolt's on the opening title song Darkskapans Monotoni that the band have recorded all of the songs in Swedish. Being as i am a none Swedish speaking Brit i found only a minor frustration in the fact i could not understand the meaning of the lyrics. Indeed it never marred my enjoyment of the early Yes albums and they were sung in English. With the exception of the title song i have translated the song titles to make things a little easier. Easily identified from the outset is the connection of Kaipa Da capo and The Flower Kings. There is a house sound though Kaipa Da Capo maintain more of a blues inflection which is evident throughout the album and present here too. In true prog tradition there is a theme running through this song which is reoccurring.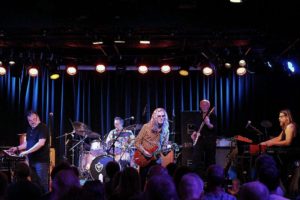 Blues aside the album is steeped in Progisms and as such recommended to staunch lovers of the genre in it's traditional form and may not appeal to out and out rockers though lovers of fusion may just fall in love with it. Continuing with the bluesy twists and turns A Boy projects Michael Stolt's gravelly voice forwards of the speakers and bolstered by Max Lorentz meaty Mellotron and nicely executed Hammond B3 break which makes this song very Yes-like. Beware of the Moog bass in this song as it appears out of nowhere shocking the listener. Some great synth noodlings here too.
If there is one song on the album that may stick in your head it is We Live Here. Fabulous vocal hook by Roine Stolt whether you understand it or not. I soon managed to get over the language barrier by treating the various singers voices as an instrument which worked well for me. Here and throughout the rest of the lengthy compositions Roine Stolt played the best guitar breaks i have ever heard from him though it is Ingemar Bergman's tom toms that have the final shout on this sweet sounding song. There are many influences on display here and as The Silent Gold demonstrates, the techniques and style that Focus pioneered at the outset of what we now know as progressive rock can be heard here and celebrated so well. There are traces of the Dutch rockers throughout this song and as you may have already guessed by this time i am loving it. Roine Stolt once again added a beautiful guitar break making the whole song a joy to listen to.
As Time Goes By presents a nod and a wink to the Genesis classic The Fountain Of Salmacis with it's Mellotron overtones and crisp Hammond organ though i think this is more coincidence rather than intentional methinks. this song takes us nicely into the seventeen minute plus opus Tones. Any lover of camel will find this very easy on the ears indeed. As it weaves and meanders over a quarter of an hour Tones captures the band at their very best and as mentioned above this is where those who enjoy jazz fusion or improvisations will be at home. There are some stunning moments within highly charged event with the band pulling out all the stops which i found a compelling listen. Using some authentic instrumentation makes this piece even more special with both keyboards and guitars driving things along in a very traditional manner making it even more pleasing.
Bringing the pace down slightly is the dreamy Monolith. Drifting back into a blues mood things take on a more Pink Floyd sounding way to finish things off with Peter Lindberg's Steel guitar and low frequency Moog sounds. With a few seconds pause Monolith resumes with intriguing sound effects slowly moving from left to right terminating in the right channel. All good stuff! Darskapans Monotoni  is beautifully put together. steeped in virtuosity on so many levels it is plain to see that Roine Stolt has called upon all of the experience he has gained through his many musical involvements and shared them with a top team. To put it simply this album and band are as good as Prog gets. It may even make it worthwhile to learn Swedish.
Prices vary.
CD album on Amazon is £20.84.