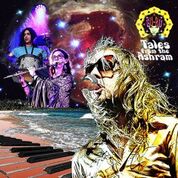 On a recent visit to my usual record emporium i was spotted mid rummage by the owner and summoned to the counter. Knowing my particular penchants and playlist of my radio show he informed me of a band i needed to listen to as they are "Prog Psyche". Yes, Prog Psyche. So as not to appear too un-hip i nodded and agreed. He played me three tracks via his computer and i was smitten. Reaching for my debit card i was informed "sorry mate, your money's no good here"! This was due to the album not being released at the time. I scribbled the details on a post it and returned home wanting to know more. The band's name is GU-RU who has their origins in Leicester, though keyboard player and singer Lee Spreadbury I believe lives in my locale? Lee is joined by Naomi Perera on Flute / vocals, Malcolm D'Sa on drums and John Kenna on bass. The album is keyboard and flute based and what may appear from the credits to be a slightly off combination of instrumentalists without a guitarist works very well indeed. The nod and a wink to psychedelia as witnessed via the cool artwork by Carl Dawson and Ady Szucik is further demonstrated by the seventies themes and vibes recurrent throughout
Tales From The Ashram.
With splashes of acid jazz and good old fashioned Pop
Tales Of The Ashram
is festooned with great melodies and memorable pop and dance beats, however, that may unnerve those out there wanting their Pyche with more than a dash of Prog!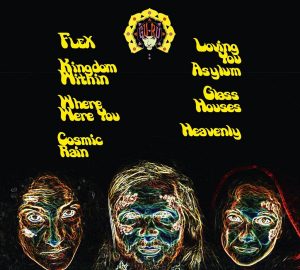 Worry not because boards man Lee Spreadbury has all the bases covered. Though whilst there is no overtly Emerson or Wakeman type soloing going on here I found the imprint of my favourite seventies bands with just enough funk to bring them up to date. This is evident from the very start with
Flex
possessing an almost
Saturday Night Fever
soundtrack feel to it. Think Walter Murphy! Great Moog and electric piano from the off whilst drummer Malcolm D'Sa beats out a powerful dance beat. There are great synth sounds throughout the piece too.
Kingdom Within
will hold the attention of any early Greenslade fan as the band move a little more into the traditional Prog era and remains so amidst even the most radio friendly and pop orientated song
Where were you.
With a rather cool Fender Rhodes intro Lee Spreadbury demonstrates what it may sound like if Mick Jagger had gone synth. This song is perhaps the most radio friendly of the album yet it does have a Caravan-like middle eight with an organ / flute duo which to me made it instantly loveable. The clavinet sound cuts sharply through the sweetness of the flutes gentle tones as the song is brought to a stomping finale with a heavy snare beat.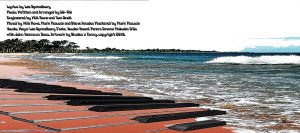 Moving in a slightly different direction is
Cosmic Rain
, a great Moog outing with beautiful glassy Rhodes sounds too. The tight drum and bass sound gives the piece a Chic Corea feel especially the Return To Forever albums. I found myself basking in this tune and wanting more. With the band firmly in pop mode lee Spreadbury are projected by the supporting voice of flautist Naomi Perera.
Loving You
has hit record written all over it as far as I am concerned and throws the band's talent out there far and wide.This song seems to have a bigger and pacier vibe with a soundstage full of vintage keyboard sounds making it work on every level. As a band that were originally dreamt up as a vehicle for head honcho Lee Spreadbury's hippy leanings and psyche jazz fusion compositions it was inevitable that at least one song would hark back to the Woodstock mentality of love and protest.
Asylum
gives out that feeling in spades and had me gazing at the cover art reaching for my flower power shirt. It had me thinking though, despite the retro nature of the songs meaning I am as on board with its sentiment now as I would have been then. A short bridge takes the music nicely into the penultimate piece
Glass Houses.
Once again I found myself reminded of early Greenslade with its tight pacey drums and fender Rhodes. Adding to the feel was the stabbing Clavinet sound which is sheer bliss. Naomi Perera's flute takes on more of a leading role here though the sweetness and airy nature is given a darker tone with some growling Moog sounds morphing quite nicely into the upbeat
Heavenly.
A perfect demonstration of just how cohesive this band are, bassist John Kenna and drummer Malcolm D'Sa glue the whole piece together making for a tight, powerful and pleasingly rhythmic sound. Looking at the glitter and disco connotations of the front cover
Tales From The Ashram
may not sell itself to many Yes fans, though I have to inform you that the album does touch on so many aspects of the many forms of Prog and includes space rock, acid jazz, pop and a host of other worthy genres to enjoy that GU-RU are going to win themselves many friends in many different camps.  They have certainly won this old Prog head over.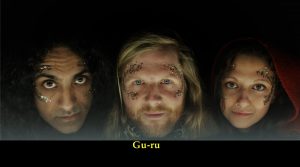 Mixed by: Steve Amadeo, Mark Peacock, Will Rowe
Engineered by: Will Rowe, Tom Snell
Produced by: Lee Spreadbury
Mastered by: Mark Peacock
Formats: CD, Download, Streaming
Price : CD-  £10 // Download – £7.