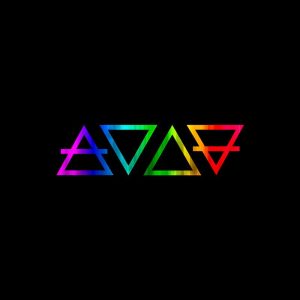 There is a story behind this review. Worry not i will be brief as possible. On a recent trip to south Wales to stay with one of my shows listeners who has since become a friend, I was played a piece of music on a very elaborate high end Hi-Fi system that to be frank with you left me stunned. After stating the obvious "I must have this" I of course inquired as to what and who it was. "It's a project that my brother in-law is working on" i was informed in a lilting Welsh tone. It turns out that the gentleman's brother in-law is none other than Ian Jones of Karnataka fame.  At that juncture the project was still very much a work in progress though i have since had the privilege of hearing the master disc and the album is still hot to touch and awaiting release.
Chasing The Monsoon was started by Ian Jones and named after a book of the same name by Alexander Frater in which the author writes about his life changing experiences following the monsoon across India. The band name also continues Jones interest in India which is where the Karnataka band name came from.  Chasing The Monsoon are a clutch of rather splendid musicians gathered together to create something equally as splendid in so many ways. The idea behind the project was to do something progressive incorporating strong rhythmic elements, world music and Celtic influence. As well as Ian Jones playing bass, acoustic guitar and programming there are some talented folk on here who were totally unknown to me, though i am pleased to say that they aren't now. Steve Evans plays some rather tasty keys and some great vocals. Lisa Fury who is definitely a singer I will be keeping an eye on and no stranger to Karnataka fans having loaned her singing talent to the bands The Gathering Light album, and Ian Simmons playing some sumptuous guitar licks. OK, let's get the obvious comparisons over with and out of the way shall we? Lovers of Magenta, Karnataka,Mostly Autumn, Rob Reed etc and all subsidiaries thereof may well fall in love with Chasing The Monsoon. The bloodlines are there so to speak.
Sitting down to listen seriously to this album between my speakers I forgot that No Ordinary World isn't so much an album of individual songs, it is a journey. A lot of the songs are based around environmental issues, the state of the planet and i wager mankind too.  I found myself not hanging on lyrics and reading too much into them, instead accepting the vocals as an instrument. This way I didn't have to trouble myself with meanings etc.  There are ten tracks in all including a wicked intro simply entitled Monsoon. Here Ian Simmons sets out his stall with confidence laying down a great blues laden attack though melodic in the extreme. To add a little atmosphere there are some great Jean Michel Jarre sounds fluttering around the soundscape. Apart from Steve Evans singing intro, Lisa Fury adds an ethnic chant which further sets the mood of the album. Monsoon sets the bar high. I wasn't about to be disappointed though.
Segueing into Circles Of Stone the pace is an altogether more enchanting lilt where keyboard orchestration is among the best I've heard anywhere. Here Troy Donockley adds mood and beauty playing low whistle. Always a welcome guest Troy infuses a little folk into the music placing the band in slightly Celtic area. Of course this kind of cinematic story telling has been done before by the likes of Rob Reed's Kompendium project. However, Chasing The Monsoon have successfully avoided the cast of thousands philosophy and as a consequence sound less "west end Stage production" and more like a band. Ian Simmons is joined here by gifted session guitarist Enrico Pinna who has of course played with Karnataka. Moving into a more Middle Eastern vibe with some powerful subsonic bangs and drones Dancing In The Afterglow gives out the feel of desert landscapes and the Valley Of The Kings. Lisa Fury excels here with her sweet voice permeating above a low chant. Steve Evans vocal delivery leans towards the Jon Anderson side of Prog towards the end of this piece which Iinstantly found homely.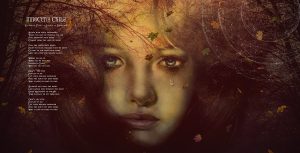 Allowing Lisa Fury to demonstrate a little more of the power reserve in her voice Dreams complete with powerful drum patterns moves along at a welcome pace incorporating authority and scale. Some great slide guitar supported with powerful keyboard accompaniment allows the piece to flow nicely with the aid of some jiggery pokery to a soft fade. Into The Light is bright and breezy with a crisp airy acoustic guitar intro. Very uplifting allowing vocal harmonies to soar giving that YES feel to the piece. This enhancement is further emphasized by Ian Jones tight bass guitar playing imbuing the late Mr Squire himself. Innocent Child displays a wicked combination of blinding guitar solos and synthesizer sounds whilst throwing Lisa Fury's voice from side to side of the soundstage. All very pleasing on the ear and had me reaching for my air guitar. In contrast, though none the less musically pleasing is December Sky, A more electronic venture with the now bracing guitar interludes. The melody is a stayer though as I found myself humming this song on numerous occasions. A musical bridge with acoustic guitar and the now folk/rock leanings of above mentioned bands which I would have to include the likes of Capercaillie and Clannad in, lament is bolstered by Troy Donockley with his by now famous Uilleann pipes which gives the impression that the piece would not be out of place in the soundtrack to Rob Roy or Braveheart.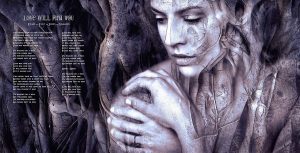 The highlight of No Ordinary World however (for me anyway) is the sublime Love Will find You. Whether or not this is homage to David Gilmour I am unsure. It should be though as this is as close as you get without being Gilmour himself. There are some great effects that add to the atmosphere of the song too. I particularly liked the eerie sounding synth that sounds almost Theremin like.  Without doubt Lisa Fury's best delivery of the whole album. I would buy the album on the strength of this song alone. Finishing with the title song No Ordinary World, Chasing The Monsoon adopt the all hands to the pump philosophy with a collage of musical pictures and textures to begin what eventually becomes a stomp. Extra guitar has been added by Gethin Woodcock to ensure that the band goes out with all guns blazing. Ian Jones playing solid bass as he does throughout the whole adventure ensures the tingle factor.
With art work by Ian Jones this album is nicely packaged, the main images being ancient alchemy symbols representing  Earth, wind, fire and flood.Admirably produced by Steve Evans and mixed by Joe Gibb and Steve Evans No Ordinary World adds at a very high standard to a popular sub-genre of Prog a superbly put together and executed album of finely crafted songs and music. As someone who drifted in and out of the music performed by Karnataka and their subsidiaries I have to confess to falling in love with No Ordinary World. It is easy to do with such powerful highs and sweet atmospheric dips not to mention the cavernous soundstage the production throws out into the room should you listen to via an elaborate audio system though just as captivating via headphones.
No Ordinary World will be released September20th 2019
The album is available in a number of formats:
Double vinyl in gatefold sleeve pressed on heavyweight 180g vinyl. Includes free album MP3 download.
Very Limited Edition Double Vinyl Test Pressing (only 10 available)
CD Deluxe Digipak with a beautiful 24 page booklet and lyrics.
Limited Edition USB stick in a presentaion box featurng the album logo. The USB stick contains the album in 24bit Wav from the orginal 24bit masters, the whole album in lossless FLAC and also the complete album as a single WAV file so you can hear the album as it was intended to be heard.
Download: Wav 24 bit identical to the original 24bit masters including an 'album experience' single file of the whole album. Enjoy the album in the highest audio quality
Download: FLAC lossless including an 'album experience' single file of the whole album.
Download: MP3 High bitrate MP3 files including an 'album experience' single file of the whole album.
We all love the convenience of downloads but we felt the album should also be enjoyed as a whole, so we've included a single file of the whole album, as well as the individual tracks, in each download package.
We also have a new high quality Chasing The Monsoon t-shirt and fleece available from the online shop.
www.chasingthemonsoon.com/shop/