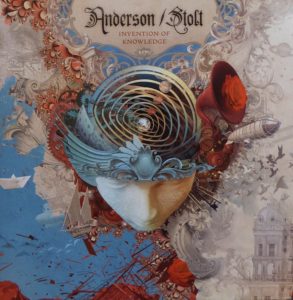 From the outset having read the myriad of top quality musicians playing throughout this album i knew that i would be unable to lend my usual forensic appraisal of this rather special suite of goodies. My review here is based on the vinyl edition of the album which in my opinion seems to be the preferred option for those fortunate enough to have the means to play such an item. This of course invokes the feelings one used to get when purchasing an album by one of their favourite artistes from such a genre enabling the artwork and inner gate-fold sleeve to be fully appreciated without having to don ones reading glasses. It also lends that retro feel to the whole event of playback and nursing the sleeve and browsing the credits and enjoying the imagery. It has to be set that Silas Toball has made a splendid job here and it really does give the whole package a suitable vibe. Teaming up with The Flower King's Roine Stolt, Jon Anderson has loaded what appears to me to be the perfect vehicle for his unique writing and singing talents. Roine Stolt himself being a very talented musician with a healthy CV. The main clutch of the band assembled here include the wonderful Tom Brislin playing piano, Hammond and synths and German drummer Felix Lehrmann whilst many of mt Stolt's Swedish cohorts like the gifted Lalle Larson (Grand piano/synth) Jonas Reingold (Bass & BV's) Daniel Gildelow, Nad sylvan and many others (BV's). Having such a cast made it practically impossible to apportion credit to many of the individual musical passages and nuances throughout the album which in itself is no bad thing. In true Prog tradition the album has been split into four major pieces with subtitled pieces within. If it is your intention to listen to the album as a whole i would suggest that all implements required for such an event are assembled before hand i.e., tea/coffee, chocolate and/or crisp and beer because you may not want to stir once you have settled down in your tank top, platforms and flares to enjoy the whole experience. I would describe the opening piece and title track
Invention Of Knowledge
as lovable from the off. Complete with
Close To The Edge
soundscapes swirling synth and organ this really does make for a hair on the back of the neck moment. Prevalent throughout and important too is Roine Stolt and The Flower Kings influence subtle though it may be. I say this because despite the obvious cast been made by Jon Anderson himself this is no attempt at making a Yes album. Though in truth it is closer than some of the more recent Yes albums to the spirit and essence of what many fans missed in recent incarnations both in the studio and live.
Split into three parts
Invention, We Are Truth
and
Knowledge
many may struggle with the spiritual messages being hammered home by Mr Anderson's notorious lyrical content and mind boggling meanings. Some of which wouldn't be out of place on BBC 1's
Songs Of Praise.
However this did not distract me one bit from enjoying what is a wonderful body of work. I would describe part two of the piece
We Are Truth
as epic whilst it's finale contains the haunting Mellotron sound of the Yes songs of yore. Roine Stolt can be found at his best throughout this album on the second opus
Knowing.
Roine's guitar playing seems to have been tailored to fit the idiom created here though never betrays his own signatures and technique. One again deeply spiritual in content with John Anderson's impassioned voice soaring above the lavish musical soundscape it is when the finale
Chase And Harmony
arrives that i was given the impression of a little little Hollywood production creeping in. Indeed i found my thought patterns deferring to the song from Willy Wonks and the chocolate factory
Pure Imagination.
Moving on to the second LP and playing the delightful
Everbody Heals
seems to have a slightly different musical flavour albeit predominant in the musical aspect of what is going on as Jon Anderson is shall we say "Jon Anderson" no matter what i being played around him. I sense the input of other styles here and that may be down to the afore mentioned musicians who because of the colossal production i can not individually identify. However, there seems to be a difference in clarity of some instruments here like piano which i suspect may be played by Lalle Larsson based on hearing his previous work. Again being split into three different titles 
Everybody Heals. Better By Far
and
Golden Light
i found myself drifting away from the analytical to the sit back and enjoy mode of listening. Indeed throughout the whole of the journey i found myself enjoying the music as a whole and not merely the sum of the parts. A fitting conclusion to such a wide-screen production is the fitting end piece
Know. 
Capturing some jazz inflections here with piano the music definitely benefits from some younger influence and energy. Not least is Felix Lermann's fresh and vibrant drum technique and the effervescent choir of backing singers consisting of Daniel Gildenlow, Nad Sylvan, Anja Obermayer, Maria Rerych and Kristina Westas all painting a huge aural picture befitting such a huge musical statement. Roine Stolt sounding as close as it gets to Steve Howe on this song once again playing some impressive licks and helping to steer the ship clear of the rocks and becoming the obvious. So, is
Invention Of Knowledge
a Yes album in disguise? The answer is no, definitely not! You would need the late and very much missed Chris squire on board for that and if Mr Squire had been able to give forth his unique bass playing and vocal harmony to this project then it would have shown a clean set of heels to many of the post Anderson offerings of late. Instead this album represents a stand alone testament of traditional prog as we care to remember it and the generals of the new order. They may not be anything like it again, a monolith if you like though it is far from handing on the baton to a new generation it is a celebration of all the things we loved about the early Yes albums and love about the vanguard of Prog who are this day recording quality music and playing great live events. This album is a dream to listen to on which any format you may prefer though i would suggest for reasons stated above that if you are lucky enough to have a turntable in a decent Hi-Fi system this be the preferred option. A warning however, do not expect to absorb this album in one sitting.
Invention Of Knowledge
Is available from Inside Out/Burning Shed CD £12.99 + shipping Double Vinyl with CD 18:99 + shipping. Go to…   https://www.burningshed.com/store/insideoutmusic/