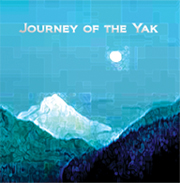 At this moment in time there is an abundance of great prog bands and music around. However, only very few capture the essence of the genre enough to allow  listener to become immersed in the mood or atmosphere of the music's intention. Journey of the Yak is one of the few. For the lovers of Steve Hackett from Acolyte to Spectral Mornings  will find this album a dream to listen to. No mean feat when you consider the scarcity of guitar on this album. Martin Morgan's wicked pitch bending and clever keyboard voicing has all but the most critical nerd fooled into thinking that he has a Strat in there somewhere.
When i first listened to this album i kept waiting for the singing to start and after i listened to these crafted pieces for the second and third time i was glad that it didn't. So many band are making albums now that brim with fantastic musical events yet marred by poor vocals, especially none English speaking bands. Yak's music stands up on it's own and does not need the accompaniment of vocal and lyric. It's nice too to hear real drums as so many musicians now place reliance on the virtual/software technology to represent their rhythm.
Dave Speight on drums along with Gary Bennett playing bass make a huge difference to the album taking the soundstage away from being of the modern manufactured sound. It can be heard that a great deal of attention to detail has been made especially to the careful selection of Mellotron sounds portrayed via Martin Morgan's Kurzweil.
From the opening drones of Gates Of Moria to the grand Hackett like outro of the title track "Journey Of The Yak" the whole disc seems to brim with gems. So many albums of this nature sound at their best when listened to via a good Hi-Fi and this one is no exception. However, i found that Yak's music lends itself equally to the car, i-pod or discman.
Listening to "Entangled In Dreams" reminded me of when i rushed home with a copy of Spectral Mornings and slammed it onto the turntable and was then transported to a better place. Yes folks it really is that good. "March Of The Huorns" begins with a little more of a sedate pace yet still manages to explode into an organ lead barrage of shear joy. Gary Bennett's bass playing on this track really carries the whole piece along beautifully. I was caught a couple of times in the kitchen playing air key's to this track.  "Dearly departed" is the most sombre piece on the album opening with a very warm solitary piano and moving into a slow and enjoyable conclusion with some great Mellotron sounds, not least the flute pad that brings it to a close.
I make no apologies for perhaps too many references to Mr Hackett who incidentally said of this album "that it was beautiful music". But i am firmly convinced in my own little world that this is the album that Genesis should have made following Wind and Wuthering instead of trying to attract ladies. I was told by the gentleman who sold me the disc that proceeds from the sale go to the tower Hill animal sanctuary and that all production costs have been met privately. A brilliant cause methinks as it cost a fortune to keep the animals fed and clean. Check out fiona@towerhillstables.com should you like to make a contribution via paypal.
All in all this album has a feel good factor in that it transports you back to better days. If you want a quick try before you buy click onto Yak's myspace site www.myspace.com/yaktunes and have a listen.
In the present world we seem to be no longer kings with regard to football, cricket,industry,politics or economy. Yak reminded me of a time when we where and that somethings can only be imitated. Prog rock as we know it is predominantly English and Yak demonstrate this point admirably. I hope that Martin and the boys don't sit on their hands and let this talent go to waste. I for one would pre-order any forthcoming Yak album.